The Iron Training of Ivan Salaverry
Entering Ivan Salaverry's gym is like entering into a claimed territory, almost like arriving at gates where an intention is required to pass. If common thought argues that human beings are conditioned to seek pleasure and avoid pain, then Salaverry's gym posits that pleasure is sought through pain, not around it. This is not to suggest that the people here are masochistic (although at the same time, all fighters are to a certain degree), just that if the intention for being there is to fight, then you'd better be prepared to work.
As a fight journalist, I'm treated with much more leniency, and greeted warmly upon my arrival. I'm met at the door by Emmanuel Russell Jr., a wiry bantamweight who dons glasses and speaks in a gentlemanly conduct. He's also one of the gym's professional fighters and key employees. I knew Russell vaguely from a courtesy call made earlier in the day to prepare for my visit, a call that was preceded by a scheduling email, and an email that was preceded by a call from Salaverry himself. Of all the fight gyms I've ever visited, this one has been by far the most professional and responsive, especially since my first communication was made through one of those online media inquiries that you think nobody ever answers.
Around the corner, the man himself appears. Salaverry shoots over a big grin and gives me a light embrace. "Finally! In the flesh!" he says to me smiling. We exchange a few pleasantries and the first thing you notice is the overall tone of his voice. He speaks with a polite business-like demeanor, light-hearted and humorous for the most part, but also with a slight edge that is reflective of someone who has overcome adversity. Basically, he isn't someone you'd want to cross.
Salaverry is a fighter's fighter. An imposing presence with a stocky build and a thick pair of cauliflowered ears, souvenirs from countless hours spent training and fighting on the mats. For MMA fans, Salaverry is a household name, but even if you knew nothing about the sport and met him randomly on the street, it would still be clear that he's had a long history with competitive fighting.
"It was a very simple matter of falling in love with it," says Salaverry when I ask him how he got interested in the sport. "I looked at someone who looked like my dad—a skinny Latin man that was destroying these big monsters through grappling techniques and it was beautiful to me. It was just gorgeous to see arm-bars and triangles on situations that came out of pure technique and control. To me it wasn't brutal; it was beautiful."
​
With a lifetime of wrestling and a couple years of jiu jitsu under his belt, Salaverry joined the legendary AMC Kickboxing and Pankration training center run by Matt Hume shortly after seeing the televised MMA match. There he was in the company of the likes of Josh Barnett, Maurice Smith and Dennis Hallman, and holds a long-list of the who's who of the sport as friends and training partners. From there he went onto compile a 14-9 record and a signature move that is still referred to today in UFC broadcasts. With injuries accumulating towards the end of his career, Salaverry opened his gym (Ivan Salaverry MMA) in 2007 as a means to transition comfortably out of the sport.
Salaverry excuses himself to drop off his kids and lets Russell tour me around before later returning. The gym is separated into two areas: striking and grappling, color coordinated by green and red, respectively. Russell first shows me around the Green Room, the gym's main training area that is sure enough, tiled and floored with green mats. Hanging alongside the windows are a series of slender Muay Thai heavybags that when followed lead to a back room with a raised boxing ring and free weight area. All pads, gloves, and protective gear are neatly stacked facing the same direction, a reflection of the gym's meticulous attention to detail. Through the parking garage is a new addition: the infamous Red Room that went up only a few months ago. The first thing you notice walking in is the humidity and the musk, something along the lines of unbaked pizza dough. Like the Green Room, it is also tiled with mats color-coordinated with its name, and I walk in on a group of sweat-drenched jiu jitsu fighters wrapping up a session of rolling. Russell makes a comment about the odor and one of the students looks up to me and says with a smile, "It's the smell of victory."
The climate of the gym is certainly a competitive one. There is evidence of it everywhere. Pedialyte and petroleum jelly sit randomly around the gym. Abolene and duct tape are in ample supply. In the entrance hallway hangs a dry-erase whiteboard listing upcoming events and the names of those billed to fight. A particular intensity is required to fuel a fight gym of this caliber and it shows in how its members describe the place.
"We're a lot more aggressive than most people, that's the bottom line," says Mike Ross, one of the professional charges at the gym. "You're gonna get fucked up if you don't know what you're doing. I mean I get fucked up too, but I try not to get fucked up more than other people."
There's no real way to sugar coat it. Sessions here can be brutal and the bar of expectation for competitive fighters is held higher than most. "Iron sharpens iron" is the team's motto, and the approach to training stays faithful to that ethos, earning a reputation of being one of the toughest fight factories in the Northwest. If one is looking to become a serious fighter, however, this is the place to be. After all, it is adversity that separates the pack.
"What MMA does for a person is that it allows them to look at themselves as honest as they purely can," says Russell when I ask about the affect of the training on his life. "Everyone likes to think that they have that primal instinct to be as tough as the people they see on the screen, from the guys in the movies to the athletes in the boxing ring. The great thing about this sport is that you always have the ability to put those skills to the test and you're either going to find out that you are the shit or you're not the shit, and if you're not the shit, you have to be smart to see those openings for that path to get better."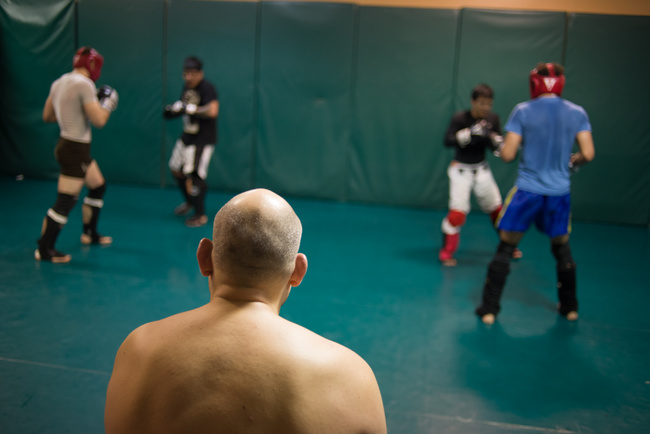 The gym's owner returns and corrals the fighters for a session of MMA training. A few jiu jitsu practitioners change out of their Gis and begin armoring themselves with protective sparring gear. Salaverry goes around with a tub of petroleum jelly and pastes it onto the fighters' faces in a firm yet caring manner, almost as a father would wipe away a stray hair from a child's face. He stops to help one fighter struggling with their headgear. Once it's placed correctly, he lightly slaps the back of their head, starts the ring bell and shouts out in a nonchalant manner, "Now, we fight."
The gym has had to balance its approach between functioning as a training facility for fighters and providing an "MMA experience" to prevent turnover from its non-competing members. Over the years, it has now also become an inviting environment to those who have no desire to compete since like most fight clubs, Salaverry's gym composes of two groups. The first is what he calls "lifestyle martial artists", those who hold professions outside of the gym to pay the dues and keep the gym fiscally afloat. The other is the fighters, the everyday members who have the full intention of competition and train in that fashion, the ones that Salaverry refers to as "my guys". He currently holds a steady stable of about 15-20 competitive fighters.
"The truth of it is that most people can't do this. They can't do MMA. They can't take the torture. Getting punched in the face, or choked, or armbarred, or getting mashed? Everyday? It's a lot to ask for someone to dedicate as a career," Salaverry says in regards to his fighters and what it takes to make it in the sport. "Straight up. To live in this city, to have an apartment, to have a car, to have a job, to have your shit together, and then do this, that's a special person. If you're able to do that, there's something to be said about you."
About five rounds into the sparring session, one of the fighters doubles over from a knee to the abdomen, grimacing in pain. Nobody overreacts and there certainly aren't any looks of apology around the place. There is, however, plenty of measured concern. It's hard for me to pinpoint the exact ambiance of the gym. On the one hand, it's one of the more brutal training grounds that I've ever encountered, but on the other, that sense of genuine care is still present.
"It's like Cheers, but punching each other in the face. Everyone knows your name. And less beer," laughs Gina Mazany, a pro-featherweight fighter who's been with the gym for about six years. "We all care about each other. We all want the best for each other whether it's in their fight career, in their family, or their relationships. We're just a big family."
Mazany holds a perfect 3-0 professional record and appeared on the first episode of the 18th season of The Ultimate Fighter, facing off in an exhibition match against the show's eventual winner Julianna Peña. Though Mazany lost the two-round bout, she lost via unanimous decision, making her the fighter to have lasted longest against Peña throughout the show. She's now on the hunt to regain an opportunity in the UFC spotlight.
Speaking to Mazany and watching her fight are two completely different experiences. She speaks in a light, jovial manner, perhaps even what one might consider perky, but when she fights she is ferocious and focused. She pushes a taller male fighter around the room, unloading body shots and shin kicks, egging him on to hit her. "Uppercut! Uppercut! Uppercut! Hit me!" she yells. Her reluctant partner, for whatever reason, shakes his head.
"You can hit her," Salaverry calmly chimes in from the back.
In total, the fighters go through nine rounds of full-contact, full-intensity sparring, only taking water every three round stanza. The session winds down with a series of sit-ups and back-flys, topped off with 100 repetitions of a medicine ball being mashed into their stomachs. The group huddles together and yells out the gym's name to close out the night. Plenty of hugs and pats on the back are passed around. The fighter responsible for doubling over his teammate steps over and offers some advice.
The way to describe Salaverry's gym is through oxymoron. Quiet intensity. Bridled chaos. Even the blunt Mike Ross had an underlying sense of calmness to his overall demeanor. I would say that their approach to training flirts with the boundaries of brutality, but has also built a solid structure of order to successfully contain it. In essence, it is run as a direct reflection of what Salaverry has gained from his own experience and looks to pass onto the next generation of fighters.
"It's such a beautiful concept, everything about it—the training, the camp, the losing of the weight, the gaining of technique, the sparring, the comradery, the smell, everything is a high. That's the only way I can describe it," Salaverry says in regards to being a fighter. "Win or lose, it's a journey, and you see that for at least for a little bit, you're in control of your life."
To visit Ivan Salaverry MMA, click here.
Check out these related stories:
Javier Mendez: Letting a Winner Lead the Way
Ralph Gracie: Pitbull Politics
Training BJJ with Rolker Gracie in the Center of Rio de Janeiro