The Mountainous Stakes of Romero vs. Machida
Lyoto Machida and Yoel Romero are very good middleweights, and in a few days, they're going to fight each other. The two will share the main event honors of UFC Fight Night 70, which marks the organization's return to the state of Florida.
On paper, it's an exciting matchup between two proven finishers with very different styles and very different stories. In one corner, we'll have Machida, a slick, karate-based striker with blinding speed and good power. In the other, we'll have Romero, a wickedly powerful puncher with some of the best wrestling in MMA. One is a former light heavyweight champion, one is a former Olympian. No matter how you swing it, this is a cool fight.
Of course, there's a lot more to this bout than the way the two fighters compare on paper. The stakes of this one are mountainous. Though they currently sit at very different stages of their respective careers, both fighters will walk onto the canvas in the Sunshine State with a lot hinging on the quality of their performances.
Let's start with Machida.
When weighing the potential of Machida's upcoming opponent as a middleweight contender, one of the main gripes you'll encounter is that he's getting on in years. At 38 years old, Romero is quite a bit older than your typical title challenger. The thing to remember is that at 37, Machida is just a year younger. He's no spring chicken himself—which is why this is such an important fight for him.
After losing a light heavyweight bout to Phil Davis in 2013, a 35-year-old Machida committed to a long-discussed drop to middleweight. And after defeating Mark Munoz and Gegard Mousasi in his first six months as middleweight, he looked destined for a seat on the throne. Unfortunately for him, things came to a halt when he fought Chris Weidman for the belt. Despite a valiant, late-fight effort, Machida came up short and was forced to return to the drawing board.
Even in defeat, however, the competitiveness of Machida's fight with Weidman left plenty of potential for his earning a second title fight. When he smashed CB Dolloway in just over a minute in his next bout, a second shot at the title looked even more possible. As we now know, however, that's when Luke Rockhold blasted into the narrative. With a second round submission, he sent Machida back to the drawing board yet again.
An unfortunate reality of a pro fighter's life, however, is that you're only afforded so many trips back to that drawing board. Once the MMA community has seen a fighter frantically brushing the chalk of the proverbial board a few times, that fighter loses the ability to capture our imagination as a title challenger. With two tough losses in marquee middleweight matchups, Lyoto Machida is nearing that point. If he falls to Romero, his days as a title challenger—at middleweight or light heavyweight—will likely fizzle out for good. Former champion or not, his being painted as an elite level fighter will simply become a hard sell. In sum, this encounter with Romero is a must-win, but more importantly can't-lose­ bout for Lyoto Machida.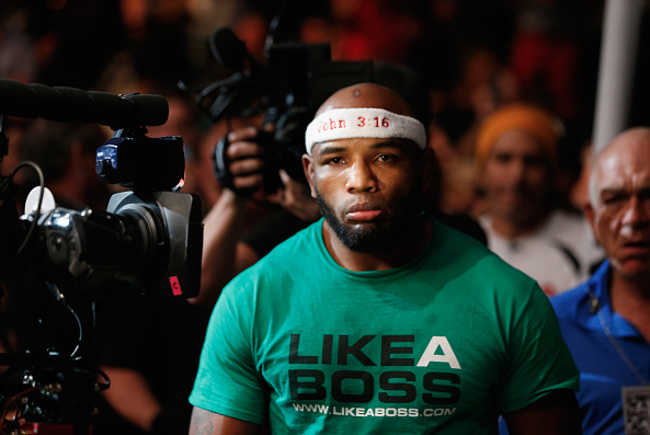 Now, let's move on to Romero.
He is in an entirely different situation. At 38 years old, he's also running low on time as a pro fighter. Having yet to stumble as a UFC middleweight, however, he now finds himself with a very valuable opportunity at his fingertips. Let's backtrack a bit.
Twice in the early months of this year, Romero was scheduled for a bout with fellow contender Ronaldo "Jacare" Souza in a fight that could very easily have earned the winner a title shot. Unfortunately, the bout was first cancelled due to a Jacare injury, then months later, due a Romero injury. When Romero pulled out of this second attempt at the bout, Jacare was given a last minute placeholder opponent in Chris Camozzi—a fight he not surprisingly won handily. Unfortunately for the Brazilian grappler, Luke Rockhold blew through Machida later that night, and in turn, skipped the line for a title shot.
With Weidman vs. Rockhold now officially set as the next middleweight title bout, Romero and Jacare stand out as the two clear-cut choices for a fight with the winner. Under normal circumstances, they'd again be scheduled to fight each other, but because Jacare is injured, that's not possible. Instead, Romero is fighting Machida, while Jacare waits on the bench. And that's where opportunity knocks for the Cuban wrestler. If he can defeat Machida decisively this weekend—whether he knocks him out, taps him, or just ragdolls him for five rounds—there's a good chance he'll be able to leapfrog Jacare for a shot at the Weidman vs. Rockhold winner. He'll be fresh off a destruction of a former champ, while the BJJ specialist will have spent the first half of 2015 doing nothing but tap Camozzi and spend time on the injury list. It's a tough prospect for the Brazilian, but the chance of a lifetime for Romero.
And of course, Romero is 38. That fact only increases the importance of this bout for him. Yes, he's faced with a golden opportunity to steam past Jacare in the middleweight title race, but he also has to be very, very careful not to slip up. A loss to Machida will mean he's the one returning to the drawing board, after all, and at his age, he just doesn't have a lot of time to work his way back up from there.
So, while Romero vs. Machida is a classic clash of styles that presents a high likelihood of a finish, it's also a fight steeped in consequence. It's a last chance as much as it's a big chance. That means neither man will go down easy, and that means a good night for fight fans in Florida and the world over
Check out these related stories:
Lyoto Machida: The Double Edged Sword of Competition Karate
Weighing the Options of Lyoto Machida
Jack Slack: Rockhold Dominates The Dragon