The Muay Thai Blogger Tour: Bangkok's Legend Gym

Photos by Lindsey Newhall
Second morning of the Muay Thai Blogger Tour and I'm on pins and needles in the van wondering what kind of gym the Tourism Authority of Thailand is planning to show us today. After a twenty-minute drive through central Bangkok, our vans pull into a parking lot featuring a large silver statue of a Muay Thai fighter throwing a knee. We walk through the doors and immediately it feels less like a straightforward Muay Thai gym and more like a fitness center that happens to use Muay Thai as a draw, similar to the health clubs I've seen in the U.S. that base their business models around novelties like pole dancing and striptease cardio.
"Hello hello! Welcome to the Legend Thai Boxing Club!" booms an overly friendly, physically imposing Thai woman. "My name is Sally! We are so happy to have you here at Legend Thai Boxing! Here, let me introduce you to our staff!"
Sally shoves an extremely fit young Thai man, muscles bulging out of his t-shirt, to the fore of the group. "Look, everyone! This is one of our employees! He exercises here in his spare time! You can call him It!"
Some of the female bloggers from Europe titter at his name. "It?" one of them asks. "Like the word, 'it'?"
"Yes!" Sally laughs. "He is very big. You can touch him!" He grins shyly while she lifts up his shirt to show abs straight out of a fitness magazine.
"Ooooh," one of the Russians turns to us, "I like IT!"
It laughs, says in fluent English, "Yes, my name is It. I work for the gym as a graphic designer. I'm not a trainer here, but I do my work outs here all the time." A few of the blogger girls help each other take photos with It. One of them poses next to him, squeezes his considerable biceps, and flirtation expectedly ensues.
Sally claps her hands at us for attention. "And now you will meet the legend of the gym! Here, have a seat!" She points to some art deco-inspired stool-chairs clustered around a large flat-screen TV.
Out from the back office steps the legend himself, Putpathnoi Worrawuth, who goes by the Thai nickname Moo, or "pig" in English. On the TV behind him, we watch a video of one of his fights when he was a young fighter in his prime. The black-and-white footage must be around 40 years old. After the fight, Moo sits down and tells us in Thai a little of his life history while Sally, who attributes her mad English skills to her years working in the Phuket hotel industry, interprets into English.
Born in 1951, Moo is one of the oldest "living legends of Muay Thai" in Thailand. "I fought all through my childhood here in Thailand, and then all over the world as an adult," he says. Originally from Khon Khaen in Isaan, he began his Muay Thai career training with his brother in their hometown. After winning his first fight at the age of 14, he moved to a larger gym in Bangkok and fought in the capital's stadium circuit. In the early 1970s, Moo became one of the pioneers of Muay Thai in the West when he started training and fighting in southern California.
After a few years in the U.S., Moo moved to Paris, where he started a family and remained for the next 23 years. "Here," he says, handing us a packet of photos, "take a look at these." We pore over pictures of him with his daughter, him with his fighting team in Ireland, him all over the world. "I moved to Stockholm for a while, and then Manila," he continues. "I stayed in both places about three years each, just teaching Muay Thai, promoting, doing stuff like that."
In all, Moo estimates he's been to somewhere around 35 to 40 countries in his Muay Thai career, mostly in Europe. His English is a bit shaky but his French sounds fluent to my uneducated ears. Now back in Thailand, he's working as a master trainer at Legend Thai Boxing and refereeing fights at a local stadium every Friday at noon.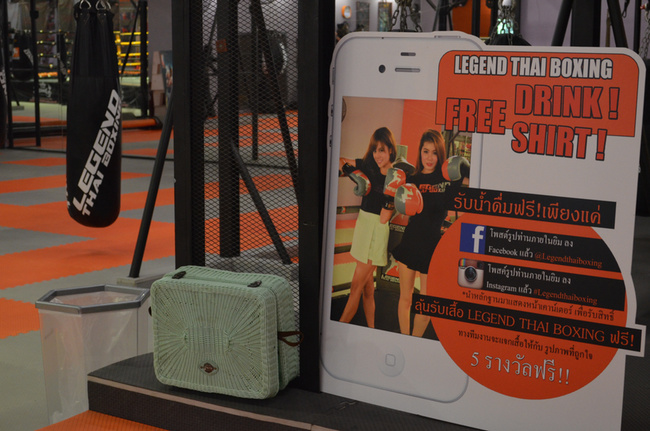 After hearing his life story, the bloggers seem duly impressed at meeting this "Muay Thai legend." One of the bloggers gets the idea of having him sign her new white boxing gloves and runs off to grab a permanent marker from the gym office. Soon Moo has a whole line of bloggers standing in front of him, all waiting for autographs.
"Okay!" Sally addresses the group after gloves have been signed and fan photos with Moo have been taken. "So, do you all like Muay Thai?!"
"Yeah," the eight of us agree in polite unison.
"What?! I don't hear you! I said, DO YOU LIKE MUAY THAI?!"
"YES!!" our group shouts back. It's like the first day of summer camp, all over again.
"Then come on into the gym!"
After changing into the complimentary Legends Gym shorts and t-shirts provided by our hosts, Sally takes us on a tour through the facilities. Everything about this gym is new and fancy, a far cry from your typical Bangkok fighter's gym. The equipment matches the black-and-orange color scheme, the trainers all wear uniform outfits, and there's a cozy refreshments bar, complete with couches for your post-training lounging pleasure. Even the locker rooms come fully equipped with lotions and a hair dryer.
The only customers I notice are a few middle-class Thai women hitting pads with trainers or sitting around chatting among themselves near the mirrors. One lone local woman is studying the large pictorial banner depicting the process of hand wrapping.
Soon it's our turn to engage in Legend's entertaining warm-ups, creative stretches, simple shadowboxing, and a circuit of pads. "Come here and face the mirrors!" our exuberant, young, gap-toothed Thai trainer from Isaan commands us in unsteady English. Six trainers line up in a zig-zag pattern across the matts and order us to form a line. We take turns working with each trainer in a circuit sequence, practicing a different technique with each trainer. First there's the command to do 20 punches. The next trainer holds for 20 elbows, followed by 20 knees with the following guy. The last trainers hold large kicking pads, and we're ordered to perform 10 kicks, each side. It's a fine circuit in theory, but bottlenecks result from the large fitness and speed discrepancy between individuals in our blogger group.
It's a sufficient workout, despite the utter lack of technique instruction or correction. I've no idea if this is how an average group class is run at Legend, though the one-on-one instruction I see some of the local ladies doing appears pretty decent.
At the end of our Muay Thai circuit training, we hit the locker rooms to shower off before group lunch with the trainers and staff. "I like this gym better than the one yesterday," I hear one of the blogger girls say to another as we emerge from the showers. "That one was too serious. This one's so fun!"
"Yeah," the other blogger agrees, "I'd probably train here if I lived in Bangkok."
This doesn't surprise me. None of the women on this blogger tour would likely be looking for high-level fight training that a more "serious" gym naturally provides. Like other new gyms catering to the burgeoning population of Muay Thai fitness enthusiasts around the country, one of Legend's biggest demographics is your average middle-class student or white-collar worker, looking to stay in shape and have some fun with their exercise classes, not necessarily fight or perfect their technique.
"We do offer professional fight training," Sally later tells me, pointing out that all the trainers at Legend are former or current professional fighters. She takes me over to a spread of photos depicting fighters, both foreign and Thai, posing with Moo and the gym's other trainers. "Most of our foreign fighters stay for a few months," she says, "when they're preparing for a fight in their home countries or here. They just get an apartment in the area and come to train every day."
Soon lunch time is announced and we happily follow our Tourism Board guides like little blogger ducklings. After gorging ourselves on fresh seafood and calorically obscene desserts at Anna and Son, a fancy restaurant around the corner that's way out of my normal budget, we sluggishly return to the gym and are mercifully allowed to sit and watch a wai kru and Muay Boran demonstration by a couple of the gym's trainers. Afterwards, in something that's becoming a tradition at every gym or event we attend on this blogger tour, Alexandra from Slovakia demands a group photo with all the trainers for her #SexySaturday Facebook posts. "They have to be shirtless," she says. "Everyone, take off your shirts!"
After the all the demonstrations and planned events are over, we're told to hang out and do whatever for an hour. I wander over to the wall featuring the trainers' photos and short biographies. They're all ages, the youngest in his early twenties or so, all the way up to Moo in his sixties. Behind me in the ring, a gangly, babyfaced Thai teenager in pink Legend Gym shorts is hitting pads. "He's preparing for his own fight, which is in a couple weeks," Sally comes over to tell me. "Like I said, we do train professional fighters as well."
On our way out, we take some last mandatory group photos, then thank Moo, Sally, It, and the rest of our trainers.
"Wait, I have one question before we go," Alexandra says. "What exactly does it mean to be a 'Muay Thai Legend'?"
Sally tries to explain that the legendary Moo is considered to be one of the top five fighters in Thailand, pre-Golden Era. "He's very famous, part of Muay Thai's hall of fame! He's one of the few fighters of his era who is still alive and working in Muay Thai!"
Chuckling quietly, Moo mutters, "They say I'm a legend because I'm old and haven't died yet."
Check out these related stories:
The Muay Thai Blogger Tour: Petchyindee
The Muay Thai Blogger Tour: Welcome to Bangkok