The Muay Thai Blogger Tour: Petchyindee

Photos by Lindsey Newhall
One morning in late September, eight of us bloggers on a Muay Thai tour of Bangkok pick our way through rubble and mud toward a new gym, still under construction. Our handlers and interpreters, sent by the Tourism Authority of Thailand to accompany us on this Muay Thai tourism promotional project, lead us past piles of wood and metal, covered in the dust of construction, and up a flight of stairs into the new Petchyindee Gym.
We bloggers, six women and two men, are set free to wander around the half-finished gym. Blonde Russian Katya and I wander over to take photos near a few Thai lads perched on the ring, looking curiously at us foreign interlopers with our bulky cameras.
"Hello!" Katya grins at them. "How are you? Do you love me?"
The Thai fighters exchange looks and give wary half-smiles to this odd foreign chick taking pictures of them doing nothing.
Soon we're introduced to Boat, one of Petchyindee's big bosses, a young, fashionable Thai man in a green polo shirt that appropriately matches the theme color of the rest of the gym.
Heir to the Petchyindee throne, Boat is one of the youngest and best-connected promoters in Thailand. He sits us down in folding chairs and tells us, "My father has been a promoter at Lumpinee since he was in his 30s, and this gym has been around for about 40 years. We have many past and current champions. I'll introduce you to a few!"
Boat calls out the names of a handful of fighters from his roster o' champions. A few individuals emerge from the clump of fighters milling around. They face us shyly with hands clasped behind their backs while we clap politely, not recognizing a single one.
I am surprised, however, when Boat calls Sam-A to the front. I've actually heard of this guy before, seen documentaries featuring him and overheard my Thai fighter friends talking about him, so I know he's super famous in the Muay Thai world. The winner of multiple Lumpinee and Thailand titles, Sam-A Kaiyanghadao, whose (company-sponsored) fight name means "Triple-Ace Five Star Grilled Chicken," has been a Petchyindee fighter for over a decade, since he was a teenager.
I try not to gawk. I'm not one to get starstruck, but it's humbling to think that these fighters, even those least accomplished at this gym, are better at Muay Thai than I will ever be at anything in my life.
"He's really famous," I whisper to Evelin, the German blogger sitting next to me, and point to Sam-A.
"Yeah?"
"Yeah, like, really famous," I clarify. "He's a big deal."
Boat dismisses the champions and they gratefully leave the spotlight. "Our gym has built a lot of top fighters over the years, like Sagat Petchyindee. Ever heard of him?" He looks around at our faces expectantly, finds nothing. "No? Well, have you ever played the video game Street Fighter? Remember Sagat, the video game character? He's based on Sagat Petchyindee!" This elicits the desired wows from the crowd.
"Now, as I said, we used to be at the old Lumpinee Stadium, but I told my father that gym was too small. All we had was a ring and an area to kick pads, but no accommodations for our foreign fighters. We started getting a lot of requests for accommodations, a sauna, a fitness facility and weight room, so we bought this land here to make the 'Petchyindee Kingdom!' So you guys are lucky guys, because you're the first group to come and visit our new gym! Here, I'll show you around, let's take a trip."
Boat leads us up the stairs into the all-new "Petchyindee Kingdom." The Thai fighters' rooms each house about a dozen bunk beds, most already claimed. According to Boat, male foreign fighters can elect to stay in this room with the Thais, but as expected, foreign women will be relegated to one of the many "hotel-style" rooms on the floor below.
Downstairs, Boat opens a "hotel room" door proudly and motions us inside. Damn, it really is like an actual hotel room. Most rooms at fighters' gyms in Bangkok are basic, to put it gently. The Petchyindee room, however, features fancy bedspreads, artwork on the wall, even a decorative championship belt on the nightstand. Talk about the Muay Thai lap of luxury; now the name "Petchyindee Kingdom" sounds accurate.
"I think the price is 35,000 baht a month," Boat says, "but we give discounts for longer stays, or if you share a room." The price (about US $1,075 a month) seems high for a Muay Thai gym membership, but then again, this gym is fully-loaded. Boat reminds us that the fee includes not only training and housing, but daily breakfast, access to a weight room, sauna, and massage room. "Plus we are promoters, so it's easy for us to arrange matches," he says.
"But we also teach 'normal people,' not just fighters! In fact, the biggest target today for Muay Thai training is women. Yeah, it's true! Muay Thai is fun, more fun than just running on a treadmill. We have a lot of female office workers and teachers who come here after work. They train, do pad rounds, have a little community here they can chat with, and make friends."
This trend of middle- and upper-class Thai women training Muay Thai for fun and fitness is starting to pervade much of Thailand, including traditionally poor areas like Isaan. One of our Thai interpreters, Phet, is a prime example of Muay Thai's new demographic. In the van ride over, she told me she used to train at the old Petchyindee on her days off from her job as a flight attendant. "I've never wanted to be a fighter, but I love training Muay Thai," she said. "It's fun and challenging, and it's part of my Thai heritage."
After our tour, it's announced that we shall now learn to wrap our hands. A trainer demonstrates while bloggers crowd around, cameras at the ready. Fighters from the gym fringes come over and silently wrap the hands of each blogger. Even champion Sam-A, assigned to German Evelin, is not immune from wrapping duty.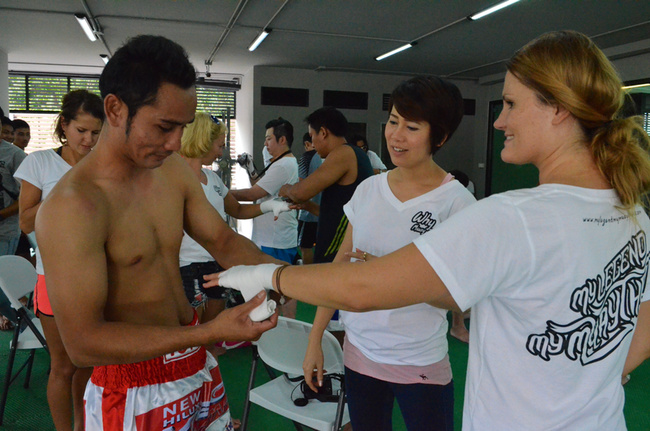 Now that we've learned to wrap, the next logical step is learning the wai kru. "You're going to see Sam-A demonstrate his award-winning wai kru!" says Boat cheerfully. "And then you'll learn to perform it on your own!"
Sam-A slides into the ring while someone starts the traditional Thai music. A couple bloggers stare in rapt fascination as Sam-A glides through the hypnotic motions.
Once Sam-A completes his performance, we're told it's now time for us to learn the wai kru as well. "You can pick any trainer or fighter to teach you," Boat says, "and then you will each do the wai kru in the ring. Then we'll vote on who does it best. Whoever wins will get a pair of shorts one of our fighters wore when he won a championship! They'll be lucky shorts!" He holds up a pair of attractive red and blue Muay Thai shorts adorned with Thai writing.
"Go!" our handlers tell us. "Go find someone to teach you!"
This is worse than picking partners for square dancing in junior high. I stand around lamely and mumble, "Please teach me. Who wants to teach me?"
A jolly middle-aged trainer grabs a young Thai fighter and tells him to teach me. The kid hesitates, turns to his barely older brother, just as shy as he is, for support.
Waving off the young fighters, the middle-aged trainer sighs and says, "Come on, I'll teach you myself."
My teacher proceeds to spend most of the brief lesson dancing enthusiastically in front of me in a sort of wai kru club-style mix, much to the entertainment of the young Thai fighters cracking up on the side of the ring.
The competition begins, but only half the bloggers are feeling the spirit of the Muay Thai Blogger Tour's whimsical activities. Russians Masha and Katya, Slovakian Alex, and I, the lone representative of the Americas, all compete one at a time in a wai kru dance-off.
Masha removes her t-shirt before the wai kru and slips into the ring in just her short-shorts and sports bra. I don't know if the boys are staring at her, but I definitely am. She may be a mother in her early 30s, but she's quite tan and remarkably fit. No wonder, though—Masha's a motivational fitness blogger by trade. "You know, her ass is very famous in Russia," Katya whispers.
Ultimately, Katya's wai kru is judged the best. Beaming with pride at her newly won pair of lucky champion-shorts, she poses for photos with the handsome, young former owner of the shorts and asks him to autograph the shorts with a permanent marker.
Next: "training." Petchyindee currently has 30 Thai fighters, mostly from Isaan, and six trainers. Today, they've added eight Muay Thai blogger students, six of whom have no previous experience in Muay Thai. We line up behind a trainer and face the mirror. He instructs us first on proper stance and simple footwork, then moves on through punches, elbows, kicks, and knees. During the segment where we practice left knees, Sam-A gives me a thumbs up and says, "Good." Holy shit, I think to myself, Sam-A said one of my left knees was "good." This is going in my journal.
We're divided up for pads, and I do a few rounds with the same older trainer who earlier taught me a club version of the wai kru. A few seconds into pads, he says, "Oh, you've done Muay Thai before," and asks at the end of our rounds if I'd like to train here and take a fight next month.
My next trainer, a polite, understated kind of fellow who claims he's around 40 but looks more like 30, has the type of rhythm on pads that you can't quite grasp the first time out, but know you'd get used to and probably love after a few sessions. He achieves the difficult balance of pushing endurance while still pausing for corrections. He explains not just the how, but the why of the technique as well. It's like a Muay Thai Theory class, and this is my favorite kind of trainer.
I exit the the ring under the lowest rope and watch the other bloggers learn to hit pads. Only one other blogger, Mike from Malaysia, has previous Muay Thai experience. The others, smiling through their beginner's awkwardness, are clearly enjoying their first taste of Muay Thai, appropriately at a famous Bangkok gym with top fighters they've never heard of.
Despite the unfinished building and fancy frills, it's clear Petchyindee is a first-rate gym. It's a place worthy of a long-term stay, so long as you have the first-rate money to afford it.
For more information on the Tourism Authority of Thailand and Muay Thai, please visit their website.
Check out these related stories:
The Muay Thai Blogger Tour: Welcome to Bangkok
Fighting and Fire-Dancing in Koh Phangan
Fighter in the Fields: A Dispatch from the Muay Thai Countryside