The NSAC Plays Chicken with Chael Sonnen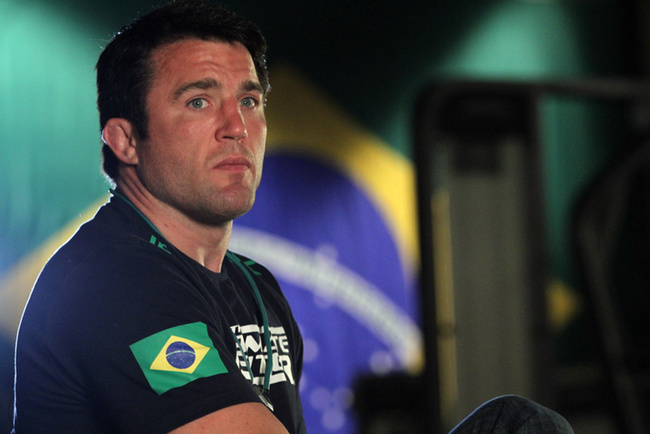 When Chael Sonnen took to his seat during his hearing with the Nevada State Athletic Commission (NSAC) last month, he looked as remorseful as one could.
Commissioners, doctors and everyone else who took the stand on that day berated Sonnen for his obvious attempts to cheat the system. He may not have shown any external tears, but it was easy to see that Sonnen was a defeated man.
The façade was gone. The 'Gangster from Portland, Oregon' sat there quietly and took his punishment. There was no pro-wrestling style promos or attempts to save face. He blamed himself and no one else.
For his efforts to cheat, Sonnen received a two-year suspension (he had already announced his retirement after news broke of his positive tests).
As quiet as he was that day, it didn't take Sonnen long to get his hand back in the game. Just a few weeks before the NSAC hearing, Sonnen announced that he would be competing in the August 9 Metamoris event against jiu jitsu phenom Andre Galvao in a submissions-only grappling match.
Here's where things get tricky. The chairman of the Nevada State Athletic commission sent Sonnen a letter saying that if he were to compete in the grappling event, he would receive a $250,000 fine.

Chairman Francisco Aguilar (Photo by Jon Estrada for Seven Magazine)
Throughout the last few days, lawyers representing Sonnen have sent multiple letters to the commission asking for clarification and to create a dialogue to discuss the issue. As of this story's publishing, there has been no response in any official capacity from the commission, but they have continued to state that they will fine Sonnen if he competes.
In Sonnen's hearing, Commissioner Pat Lundvall said, "we solicit Mr. Sonnen's agreement that he will not fight in any other jurisdiction for that same period of time." Maybe it comes down to semantics, but the definition of a 'fight' is one that has proven tricky over the last few weeks. Can a grappling match be considered a fight?
The commission has not sanctioned grappling matches before, meaning they have allowed these events to go on without interference since...well, forever. By that definition, it would be logical to think they had zero jurisdictions over the events or who would compete in them—especially grappling matches in other states.
When you add in the fact that the Metamoris event is taking place in California, not Nevada where Sonnen was suspended, things get even more convoluted. The California State Athletic Commission (CSAC) also has no jurisdiction over grappling events and has shown no indication that they plan to stop Sonnen from competing.
Fining Sonnen for competing at Metamoris would be in direct conflict with NSAC's own rules. There are no commissions in the United States that consider a grappling match to be a sanctioned fight, and punishing Sonnen for competing in the event could be a stretch of their authority.
But that's not going to stop Sonnen. The man who has always done what people insisted he couldn't plans to compete on August 9. In an August 6 Twitter post, Sonnen made it clear:
When a Gangster says he will make that walk, he MAKES THE WALK.

— chael sonnen (@sonnench) August 7, 2014
Whether or not Sonnen competes at Saturday's event remains to be seen, but all indications are that he plans on being a part of the event, including a statement from Metamoris:
He's challenging the system, and it looks like he's winning. If he's fined, it will call into question all kinds of vague phrases on what a fight entails and what commissions have power over. Whether or not Sonnen received legal advice suggesting that the NSAC can't do what they claim remains unknown, but either way it's a bold move to take on an entity that holds so much power.
Like any great pro wrestler, Sonnen has mastered the art of being both a heel and a face (a good guy and a bad guy). He's no longer holding his head low. The persona is back. The gangster lives.
In this act, he's somehow gone from hated villain who abused steroids, to the man who's taking on the system. Sonnen is fighting the law, and we're about to find out if the law won.
Check out these related stories:
Chael Sonnen and His Metamoris Dilemma
Chael Sonnen Prepares for His Next Fight
Ralek Gracie on Art, Metamoris, and Chael Sonnen