The Blinding Love of an MMA Writer
I am aware that the personal side of fighting is not something that a lot of fans care about. To them, fighters' stories are just filler until the bell rings and the swinging starts. I am very much not one of those fans. I voraciously consume stories, details, interviews, etc., until I feel like I know a fighter as best I can without having met him (or her). And that almost exclusively determines who I'm pulling for in a fight. To me, it's just like it was in high school: I could have given a rat's ass about football until I got to be friends with some of the players. Then all of a sudden I understood the draw: It's the people! Not the sport!
For example, I liked UFC welterweight Court McGee for unknown reasons before I knew anything about him. It might have been that crazy Amish Mafia beard. Then I learned that he had nearly died of a heroin overdose while lodged in between the door and the toilet in the bathroom of his cousin's trailer, and that he is now a husband, a dad, and a strong-as-an-ox fighter. Having been very close for most of my life to Invicta fighter Lauren Taylor, whose story is not all that different from Court's, I want him to win every time he fights. No matter who he fights. I will always, always root for the people I feel like I know. And if I don't know either of them, I pick the cute one.
The first fighter from Jackson's MMA gym I ever met was Donald Cerrone, except that I didn't know I was meeting a fighter at the time. I was cruising around with Lauren at the Sullivan Arena in Anchorage, Alaska, during an intermission at one of the Alaska Fighting Championship promotions that she used to get me into for free long before I really understood MMA or cared. Lauren is so much more outgoing than I am (especially back then) that I was just following her around like a lost puppy trying not to be too awkward when she walked up and introduced us to some new person every 10 minutes. So naturally I didn't think anything of it when she said, "Hey, let's go talk to Donald Cerrone." I just figured he was some dude loosely related to Alaska MMA. In a poor attempt to not stand there like a mute, I shook his hand and said, "Nice hat. Don't you think that's a little out of place here?" He grinned, was utterly gracious (and had adorable dimples), and rolled with my making fun of him by making more fun of himself. It was later that I was told who he actually was, and you can imagine what an idiot I felt like … making fun of "Cowboy" Cerrone's cowboy hat. The next time I crossed paths with him I said, "Sorry for making fun of you earlier. I didn't realize you were, like, a famous fighter here as a guest." He chuckled, patted me on the shoulder, and said, "Nah darlin', I ain't nobody special."
I would guess it's not uncommon for the first UFC fighter you meet to hold a special place in your heart. Cowboy was so cool, I'll always want him to win--a fact only reinforced when I learned more about him: that he was mega trouble as a kid, that he was raised by his grandparents when his folks decided they couldn't handle him, that he opened up his own small gym and fighter house on his 40-acre ranch in New Mexico, and that he's an adrenaline junkie whose Instagram page is full of photos of him rock climbing and wake-boarding and of his rodeo bull, appropriately named "Don't Tell Dana."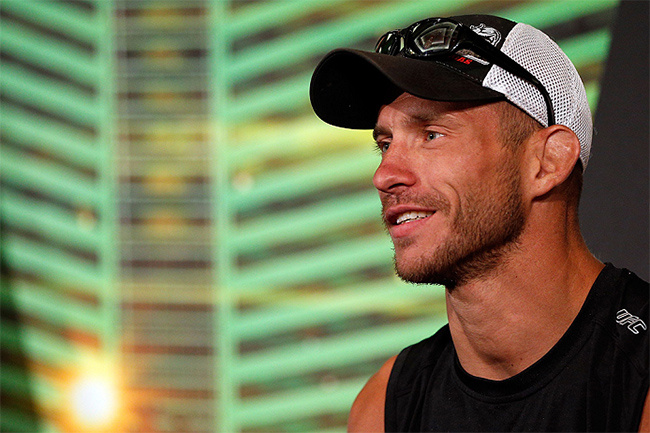 Last October I was in Albuquerque for a long stint and Lauren came to visit me and try to get into Jackson's to train for 10 days. There was some detective work involved in finding the place and a huge amount of apprehension about whether they'd even let her in. Her emails had been returned "undeliverable" and her phone calls had gone unanswered, but LT isn't one to give up easily. When we rolled into the gym parking lot at 9am, she sat in the passenger seat of my truck, squirming around trying to decide what to do, and I was nervously fidgeting with the stick shift, slightly afraid that someone was going to tell me to get the fuck out of the parking lot. We were the only vehicle there until a black Tacoma rigged for mud trails pulled in on my right. I smiled at it because I'd always wanted one like that, but paid no more attention, turning back toward the door and pondering the problem at hand, until I heard Lauren suck in a breath and rapidly spit out the words "DUDE, that's CARLOS CONDIT."
Much more familiar with MMA by this point, and also being a huge fan of Carlos', my stomach compressed, my hands started shaking, and I instantly wished I had had the forethought to shower or put on mascara or something. He walked behind the truck, made an odd face when he saw my Alaska plates, gave me the familiar confused look I often get for being a mini woman driving a six-tiered beast of a pickup, and dipped inside. I was in shock. I don't know why; I knew he trained there and that he had a fight with Georges St-Pierre coming up, and therefore I should have guessed he might be around, but I had only halfway believed we'd ever even find the place, much less get in. Imagine then how I felt when Lauren went in for a few minutes and came bounding back out to the truck to tell me that not only had they said she could train while she was in Albuquerque but that she'd asked if I could hang out with her while she did and they'd said yes.
Over the course of that 10 days, I met a ton of fighters who will forever be my favorites simply because they were kind to me at a time when I felt completely out of place and certain someone was going to kick me out at any minute for not belonging there. And watching last night's UFC Fight Night 27 event, which featured four different Jackson's fighters, took me back to those days and to those kindnesses.


Cowboy had been in his home state of Colorado while I was at Jackson's, and I was pretty bummed out at the time that I'd missed him. His fight with Rafael Dos Anjos was one of the two I'd been most anxious to see and I had absolute confidence that he would win. The guy sitting next to me at the bar didn't and I had to remind myself that it's stupid to get annoyed at someone over a differing opinion, especially because he could, of course, have had no idea that Cowboy is my longest-running MMA hero. I knew something was wrong after Rafael rocked him hard in the first round, though. I'd seen it when Cerrone fought Nate Diaz and again when he fought Anthony Pettis. He's one of those fighters who has a lightbulb hanging over his head, and it's either on or it's off. When it's on, Cowboy seems to have glowing uranium pumping through his veins. When it's off, that uranium turns to lead. I saw him shut off in the first round last night. Every single time I've ever seen Cowboy lose it breaks my heart.
It was the last day we were at Jackson's before I took Lauren to the airport that I finally had the guts to talk to Carlos Condit. I'd been going back and forth since the first day there about whether or not to ask for a picture with him. He didn't seem like an approachable person. He was quiet unless he was teaching. He kept to himself, he wasn't boisterous or loud, and he didn't smile that often. I took that to mean that he wasn't looking to be disturbed. But, I wanted a picture in the worst way. Proof of the encounter! But I also recognized the sanctity of that gym to its fighters and would have sooner chewed off my own leg than be the annoying fan girl they had mistakenly trusted enough to allow in. In the end, though I was shaky and probably bugged-eyed and scary looking, I stopped him just long enough to say, "Carlos, I just wanted to tell you that I am a huge fan and I'm really pulling for you to win this fight with GSP." I don't know what I was expecting, but it wasn't the big smile that I got back. He asked me my name, shook my hand, told me it was very nice to meet me, and was so gracious when I'd been so afraid to speak to him that I went from terrified to giddy in a split second. With that, I decided that I would be a diehard "Natural Born Killer" fan until I die.
So by the time Martin Kampmann got his fourth takedown against Carlos in the first round last night I was watching the fight through my fingers--my characteristic and unconscious trademark move when something is happening that I cannot bear. Not Carlos too! Not after Cowboy! Fuck this night. I jinxed all of them! The second round started and I crossed my fingers and toes, praying that Carlos just needed a minute to find his stride. From that point on, had the fight been a story in the Bible, the verse would have gone something like "And God saw the truth in his quest for redemption, and the clouds in heaven parted, shining rays of golden glory down upon the head of Carlos, and he moved forward with great strength and ferociousness to smite his enemy upon the cage." And what a beautiful smiting it was.
Check out these related stories:
The Curse of the MMA Journalist