The Strawweights Have Arrived
You went about your day today—probably woke up, peeped what was good on twitter, glanced at facebook, had an iced coffee, went to work, the gym, called your mother and came home to meditate and assess the going of your day. Claudia Gadelha and Tina Lähdemäki woke up to make history and pop off on some brand new WMMA styles.
Today—Wednesday July 16th of 2014—marks the day the UFC debuts its groundbreaking strawweight division, a division stacked high with the fastest, quickest and most dangerous 115-pounders the sport's ever witnessed. After Ronda Rousey's speedy ascent to the top of not just women's mixed martial arts, but the apex of the very sport itself, the UFC has decided to bring in a brand new division to further augment the sport's viewership and impact.
Unlike the still Rowdy-reigned bantamweight division, these strawweights are going to be making a lot of noise—definitely expect a highly competitive league that will leave no room for the kind of shit-flak the bantamweights have been coming under. These ladies are gunning to the top, some of them coming in wholly undefeated in their MMA career.
The division's first fight between Claudia "Claudinha" Gadelha and Tina "Jelly Bean" Lähdemäki is going down at Revel Resort in Atlantic City on an early slot of the Fight Night 45 card, which also features the main event Cowboy Cerrone against Jim Miller. Believe these ladies are going to rattle the Octagon like celebratory machine-gun fire. Claudinha, which translates to a hard "Lil Claudia," coming from the Nova União gym in Brazil—home to genius fighters Renan Barão and Jose Aldo—is sure to showcase some truly beautiful combinations of groundwork and striking. She's coming in at 11 wins and no losses, most from submissions via armbar.
Fighting out of Hyvinkää in Finland, her opponent, Tina Lähdemäki's career is less than half as long as Claudinha's, but, like Claudinha, has yet to meet a challenger more powerful than her. She's got five wins—two by decision, one by punches and two by submission—and is ready to add onto her perfect record and catch up to Claudinha.
To satisfy your thirst for these killer ladies, make sure to watch the new season of The Ultimate Fighter, which features an all-woman cast of strawweights, including Felice Herrig—with whom I'm sure Gadelha will soon be facing off. I'm excited as hell to see these women put in work and take the sport even one step further.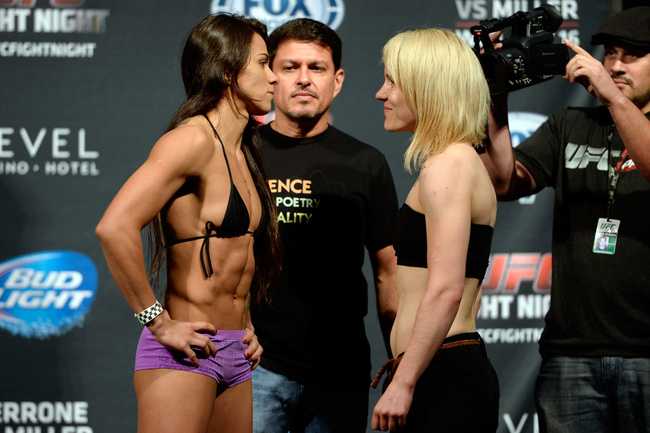 I bet some of them are going to get so good in the UFC strawweight division that we'll see some cross-division contention—maybe with some of them moving up to a higher weight class. There will be a lot of talk as who's really the best in women's mixed martial arts. And after Dana White said Ronda should be in the top ten pound-for-pound, we'll definitely see a lot more talk as to where these ladies should stand in the pound-for-pound race.
And at this point, Floyd Mayweather—do you seriously not know who Ronda Rousey is? With all due respect, pay attention my dude, these girls will one day be in the run for your pound-for-pound stake.
All I can say is that women's MMA is becoming a monster of its own, and these women are performing at levels that would make you a fool for responding with "yeah—for a girl."
R.I.P to a hater.
Check out these related stories:
Meet the TUF Strawweights: Part 1
Meet the TUF Strawweights: Part 2
Hail the Queen: Ronda Rousey Is on Fire