The UFC with Chinese Characteristics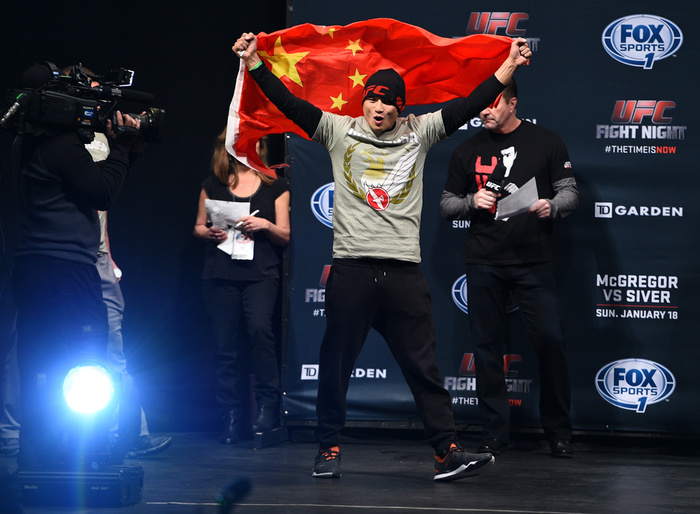 ESPN recently reported that UFC brass are in "advanced talks" to sell the promotion in a deal that could fetch $4 billion. Per the report, Chinese property developer Dalian Wanda Group is the leading bidder, but another Chinese company, China Media Capital, is also interested.
Whether a Chinese company does a takeover, takes a minority stake, or does not invest at all, the Chinese market could prove important to the company and sport's growth going forward.
Last month on The Dan Patrick Show, Dana White said, "We're working on growing the company and moving in to other territories like China, and Japan, Korea."
Arnold Urquidez, President of USAsia Consulting, lived in China between 2004 and 2011 and consulted for the Chinese Olympic boxing team. He also trained various kickboxing and MMA fighters. Regarding MMA, he said, "It's only going to get better in China. According to all my fighters that I taught over there, they're just starting to build up, little by little."
Challenges exist, though. Stanley Tam, head of Shanghai-based SHBJJ academy and Director of the Greater China Jiujitsu Federation, said, "MMA is quite young in China" and most people are "not aware of what mixed martial arts is."
Contradicting the views of many westerners who associate China with Bruce Lee and Shaolin Monks, Tam says martial artists have ranked low on the social ladder since Confucian times. He said this contrasts with Japan's Bushido culture, which venerates martial artists.
Growing up in a Hong Kong family, the 38-year-old said the attitude was that "the educated don't do martial arts." Martial arts were associated with triad street gangs. Still today, he said, "Physical education takes a back seat to academic learning. People never really grow up being physical and especially when it comes to the martial arts." And owing to the one-child policy, "A lot these kids are babied, they can't get hurt," he remarked.
Unlike like the U.S. and Australia, Tam also noted that China lacks contact sports, which serve as gateways. He said, "We don't have football or rugby to bridge it, so going from badminton or table tennis to MMA is a big gap." He continued, "And the Chinese people are not aggressive by nature."
Correspondingly, martial arts that are garnering popularity are less intense than MMA. Tai chi is practiced by the masses, but Tam said, "They treat it as a health exercise before they treat it as a martial art."
Wushu is the most popular art based on number of participants, according to Tam. He described it as "A modern interpretation of martial arts. Like a dance, like a form. It looks very beautiful." He continued, "I consider it more of a cultural art or even like a competitive dance rather than something combative like boxing, Muay Thai, or MMA."
And the combative martial arts generating traction are kid-friendly, such as karate and taekwondo. Taekwondo also benefits from being an Olympic sport. Consequently, it has government sponsorship and is offered at China's sports universities.
For MMA to flourish, educating the public will be important. Urquidez said, "I believe the younger generation seems to understand it a little better than the older generation. The older generation basically looks at it like it's kind of brutal. But I think it's just starting to change."
+ + +
Although the UFC has held events in Macao, they have not done so in mainland China. Urquidez said, "Once you start promoting in mainland China, it's a little different story."
MMA promoters there pursue different governmental approval paths. Shanghai-based RUFF was the first promoter approved by the General Administration of Sport of China. Other promotions host MMA shows as cultural events, which have different rules.
Via email, Mathew Alderson, a Beijing-based Partner at Harris Moure law firm, stated, "As a foreign company, the UFC could only promote its events in China with the assistance of a local partner that has the necessary permits and licenses. Production of TV programs in China would also require the assistance of such a partner, probably a local co-producer. This is because foreign investment is restricted in the sectors in which UFC operates."
In many markets, MMA enterprises and athletes hype fights and build their brands on Twitter, Facebook, and YouTube—all of which are blocked in China.
Regarding rules, Urquidez said China's amateur boxing regulations are consistent with international standards, but MMA's are not. To improve MMA oversight in China, Urquidez's wife, Martha Shen-Urquidez, Commissioner of the California State Athletic Commission, has taken U.S. regulators to China to hold seminars.
Urquidez said, "Once regulators see how it's done, they'll pick it up very quickly...And the sport will grow even bigger." Urquidez said having the UFC involved, as it is in non-regulated markets, will benefit the sport.
Additionally, gambling in mainland China is illegal, tampering fan interest. Tam said, "The Chinese who love sport, they love the gambling. If there was legal gambling, then [MMA] would be huge."
Owing to these impediments, no MMA promotion has successfully penetrated the Chinese market on an economically-sustainable, large-scale basis.
There are reasons to be sanguine on China's potential, though. There could be extraordinary rewards in a country with 1.4 billion persons where discretionary incomes are rising, more money being spent on entertainment, and the sporting industry is a developmental priority.
In recent years, China's leaders have pushed to transition from an export-oriented, manufacturing economy to a domestic consumption, services economy. President Xi Jinping, for example, is hoping to double China's sports economy to $850 billion by 2025, which could benefit MMA.
Resultantly, Chinese companies, many of which are flush with cash and looking to diversify, are investing in sports. Dalian Wanda Group, for example, owns the Florida-based Ironman organizer, World Triathlon Corporation, and is a controlling shareholder in Switzerland-based Infront Sports & Media, a sports marketing company. Wanda's chairman, Wang Jianlian, estimated to be worth $35 billion by Forbes, is also part owner of Atletico Madrid. Likewise, late last year, private equity firm China Media Capital acquired a 13 percent stake in City Group Ltd, owner of Manchester City FC and majority owner of New York City FC and Melbourne City FC.
Promoting combative sports may be next. Urquidez said, "[MMA] is worldwide and China wants to be involved."
Simply having capital and connections, however, does not guarantee success. Tam spoke about Chinese parties investing in MMA. "If they really want to grow it and take the time, why not? It could get big." For some companies, however, foreign promotions could just be a place to park cash. "It really depends on what the owners want to do with it. Is it kind of like a hobby," he questioned.
Tam raised K-1 as a cautionary tale. "K-1 used to have awesome shows. They were bigger than the UFC in Japan," he said. Although K-1 was devolving prior to their involvement, Chinese interests have owned K-1 for the last few years. Since then, "Nothing really much has happened," Tam lamented. "So it depends on what the owners want to do with it."
Tam emphasized the long-term commitment necessary to grow the sport. He said, "It will take a long time to invest in China to educate the public... And trying to put martial arts onto a stage where it is not second-class."
Looking out 10 or 20 years, Urquidez is more bullish and believes this will manifest. He compared MMA's development with boxing's over recent decades. China's boxing program was started in 1985. By the 2008 Olympic games, they won two golds, one silver, and one bronze, the most medals of any nation.
Similarly, he said the prospects for MMA are "very strong" and that "it's going to grow so much bigger than the U.S. It's going to be crazy."
Joshua Bateman is writing a book on China. He can be reached at @joshdbateman.
Check out this related story:
Awakening Martial Arts in Modern China