The Unpredictable Joys of the Minor Leagues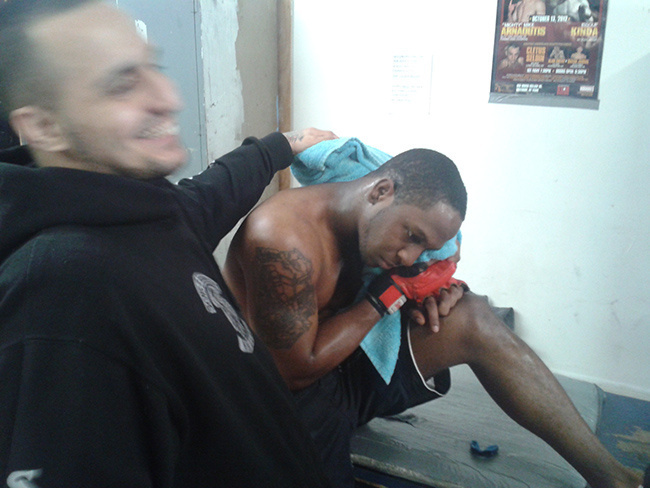 Crocodiles have been on the planet for about 250 million years. And with the exception of a few minor tweaks, the fossils they left back when giant lizards ruled the Earth don't look too much different than their modern incarnations. That means their hides were tough enough to weather the separation of the supercontinent, the last major ice age, and a global mass extinction event that killed an estimated 75 percent of all plants and animals on the Earth's surface.
It is damn good luck to be the animal that doesn't have to evolve to survive.
I suspect that the Underground Combat League is just such an animal, that it has lasted a full decade in New York, a state where sanctioned MMA always seems just over the horizon and a little out of reach, without having to change much of anything ... because it has everything.
For the 10-year anniversary of the UCL last Sunday, the promotion's founder and leader, Peter Storm, booked a busted-up gym in the Bronx, the toughest borough in one of the only states where the toughest sport in the world isn't legally sanctioned. There were bags held together with duct tape and holes punched in the ceiling so climbing ropes could be tied around the rusty red girders running between floors. The ring was dotted with spatters of blood from old fights and covered with a thin layer of plaster bits that had rotten away from the ceiling.
"You never know what you're going to get," my guide, writer Jim Genia, told me when we got to the fight. More than just about anyone else, Jim knows the UCL, having been around since the beginning, so of course he was right. The first fight ended barely a minute in, when a fighter's shoulder was accidentally popped out of the socket on a bad fall and he had to be taken to the hospital.
The second fight had more build-up. One of the fighters -- a lean, goateed striker named Adrion -- had snapped his femur while struggling free of a chokehold the last time he competed in a UCL fight, one year before. It took Adrion months to recover and he hadn't competed anywhere since.
"You couldn't see the bone or anything like that, but you could see that it was pushing against the skin," said the woman next to me at ringside, who called the break the worst injury in UCL history. Adrion kept everything in one piece during his except his comeback, which ended when he got TKO'd two minutes in.
After the fight I asked Adrion about the legendary fracture that even Storm remembered and mentioned during his in-ring introduction.
"It was nothing," he said, taking his wraps off. "I've been hurt a lot worse than that. Didn't bother me." He didn't say what could hurt worse than having your femur crushed and the bone dig its way to the surface of your skin.
Then there was the fighter who backed out because the man he'd been training to fight had been swapped out for a new, and heavier, grappler. "I cut weight all the way down to 175 and this guy's 180," he explained to me after telling Storm he wouldn't go on. "They did this to me last time and I went in and got cut up. I'm not doing that again." Such is life in the minor leagues.
This is why the UCL is perfect in a way that's only clear to me now in comparison to all those sanctioned shows I've been to. The "legit" shows have reliable pacing, ringside medics, and a fight card you can research beforehand. Those kind of events have their pleasures, but they're also predictable. But inconsistent wait times between fights, last-minute changes to cards, floating venues -- these are the frayed bits that give the UCL character that's disappearing in an increasingly slick and programmed world. I doubt you'd find a show that felt as jangled, but I also doubt you'd find one that felt quite as full of possibility.
Political landscapes change. Eventually New York is going to have sanctioned MMA events, and when that day comes if Peter Storm decides to put on shows with light rigs and ring girls and concession stands I hope he makes a lot of money. Still, I also hope he keeps a little business on the side. Nothing too formal, just a show every couple of months with a select group of fans and a mystery fight list at an undisclosed location in an outer borough somewhere. I'm guessing the cops wouldn't care by then, but somehow I doubt they care much now. In America sometimes it's important to feel like you're getting away with something.
Read more about Peter Storm and the UCL here: