The View From Albuquerque: The Rock House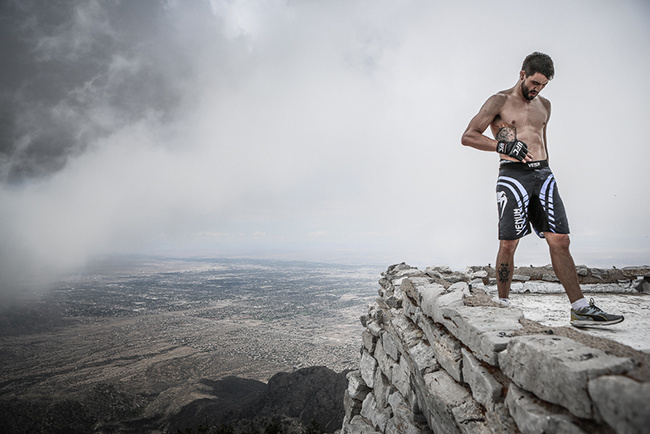 Will Fox is the in-house photographer at Jackson's MMA in Albuquerque New Mexico.
"Our gym is definitely about taking the fighters to go and suffer outdoors," says Brandon Gibson, one of the striking coaches at Jackson's. "Mike Winkeljohn loves to take guys to these brutal uphill sand dunes south of of the city, and Greg Jackson loves to take them to a mountain and he'll have them do sprints up a super-steep staircase at 10,500 feet. So as a young coach I was like, 'Well, what's my outdoor thing going to be?' So I decided to start taking them to the Rock House."

Clay Guida
Built at the crest of the Sandia Mountains northeast of Albuquerque in the 1930s by Franklin Roosevelt's Civilian Conservation Corps, the Rock House used to be a ranger outpost; now it's Gibson's sanctuary for mitt sessions. The trip up to the Rock House usually starts early on the Sunday morning before fight week, when the air is thin and the sun has hardly cleared the mountain peaks.

Julie Kedzie and Gibson
UFC bantamweight Julie Kedzie says trips to the Rock House have "become a sort of spiritual way to finish a fight camp. It's unbelievably beautiful the way the mist rolls off of the trees and rocks. I spend a lot of time meditating." Still, though we might be up in the clouds, each session at the Rock House is premised on the idea of sacrifice, not beauty. I try to capture the juxtaposition of fighting set against the serenity of nature.

Carlos Condit and Gibson
"It isn't so much about the physical push as it is using the time to reflect about the camp we had and the brutal task that's at hand with the fight coming up," Gibson says. "It's, like, a mile run to get to that house, real rocky terrain, so have to be really aware so you don't roll your ankle. It can be dangerous. Then we get up there and hit mitts, flow, and build up the fighter, build up their confidence going into the fight. I have some quotes for them and let them meditate on them, let them be at peace."

Gibson, Condit, and Kedzie
My job is to capture these moments, to show the isolation as well as the beauty that develops between a fighter and a coach as they push themselves to get ready for a fight. Not that they're always isolated. "Though it's a really remote, private spot, we've definitely drawn crowds of tourists and hikers," Gibson says. "When I went up there with Clay Guida a week-and-a-half ago, a crowd gathered around, and when we got back down they totally knew it was Clay Guida. Albuquerque's a fight town, you know? We don't have pro sports here, so some of the guys who come through Jackson's the town's really aware of. Everybody in town knows Carlos Condit and Diego Sanchez and Jon Jones."

Guida
Check out these related stories:
Through the Lens: Junior Blackzilians