The World Muay Thai Angels: Marketing the Women Fighters of Thailand
The music starts and the smoke machines herald the main event on a Friday night in Bangkok. Two fighters take turns walking out to the ring. Chommanee Sor Taehiran, a well known Thai champion, enters to the cheers of the mostly Thai audience while Polish challenger Martyna Krol follows with her own confident walkout.
At the ropes, Martyna fixes the top portion of her ill-fitting, mandatory two-piece fight uniform. She slips into the ring under the bottom rope and adjusts the unsupportive bra top again. Over in the red corner Chommanee faces her coaches and rubs her eyes, careful not to smear the makeup she's wearing for this event. The headlining fight of the night is going to be broadcast live in front of potentially millions of viewers all over Thailand, and the promoters want the fighters to be beautiful.
This is Muay Thai Angels; the beauty of the fighters is part of the supposed appeal to a mass audience. The announcer chants sud suay muay thai!, beautiful Muay Thai!, over the loudspeakers as Chommanee and Martyna square up to begin the main event.
Muay Thai Angels might be an all-female promotion, but it's not the only promotion at the Sports Authority of Thailand tonight. The World Muaythai Council (WMC) also scheduled a men's tournament, featuring three sets of four contenders. According to the announcers, both promotions are in honor of World Muay Thai Day, February 6, in which the Thai government commemorates the historic, 300-year-old coronation date of Thai king Somdet Phra Sanphet VIII, often called the father of Muay Thai.
To celebrate all that is Muay Thai, the WMC mashed its all-male tournament with Angels' all-female showcase. Both male and female fights are draws for particular audiences; perhaps the combination will win the WMC the viewership numbers it desires. The WMC claims this is an effort to promote the popularity of female Muay Thai, as well as spread awareness of the United Nations Secretary-General's campaign "UNiTE to End Violence Against Women." But the rule for women is: you have to wear makeup. You have to be beautiful.
One thing is for sure, the men aren't forced to wear makeup.
Earlier in the evening, New Zealander Sarah Rankin sits patiently backstage while a Thai makeup artist glams her up for the ring. Sarah's opponent Nong Am, only 17 but already well known in the Muay Thai circuit, is sitting a few feet away, her coach wrapping her hands. Nong Am looks up and smiles as a fellow Thai fighter approaches, wiping drops of sweat from her brow. "How was the fight?" she asks her friend.
"I won," the other boxer smiles.
Nong Am's friend Saifa, 20, has been training at her family's gym in northern Thailand since she was 11, the lone girl of the pack. Nine years later, she's studying sports sciences at university in addition to training full-time, hoping to become a P.E. teacher and Muay Thai trainer after graduation.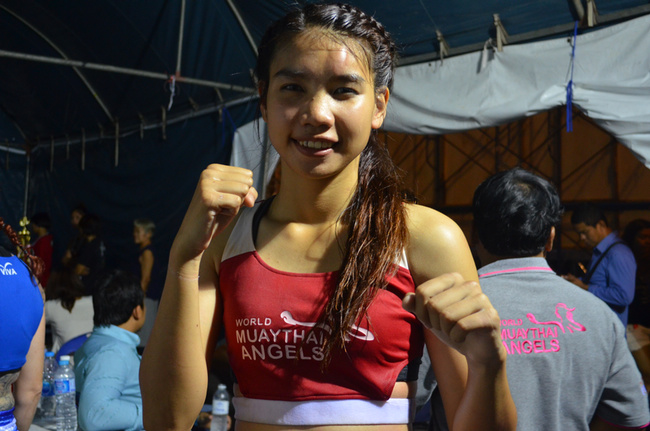 Saifa takes a swig of water, tells Nong Am she won her fight against Italian Miriam Sabot on points, but that it was a hard fight. Saifa and Nong Am, each having fought over 80 times, are in agreement when it comes to fighting foreigners: they'd rather fight other Thais.
"Foreigners are usually bigger and stronger than most Thais," Saifa says. "And they're starting to catch up in technique now."
Nong Am agrees, says she'd rather fight a Thai due to similarities in technique. "I know what to expect when I fight another Thai."
All eight of the Angels fights tonight feature match-ups between Thais and foreigners. No one, regardless of nationality, is exempt from the makeup requirement, not even Lommanee.
A tom ("tomboy" or butch woman) who reportedly identifies as a male, Lommanee is looking particularly feminine while her hands are being wrapped. Apparently short hair and androgyny weren't enough to save Lommanee from getting the full makeup treatment. She's been professionally beautified as well.
On the opposite end of the spectrum is Polish fighter Martyna Krol, who showed up to the event with makeup already done. She was the only woman I interviewed who attested to regularly wearing makeup to her fights. "I like it," she says. "I want to look beautiful when I fight."
Irish fighter Kelly Creegan doesn't agree, calling the makeup requirement "absolutely ridiculous." She admits to understanding the necessity of makeup for the event's promotional shoots, in which the fighters were made to dress up in fancy non-boxing attire, "but I don't know why they want us in makeup for a fight." She checks herself in the mirror before her match and sighs. "I look like a drag queen."
Saifa's makeup isn't so heavy anymore, not after sweating and clinching through three long rounds in the ring. It's Saifa's first time wearing makeup during a fight, and she has an idea as to what it represents: "It's marketing. The promoters want to get women interested in Muay Thai. Pretty fighters are a highlight of the Angels promotion, and if this gets more women involved in Muay Thai, I think it's a good thing."
Hands wrapped and face painted perfectly, Nong Am laughs nervously when makeup is mentioned. She hasn't fought yet, says she's a bit worried about having to wear makeup during the fight. What if the makeup runs into her eyes? What if she gets cut from an elbow and the makeup goes into the wound? "I don't wear makeup in training," she says, "and I feel shy looking like this in the ring. But you have to wear makeup for Angels. It draws a bigger audience when the fighters look pretty. The promoter says if we look outstanding in the ring, people will want to watch us."
Saifa smoothes down her red Angels sports bra, vainly attempting to cover more of her midriff. "If I ran this thing, I'd have us wearing tops that provide more coverage. And these shorts are way shorter than normal. Even during my fight, I was worried I was in danger of exposing too much."
A few minutes later Saifa, having slipped on her change of clothes, wishes Nong Am good luck and runs over ringside to watch her boyfriend fight in one of the men's matches.
Saifa and her boyfriend Anantadej Petchsupapan, who met at a Muay Thai gym, always make it a point to support each other's fights. He watched her win earlier this evening, now she's cheering him on in his first fight of a four-man tournament. He's a 23-year-old giant of a Thai man, imposing and intimidating, like a tough Muay Thai version of Addams Family's Lurch. His fight against Frenchman Remi Vectol lasts all three rounds, but Anantadej confidently secures the win and a spot in the tournament finals.
Shortly after Anantadej's fight, Sarah Rankin steps into the ring against Nong Am. The crowd cheers for the women just as loudly as they did for the men. Sarah and Nong Am will both be taking home about 10,000 baht (US $300), same as the other women fighting tonight. Neither of them reports knowing how much the men are making. For Sarah, though, money has never been a big motivator: "If you're fighting just for the money, then you're in the wrong sport."
Sarah and Nong Am's fight lasts the standard three rounds. The crowd loves it, maybe more so because of the physical disparity between the fighters, a fairly even match between a tall, lithe Kiwi and a stocky, strong Thai.
Ultimately Nong Am is declared the winner. Sarah leaves the ring looking tired yet satisfied, despite losing on points. Still catching her breath, she looks around at the photographers lining the ring and laughs. "Hopefully with all these cameras around, someone managed to snap the face teep I landed."
Soon after is the main event: Polish Martyna Krol vs. top Thai fighter Chommanee Sor Taehiran. With a reported figure of well over one million viewers watching the event live on TV, plus hundreds of screaming spectators in the stands, the fighters don't hold back.
It's not the first time Martyna and Chommanee have fought. They met in the ring two months ago, fighting at the King's Cup event. Since then, both have been training specifically for the other, their coaches helping them identify and exploit weaknesses in the other's game.
Martyna's initial confidence wavers in the first round; she remembers Chommanee's kick-heavy style from their previous fight, but doesn't recall her clinch being this strong. Put off by Chommanee's kicks, Martyna pushes for inside fighting with the clinch all through the first and second rounds. Chommanee doesn't back off, comes at Martyna with a flurry of effective kicks.
The bell sounds and the fighters return to their corners. "Just keep pushing her," Martyna's coach tells her, reminding her how tired Chommanee was by the third round of the King's Cup fight. "You keep pushing her, you're gonna win this fight. Stay in the clinch, get out of kicking range."
Final round. Martyna pursues Chommanne, throwing her down, nearly pushing her out through the ropes, grabbing her in a headlock and aiming three knees at her head before the referee, also a woman, breaks them apart. Chommanee responds to the challenge. Better conditioned than she was during their last fight two months ago, she tries to evade Martyna's clinch, relying instead on her speed and powerful legs.
Both fighters exhale and visibly relax at the sound of the final bell. They hug quickly and pay respects to each other's corners. Martyna approaches the center of the ring for judgment and is quietly overtaken with anxiety. Her corner said she'd won, she thought she might have won as well. But Chommanee had been preparing for the fight. Knowing Martyna was a clinch fighter, she and her team likely drilled clinch work in the weeks leading up to the fight. Chommanee is good, a top-tier fighter with fans who recognize her on the streets. In the seconds leading up to the judges' final call, Martyna's uneasiness grows.
The ref raises the hand of the red corner. It's Chommanee's fight.
Chommanee stumbles back in relief, gives Martyna another hug, and bows to the raving crowd.
Visibly disappointed, Martyna steps down into her chaotic corner of coaches and teammates who declare it an unfair decision. Sasiprapa Gym owner and promoter Thakoon Pongsupha confronts the judges with loud, unfriendly language while Martyna slips backstage with the rest of her teammates.
Again ringside in red's corner, Saifa screams encouragement as her boyfriend Anantadej takes on Ireland's Shane O'Neill in the last bout of the night. Shane tries to hold his own but is knocked down by the Thai boxer's vicious combination. Shane manages to recover, stands fully upright just as the ref reaches 10. It's not fast enough for this ref, though, and the fight is awarded to Anantadej.
Fifteen minutes later, Saifa looks on proudly as Anantadej and the other tournament victors receive trophies on the main stage. Three women are also welcomed to the stage: Natasha Sky, Nong Am, and Chommanee. A representative of UNiTE presents each of them with a unique trophy. Natasha giddily holds hers aloft, pointing to the Thai script for Best Technique. Of Angels' eight matches, only two foreign contenders, Australian Natasha Sky and Turkish Funda Diken, were awarded the win.
After the awards ceremony, Anantadej steps down off the stage into the embrace of his proud girlfriend and teammates. Saifa had already received the purse for her fight, 10,000 baht (US $300). It was no secret that Anantadej earned far more for his fight. Just showing up to the men's tournament guaranteed him a purse of 40,000 baht, four times what Saifa made. He'd already secured 80,000 after winning his first fight, and now took a whopping 150,000 baht (US $4,600) for winning both.
Saifa later said she wasn't bothered that her boyfriend made so much more than she did, despite women's Muay Thai being touted as the draw for the promotion. "He fought in a tournament, I didn't," she said. "I've never fought in a tournament before. I might be able to in the future, but there aren't many opportunities like that for women."
Check out these related stories:
Sitmonchai Gym and the Balance of Cultures
Small-Town Muay Thai: The Village Gyms of Phuket
Life of a Pad-Man: A Muay Thai Trainer's Remorse