The Zombie MMA Team: Korea's Amateur Fighters
On my first day in Seoul Chan Sung Jung (more commonly known as "The Korean Zombie") invited Bellator's Shanon Slack and I to a "fight". While not totally understanding what we were agreeing to, we agreed. The next day, Chan Sung picked us up at his new gym, Korean Zombie MMA, in Gangnam. We stopped at Burger King and drove for about 40 minutes. Along the way I figured out that we were going to an amateur event and Chan Sung would be cornering a few of his TKZmma team. We eventually parked underneath a tall building and got in the elevator. I assumed this was just the parking garage but we when we got out on the 8th floor we were in the middle of a Road FC: Korea event.
I was immediately impressed with the turnout. I can't think of any truly amateur event in the States that would have as many fighters, coaches, fans, and kids. Almost every fight was a perfect match up, which lead to a lot of great exchanges. The following are the photographs I took of the event, where I officially became a fan of the growing Korean MMA scene.

About 20 minutes outside of Seoul is Team Max Multi Gym. It may be the only MMA gym in Korea not located in the Gangnam neighborhood.

A big turnout for a small event in Korea, with a good amount of fighters, fans, including more women than you'd probably find at a typical MMA event.

The event started with two women's fights.

A Korean favorite; knee from the clinch.

Korea's top female boxer shares a laugh with the TKZmma crew.

TKZmma's corner looks on. Shanon Slack has only been in Korea for a week, but his wrestling expertise is already helping Chan Sung's fighters.

Chan Sung tells JinSoo to pick up his pace going into 2nd round.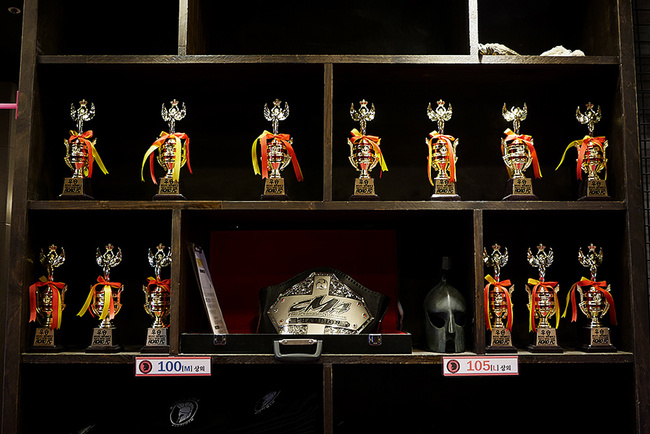 Road FC trophies and title belt.
See more of Aaron's work on his website.
Check out this related story: