Thompson, Cerrone and Calderwood: The Best of Karate and Muay Thai in MMA
Stephen Thompson is next in line to fight for the title. It might not have come from the most spectacular showing of his knockout filled MMA career, but by shutting out Rory MacDonald, Thompson proved that he can hold any man at the mercy of his distancing. Through five rounds Thompson significantly outlanded MacDonald not only at range, but often in the periods along the fence where MacDonald should have had the chance to hurt the distance fighter.
From the start, Thompson maintained the distance beautifully and denied MacDonald the opportunity to box. MacDonald remained cautious and Thompson would score points and prod him into activity with the usual stiff side kick and darting straights.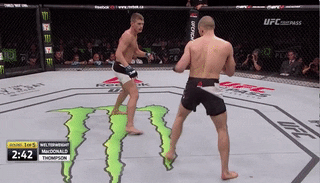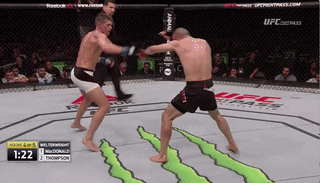 I especially liked this dart to side kick. Something that might fit well into the game of Dominick Cruz and a neat side kick set up for fighters who don't like fighting side on.
What was especially appreciable in this fight was Thompson's commitment to coming in straight and getting off on angles. Comparing the Thompson of Fight Night 89 to the Thompson of the World Combat League is like night and day. Where Thompson would charge in wind milling punches on a straight line (as Sage Northcutt so often does now), he now gets in and out of harm's way. Funnily enough it seems like the threat of wrestling rather than the threat of a counter punch has taught him the value of this.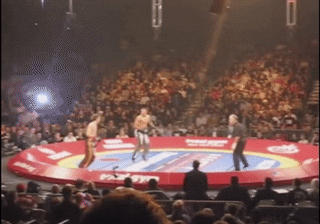 The famous loss to Raymond Daniels that was later turned into a No Contest.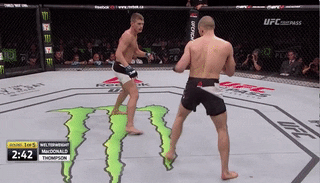 And Thompson's angling on defense was every bit as good. Any time he conceded a slight dominant footing or opportunity to MacDonald he would break the line on a tight angle and circle off to a new position.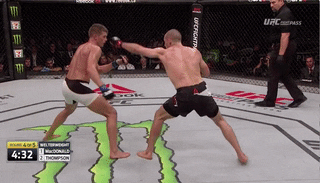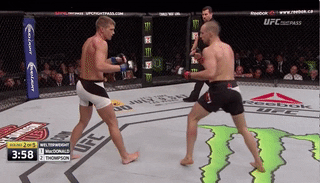 MacDonald looked lost out at range and did little to cut the ring but he did make a couple of attempts at unorthodox offense, which almost caught Thompson out. These likely stem from the leg lock veterans of John Danaher's gym and the great Ryan Hall training for some time at Tristar. Rather than chasing wildly after a takedown against a man who was clearly expecting it, MacDonald attempted the Imanari style upside down shot and almost achieved a very dangerous leg entanglement from which he could have secured a heel hook.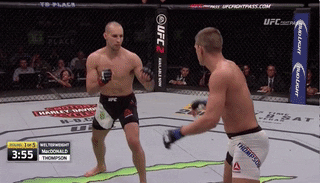 MacDonald was frustrated as even in the rare occasions he got into a clinch near the cage, Thompson was able to turn him onto the fence. MacDonald surprised Thompson with an attempted kani-basami or crab pincers takedown on one of Thompson's legs in hopes of entangling it. Garry Tonon repeatedly tried the same technique against Rousimar Palhares in Polaris.
Thompson was able to sprawl his legs and avoid entanglement yet again, briefly mounting MacDonald before MacDonald worked back to guard and attempted to attack with another leg entanglement.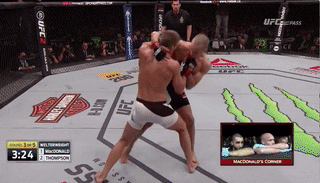 But for the most part MacDonald was out at range for too long and focused his efforts on attacking Thompson's elusive head—held far back in his long stance and the first thing to move out of range during a side step. Attempting stepping right hooks each time he got Thompson to the fence and whiffing on all but one or two.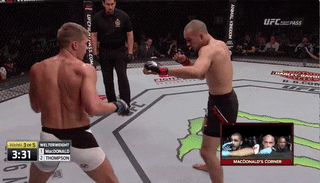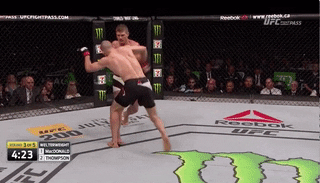 It was made worse by the fact that whenever the two got near the fence, MacDonald would wait and then Thompson would open up with punches before circling off. It seemed almost as though MacDonald was thinking "now he's where I want him, I can't rush in and blow it" and was getting hit in the process.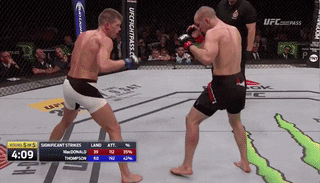 The problem with karate style distance fighters is getting them to stand still while you hit them. One way is to move them to the fence or ropes. Another is to catch them coming in. And a final one worth noting is foot trapping. That can mean standing on the foot, it can mean punting the leg up in the air, or it can mean short slapping kicks to either pick up the opponent's foot or encourage them to put their weight on it and make them slower to move when you make your advance. While MacDonald threw almost no leg kicks in the fight, Thompson was constantly slapping, tugging and jabbing at MacDonald's lead leg between his punches.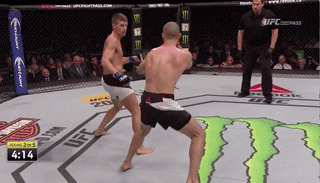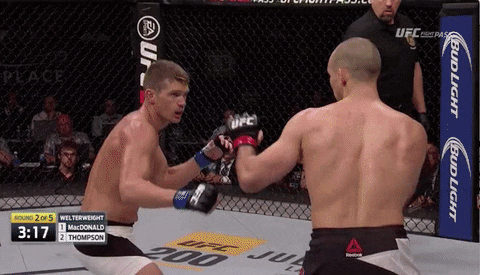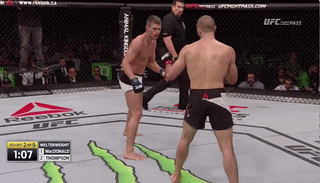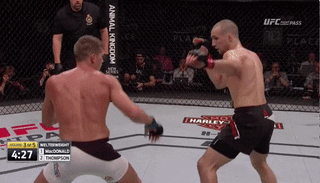 For Thompson, this fight was terrific. Now he is heading into a title shot against either Robbie Lawler or Tyron Woodley. Should he meet Lawler, it is hard to see the long time welterweight champ having more success defusing Thompson than MacDonald did without showing drastic improvement in cutting off the cage, or a commitment to low kicking which he hasn't displayed before.
For MacDonald, the word is that he is taking some time to have surgery on his nose after it broke once again in the final round of the fight and saw him back onto the fence in clear agony. After that he is supposedly to test his value as a free agent. Frankly he deserves to be making the big bucks because going back to July 2013 he has not had a single softer opponent. Ellenberger, Lawler, Maia, Woodley, Saffiedine, Lawler again and now Thompson. If anyone deserves some down time, a tune up, or to get paid huge money to go over to Bellator and clean out their division, it's MacDonald.
Cerrone at Welterweight
To this writer, the best showing of the night came from Donald Cerrone. Fighting a real welterweight for the first time, Cerrone looked right at home. As a lightweight Cerrone excelled with his legs at range and when he added an intercepting knee he suffered less from opponent's stepping in on him, but in trades with shorter opponents he often wound up eating tighter blows inside of his own swings. Fighting a man with a more similar frame to his own in Patrick Cote, Cerrone's hands looked the best they ever have. Similar to Alexander Gustafsson, who had his best showing against his only opponent of equal height, Cerrone seems like a guy who despite his reach advantages has always just wanted to throw down with his hands.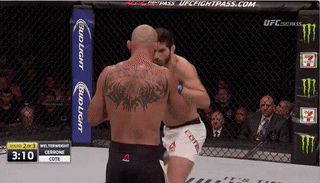 Cerrone opened the bout by ducking under Cote's first punches and hitting a perfect reactionary takedown. The same thing happened again minutes later and Cerrone was able to advance to Cote's back.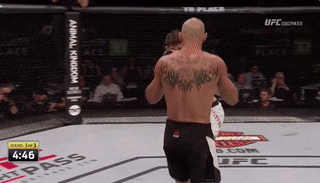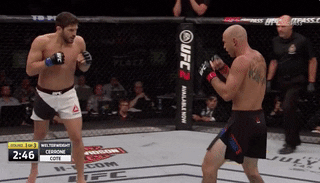 After putting the fear of the takedown into Cote, Cerrone got to work on the feet and looked as sharp as ever. He showed a nice right hand to the body on the counter on a couple of occasions. His intercepting left kick to the ribs under his opponent's right straight found its mark. When Cote kicked, Cerrone blocked and fired back in double time with twice the impact.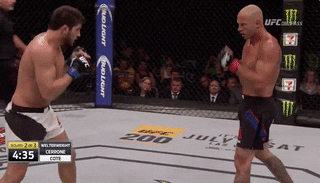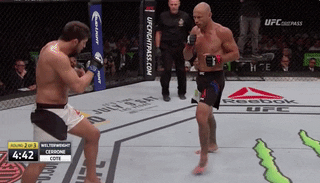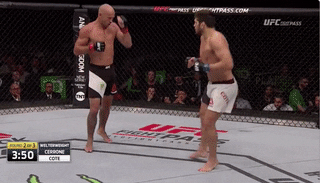 A lovely feint to draw a check or a teep out and a low kick after the foot lands again.
Two knockdowns came as Cerrone caught Cote with punches in exchanging range, between clinch and outfight, the range where he historically has had the most trouble. The final knockdown came off of what is normally a throwaway left hook to hop to an angle for a low or high kick.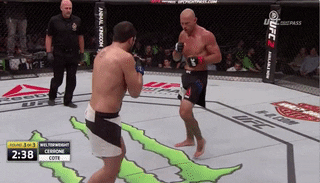 Cerrone showed his old habit of backing up with his hands out in front of him and his chin up, which could come back to bite him in the long run, but ultimately his head movement looked as good as it has ever been.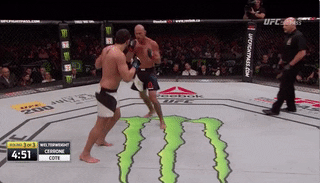 After becoming the first man to stop the iron jawed Patrick Cote on strikes, I think it is safe to say that Donald Cerrone at welterweight looks strong, fast, and as nasty as a sack full of badgers.
A final notable performance from the night was Joanne Calderwood's stoppage of the famously tough Valerie Letourneau. Calderwood's left leg looked great as she switched between long push kicks to the midsection and snapping inside low kicks. Pumping out the jab as she came down, I could not help but think of Semmy Schilt. It would be interesting to see Calderwood study Schilt's tape and notice how well he moved his head off line when he came down off of his kicks and straight into a dipping jab. Calderwood's jab is long and stiff, but she almost always remains upright and with her hands and shoulders low as she recovers, leading her to eat power punches.
The spinning backfist (or forearm) to secure a knockdown in the early going was a nice dash of the unpredictable in the usually methodical Calderwood.
Perhaps the weirdest part of the bout was the stoppage in action as a teep to the face dragged Letourneau's top out of position and she had to readjust, while the referee stepped in and everyone was left wondering what on earth was going on. Add this to the pile of nip slips we've seen since the Reebok gear came in, and Urijah Faber's whole arse being on show in his bout with Dominick Cruz the other week and the Reebok kits look worse and worse. This after that dreadful presentation where Ronda Rousey was dragged up to talk about how ineffectual sports bras are for an MMA fighter and how the new gear will be far superior. But then that is what happens when you switch from a competitive landscape of MMA apparel makers who will go out of business if their gear is shoddy, to a single company that has never made MMA gear before and doesn't have to worry about the fact that no one would ever choose to compete or train in their gear.
The finish was just as weird as Calderwood scored a digging teep to the midsection which caught Letourneau breathing in and sent her staggering, turning her back and clutching her midsection. The referee dithered and Calderwood chased with a running knee to the butt and a few unanswered strikes before the referee realized that going fetal (as anyone will when hit in the gut hard enough and at the right time) is not intelligently defending yourself.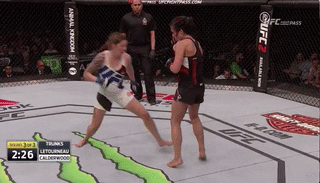 A very good night of fights, especially if you like clinical striking. You had two types of Muay Thai stylists and a karateka showing exactly what they are all about. Now we have a couple of weeks until the next UFC card but when it arrives you might as well write off your weekend. Dos Anjos vs Alvarez on the seventh, Jedrzejczyk vs Gadelha on the eighth, and UFC 200 on the ninth. What a time to be a fight fan.
Pick up Jack's new kindle book, Finding the Art, or find him at his blog, Fights Gone By.
Check out these related stories:
UFC Ottawa Quick Results: Thompson Bests MacDonald in Welterweight Chess Match
Stephen Thompson: Taking Back the Horse Stance From the Haters
Thompson vs MacDonald: The Fight for the Future of Welterweight