Through the Lens: Renzo's Presence
I've been blessed with the opportunity to document the training, travels, and lives of some of the best fighters in the world. They are generous with their time, and I repay them by putting all my effort into my photos of them. As Andre Kertesz once said, "Seeing is not enough; you have to feel what you photograph."
With this photoblog, I hope to provide a glimpse into the lives of MMA fighters--backstage, behind the scenes, and beyond. I want to take you places not everyone gets to go.
Renzo's Presence
When someone like Renzo Gracie comes into the Blackzilians gym, everyone pays attention. The Brazilian jiu-jitsu legend has a presence about him, an energy that compels you to find out who he is and what he knows.
What he knows, of course, is everything. Listening to Renzo discuss jiu-jitsu is like talking about filmmaking with Orson Welles. Guys who have been fighting all their lives, who have held world titles, sit in silence and soak in the knowledge. Commanding the attention of a roomful of fighters is a nearly impossible task; rarely have I ever seen someone do it with the ease Renzo does.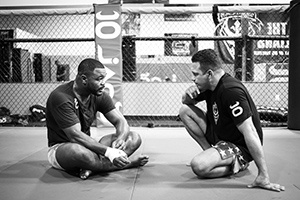 Maybe the definition of a true teacher is the ability to make the inscrutable appear not just simple, but intuitive, as if a piece of knowledge has been in your brain the whole time, just waiting to be recognized. Renzo demonstrates a technique for his students and then it clicks. You can see it on the fighters' faces: "Of course! How in the world did I not know that?"
Because you're not Renzo Gracie.
Check out these earlier installments of Through the Lens:
The Transformation of Tyrone Spong