To Recreate Glory Days, Shogun Returns to Master Cordeiro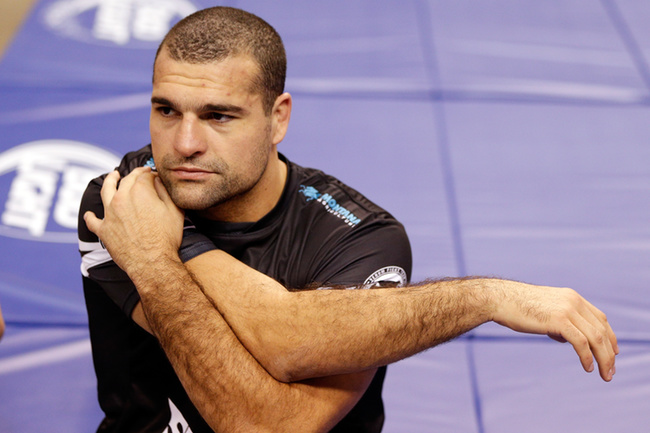 Once one of the biggest stars of the now-defunct Pride, former Brazilian UFC middleweight champion of the world and currently one of The Ultimate Fighter Brazil 4 head coaches opposite legend, compatriot and soon-to-be opponent in the Octagon Rogerio Minotouro—Mauricio "Shogun" Rua—has come across some difficulty in the past few years. Those who saw him perform in his glorious earlier days could hardly fathom the fact that he's lost four of his last five fights.
Shogun faces Minotouro at UFC 190, on August 1, in Rio de Janeiro. The first time they faced each was in 2005, at Pride's middleweight Grand Prix. That fight, in which Shogun defeated Minotouro, is widely regarded as one of the best fights in the history of the sport. In 2005, it was the fight of the year.
In his last UFC outing, Shogun lost in a terrible fashion versus Ovince St. Preux. Before that, he lost to the fading Dan Henderson. His last two losses were against James Te Huna—whom he knocked out—and Brandon Vera.
Ever since Jon Jones ran through him in 2011 and snatched the light heavyweight strap, Shogun—a Brazilian jiu jitsu black belt and Muay Thai black prajied—has had difficulty finding his north within the Ultimate Fighting Championship's Octagon. He's won three times in eight fights since that loss, with most of the performances leaving fans hungry for the Shogun of days past—his wins lackluster and his losses tip-toeing the line of embarrassment.
For the 33-year-old Shogun, however, there's still time to put in work and redeem what was once a stellar brand. And he's Shogun Rua. We wouldn't be wondering what happened if we hadn't once seen how truly spectacular Shogun was inside the arena. Take a second to remember the two fights that happened between Shogun and Lyoto. Each athlete took one for himself: first Lyoto by decision, but then came Shogun a second time around and knocked Lyoto out cold in the first round.
Those who've worked with Shogun have pointed to a lack of focus, an inability to maintain the powerful will necessary to succeed as a mixed martial artist. Some people need a little push sometimes. For Shogun Rua, that push comes from a wise man from mixed martial arts promised land—Master Rafael Cordeiro at Kings MMA. It's also a return to Shogun's origins.
Rafael Cordeiro is going through a golden age at the moment. Having set up shop in Huntington Beach after leaving his native Brazil, his stable of students currently includes interim heavyweight champion Fabricio Werdum and the man who so dominantly dethroned Anthony Pettis from the lightweight summit, Rafael dos Anjos. Whatever they're doing at Kings MMA, it's working. Shogun saw this, and it made him hungry to return to glory.
Shogun hails from Curitiba, which is where Academia Chute Boxe began. In the early 2000s, a young Shogun found himself training for his Pride excursions under the tutelage of Master Cordeiro. So much of Shogun's early success can be attributed to the training he received at Chute Boxe.
A return to his roots might mean a return to his prime, the prime that TKO'd Chuck Lidell, Alistair Overeem and Forrest Griffin. The kind of prime that saw Shogun be in Pride what Jon Jones is in the UFC today. Shogun is far from old. He's three years younger than Lyoto. Maybe Master Cordeiro can help him find his way once again.
Check out these related stories:
Defining Moment - Shogun Arrives at Last
Jack Slack: Time for Shogun to Hang Up His Gloves