Tough Love in a Thai Jungle
Photo by Rafael Duarte
Koh Phangan, Thailand
Johan Carlsson watches two teenage boys fight through the screen of his smart phone.
Elbow jabs into upper shoulders. Foot cracks against shins. Bare torsos glistening with liniment oil jostle through a Muay Thai clinching sequence that escalates in tune with intensifying drums, Javanese flute, and cymbals.
During the first fight, a blow to the skull knocks a scrawny 16-year-old unconscious for upwards of 10 seconds. He's eventually revived with a splash of water and menthol waved under the nose.
Flanking Carlsson are a few hundred rowdy, mostly Caucasian men in their early 20s chugging Beer Chang and whiskey-Red Bulls from plastic sand buckets with straws. Spectators have each paid 500THB (about US$15) to view five bouts, a few hundred more for ringside seats reserved with their names scrawled on white paper.
It's one night before Thailand's infamous Full Moon Party, a cash-cow event on this south-eastern beach island that draws thousands of Westerners donning bikinis, day-glow body paint, and not much else for what often amounts to a five-day bender. It's a sweltering July evening and three sets of teenagers and two pairs of adults are competing at the Haadrin Beach arena. Most are shack-dwelling locals who began eking out survival from the ring as young as age 8, sending the windfall home to their families. But the star attraction is a 14-year-old Swedish kid named Rasmus, who's got no clue that his age of innocence and cool Euro cachet have made him the crowd favourite.
Rasmus is Carlsson's son, and his father is nervously filming the boy's public debut in the ring. Inside the men's toilet, just before the gong sounds, Carlsson confides in a stranger that he's betting his son will lose.

Photo by Kim Lagerhem
Somewhere around the 25th time Rasmus ran away from home, Carlsson, a 40-year-old divorcee, paused his job as a carpenter and transplanted himself and son from Sweden to a Muay Thai training camp in the Thailand jungle.
"Before, I was worried. This time I was really angry. So selfish, just thinking of himself all the time," Carlsson says, recalling the weekend last April he spent scouring back streets and woods in their hometown of Gothenburg, Sweden.
Rasmus played youth hockey for a top-three team in the northern European country but had quit the previous December after a falling out with his dad. He soon faltered with schoolwork, was caught smoking cigarettes, and sometimes physically lashed out at his parents. Carlsson, who had split from his wife 13 years prior, got consensus from her and a community social worker that a drastic solution was required. Perhaps a wallop of tough love.
"I said, 'This summer is going to be the most important in Rasmus' life,'" Carlsson says.
The duo arrived at Diamond Muay Thai camp on Koh Phagnan island, 450 kilometres south of Bangkok, in the Gulf of Thailand, in early June to begin side-by-side training in "the art of eight limbs." Carlsson paid 17,000THB (US$525) for his son to train, eat, and sleep at the open-air gym and bungalows, nestled amongst coconut groves and rainforest in a clearing a good distance from the ruckus party beach. The owner of the camp is a former military champion who tailors lessons to foreigners and locals alike in his facility shared by light-footed geckos and the odd copperheaded racer snake.
Carlsson considered the move a crucial investment in his son's future. He hoped the ancient killing technique, usually explained as having been developed to slay enemies on Southeast Asian battlefields, would transform Rasmus' inner punk into a respectful young man.

Photo by Rafael Duarte
Muay Thai has evoked criticism outside its country of origin. Fighters wear just boxing gloves and a groin guard under snazzy shorts. The World Muay Thai Council, which is the sport's governing body, stipulates competitors must be 15 years or older, although children routinely participate in public contests complete with high wagers. A 2009 report to the United Nations' committee on the rights of a child red-flags the practice as a concern, while the Thailand Ministry of Education found in 2007 that 20,000 youngsters were active in the sport. Muay Thai was barred from the school curriculum in the 1920s owing to its high prevalence of injuries.
Still, champion fighter Suwan "Phu" Chansri laughs from his gut at the notion that competitors of any age should don protective gear.
"Helmets for motorbikes," says the 37-year-old, still strong despite dozens of beatdowns during his 500-fight, pan-Asian career, in broken English. Chansri now trains his own international roster of students by day and emcees live fights by night, including Rasmus' premiere.
"Learn good, but not fight good," he says of Rasmus while resting behind the arena post-training session with Dutch medical student Willem Bansema. The 21-year-old had encountered Carlsson, nervy and uncertain, in the men's toilet pre-game. Along with two schoolmates, Bansema had leaped from his ringside seat to check over 16-year-old SumLee, the local boy knocked unconscious during the evening's first fight. With no doctors on site (a small medical clinic lies about 50 metres up a dirt path) the trio made their best possible prognosis: probable concussion.
"Me in the ring?" says Bansema, a tall man near double SumLee's size. "I'd die."

Photo by Kim Lagerhem
Johann Carlsson was introduced to Muay Thai during his 20s while backpacking through developing countries with hard reputations, earning the nickname "Singha" among his crew after the popular Bangkok brew's lion mascot. He became accustomed to the sports' gyms, arenas, and stadiums, seemingly as ubiquitous as the resplendent Buddhist temples dappling the golden land. Something from his past twigged in him when he'd finally had enough of his son's insolence.
But while the ruggedly handsome Swede alluded to having had his own adventures as a young man, he can't recall ever raging with the same anger as his son.
"Me and Rasmus, what we have in common is we are both very restless," he says. "Today I'm old, I know what to do--train or work. But he doesn't know what to do. When he's restless, he's picking on me, picking on people in school. We have to switch that up to something good. I don't know if this is right, but this is the right direction."
During six weeks at the camp, the 60-kilogram, 165-centimetre teen with spiky blond hair and bling-studded earlobes trained twice nearly every day. Rasmus spent between two and five hours shadowboxing, bolstering his kick and perfecting combat with sharp thwacks against his trainer's deflecting pads.

Photo by Rafael Duarte
Shangri-La awaits during the downtime between fights. Smokes are sold with nary an ID check; street vendors display bottles of cheap liquor and haphazardly tossed keys become an invitation to take an idle motorbike for a spin. The island is infamous for fatal motorbike accidents, owing to its slippery, sand-dusted rolling hills.
Before Carlsson and Rasmus return home, the father will have his son's name tattooed inside a large anchor on his right bicep.
"I think sometimes he doesn't want me to exist so he can just be a cool guy," Carlsson says.
The fragile relationship keeps the father awake at night, not fears that repeated smackdowns could mash his little man into Muhammad Ali. It doesn't mean he's not well aware of potential consequences. One afternoon, he attempts to dissuade SumLee, Rasmus' 16-year-old Thai friend, from competing a third time in one week.
"No good, no good," he tells his son's friend with a jittering gesture. "In five years you'll be shaking like this."
The science on brain injuries in sports continues to pile up. Neuroscientists warn that repeatedly bashing the head can lead to concussions and even irreversible brain damage. Scenarios encouraging the unrestrained pummelling of still-maturing grey matter appear grim.
"Juveniles are very susceptible to mild traumatic brain injury," says Dr. Brian Christie, director of the neuroscience graduate program at the University of Victoria in Canada. "On the good side, the majority tend to recover (from a single concussion) somewhere between 21 days and a year. But on the down side, studies show you can spot learning deficits in kids up to six years later."
Symptoms from just one mighty blow to a youngster can range from headaches, fatigue, and insomnia to hyperactivity, depression, and anger, along with creating big problems for memory and learning. What's more, research is mounting that repetitive damage early on in life may trigger dementia in old age.
"You'll see a change in their usual emotional state," Christie says. "Your brain controls all these behaviours and emotions and you're slapping it around. You're damaging the thing that controls who you are."
Carlsson is willing to make the gamble. He believes the risks of losing his son to a street gang in Sweden far outweigh any potential mental or physical harm that may come from Muay Thai.
"If you're not listening to your parents and go out and smoke weed or drink alcohol or take drugs, that's more dangerous than this," he says.

Photo by Rafael Duarte
When Rasmus enters the ring--spectators chanting "Sweden! Sweden!"--Carlsson keeps his composure by watching the traditional warm-up ritual through his smart phone. "I was really, really nervous," he says. "I put him there."
Rasmus bows out just moments into the second round, unapologetically complaining of too many kicks to his right calf. His muscles are not the same hard clay lumps as his 18-year-old Thai opponent, conditioned since childhood by the striking of sticks. It's a different pain than when a girlfriend back home pierced Rasmus' tongue with a hole punch. And besides, he was much too much on edge after watching SumLee go limp during the first bout.
"I was very, very nervous about getting my ass kicked. And there were very many people watching," Rasmus says immediately after the fight, sweaty hand clutching a celebratory brew like dad. "But when I stepped into the ring, the people disappeared. The Thai boy I fought against, I didn't see anyone else."
Father and son jointly exhale.
"I was proud I even stepped into the ring and didn't stay at home and do nothing," Rasmus says.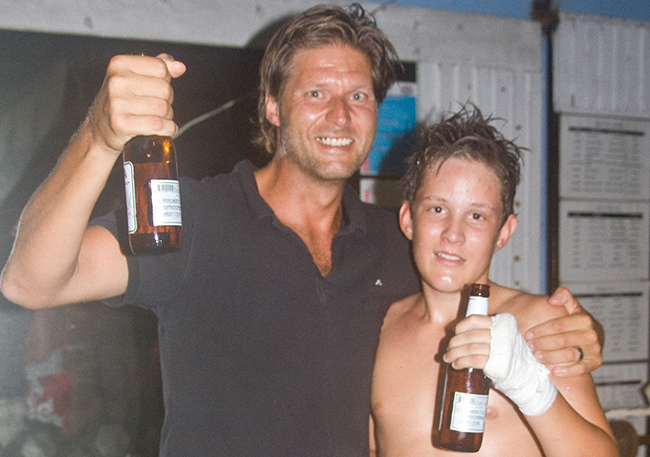 Photo by Kim Lagerhem
Prior to the match, Carlsson reassured his son he had no expectations: "If you feel it's too dangerous, step aside," he said. "You're my hero anyway."
When his father is not on the sidelines, Rasmus often appears to be just like any other teenager. He fears the spiders inside his bungalow and avoids the camp's disgusting outdoor bathroom, favouring the toilet inside a nearby pub. Commonplace stray dogs make him tense. He teasingly provokes his elders with tickles and playful prods.
"Beneath his haircut and his style and his swagger, he's a really sweet kid," says Alejandro Cabrera, an 18-year-old from Colombia also attending the camp. He describes Rasmus as a quick learner who is fun and interesting to talk to, while also pointing out the short fuse and hyperactive personality Cabrera feels makes Muay Thai an ideal yin to the boy's yang. After a really hard workout, Rasmus becomes almost Zen, Cabrera says.
A few days after his fight, Rasmus plays hooky. Not the outcome Carlsson was hoping for.
"After the fight, Rasmus was really calm," Carlsson says. "For a couple of days he was a really nice kid. The same I had last summer. He was nice to me, helping me. But he couldn't train because of his leg, and his restlessness was coming back immediately. I will not give up. This is going to be a long, long road."

Photo by Kim Lagerhem
Rasmus is in good spirits when he presents vodka and two bottles of Thai rum to his trainers as parting gifts on his final day at the camp. Father and son will head through Bangkok en route home the next morning, shacking up for the night in the same hotel featured in the movie The Hangover. The teen runs through his usual routine, occasionally glancing through the grove of sweating bodies for any expressions from his plastic-chair seated father. When the session ends, he quietly heads over to a weight machine away from his peers and perches on it alone.
"After living here these past two months, will things change for you?" he's asked.
"Maybe much [on the] outside, but not inside. Not much," he says.
How come? "Because," he trails off, then shrugs. "I don't know."
Carlsson leaves to pack and the teen reanimates. He hops on Chansri's motorbike with SumLee and the pair speed off, whoops carried by the wind. When they return, Rasmus displays a pack of cigarettes from the waistband of his brand-new boxing shorts, embossed with his name in curvy block letters. He lights a stick clenched in the lips of another of his personal trainers, a rail-thin 38-year-old. Horseplay ensues. At one point, Rasmus wraps his senior around the waist from behind in a bearhug and hoists him in the air like a scarecrow. The jungle fills with the sound of their laughter.
A small entourage of young men on motorbikes sets off for noodles and fried chicken. Rasmus rides saddleback behind the trainer, cradling a tall cylinder of SangSom 80-proof rum in his pristine white gym bag. The final pit-stop is a ramshackle Muay Thai arena owned by friends near a pier. The group is expected back at camp soon after for a farewell party.
Bikes are parked and three generations of companions flop down on a well-worn couch or straddle wooden stools beside the ring. Immediately, his trainer motions for Rasmus to hand over the amber liquor. The usual ritual involves everyone taking a swig--or several--until the bottle's gone dry.
The teen laughs, glancing down at his awkwardly clutched bag. He pauses. He glances over at the motorbikes. He giggles.
His pockmark-faced trainer motions again. This time, Rasmus shifts in his seat. The trainer beckons, yet again.
Rasmus shakes his head. Now he's starring straight ahead, his face gone blank.
"Me Thai. You falang," the 38-year-old says, using the word for "foreigner" as invective.
Upward creases around the man's eyes go taut. He lets out a low growl. He shakes an empty plastic glass in his charge's direction.
Rasmus just sits. Clutches his bag tighter.
The festive atmosphere has turned mean.
Finally, Rasmus lets out a whisper: "No drinking and driving."
The 14-year-old, who gave up in the ring after less than five minutes, holds his ground for more than 15. Then the crew zooms soberly back to camp.
Check out these related stories: