TUF Latin America: A Look at Team Werdum
If you weren't sure whether or not the world-wide expansion of mixed martial arts was underway, this season of The Ultimate Fighter should convince you. With fighters from Colombia, Nicaragua, Chile, Argentina, Bolivia, Ecuador and Panama, this season represents the most diverse version of the show yet.
The show features former Olympians, stifling submission artists and vicious strikers; it's the perfect combination for an explosive season.
With this in mind, let's take a look at Team Werdum:
Bantamweight:
Guido Cannetti
5-1
Buenos Aires, Argentina
With fighters like Guido Cannetti, the stigma that small guys can't punch will quickly dissipate.
A power puncher that knows how to set it up, Cannetti is one of the most dangerous strikers on the show. Add to that a violent ground and pound game, an arsenal of kicks and the ability to finish by submission, and you've got yourself a dangerous bantamweight.
If Cannetti has a shortcoming, and it can hardly be described as such, it's that he's never seen a second round. With his 5-1 record, he has two first round knockouts and three submissions. The adage that fighters don't get paid by the hour surely applies to him.
Fredy Serrano
1-0
Bogota, Colombia
A natural flyweight who is 34 with only one fight, the odds don't seem to favour Fredy Serrano
But when you consider his bronze medal at the 2007 Pan-Am games and an appearance at the 2008 Olympics in Beijing in freestyle wrestling, Serrano could be exactly the kind of talent to emerge from this show with a huge future.
His overhand right hook is not unlike that of a Johny Hendricks or Dan Henderson, and his funky wrestling keeps people off balance. Not a power wrestler, Serrano can switch angles to get takedowns. Include the submission game and unorthodox strikes he's begun to use in his most recent bouts and we've got a dangerous prospect.
Serrano's test will come when he gets taken into deep water, or if he's forced to fight a proper submission artist.
Bentley Syler
5-0
Santa Cruz de Sierra, Bolivia
One of the more proven commodities for Team Werdum, pressure will be on Syler to lead his time to victory.
Training out of American Top Team, Syler should be the most polished prospect on his team. He has solid leg kicks that help him gauge distance and has become more comfortable with his takedowns and ground control.
He doesn't have a particular weakness, and if he decides to use his strong top game, should be able to go far in the tournament.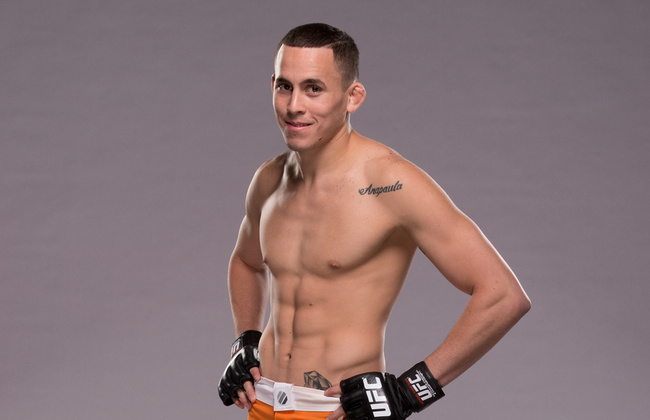 Marlon Vera
5-1
Guayaquil, Ecuador
The most accomplished submission artist on the show, Ecuador's Marlon Vera could be peculiar enough to give people trouble on the mat.
His long legs make him dangerous from bottom and his unorthodox takedowns could keep opponents confused. He's worked hard to develop a top game that works for MMA and it will be interesting to see how he continues to develop on the show.
There's still a lot of question on how good his striking is, and if he comes across a good wrestler that can strike, he might be in trouble.
Featherweight:
Humberto Brown
4-4
Panama City, Panama
At 4-4, Humberto Brown is the most experienced fighter on Team Werdum. But perhaps more so than his fight experience, the young athletes on his team will learn from his life experience.

As featured by Fightand editor Michael Hresko, Brown was a member of the Panamanian wrestling team, before he began training at an old Monestary, the Alley Cat Fitness Foundation. It isn't a big gym by any means, but it fits the wrestler well.

Although he has faltered to a 4-4 record, he has a lot of skills that could make him a threat against less-experienced fighters on the show. He's a large featherweight with an exhausting and mauling top control game. If he gets you to the mat, it's unlikely you're getting out of the position.

With his size, Brown tends to tire quickly. His striking is wild and straight punches could punish him.
Leonardo Morales
4-0
Managua, Nicaragua
With a red mohawk and a skull mask he wears to the ring, the young Leonardo Morales could be this team's wild man.
A well rounded fighter who uses his reach well and has good movement, Morales swings hard with every strike. His submission game is quick and he can lock submissions up from any position.
Like many members of the season, he lacks much of a wrestling pedigree, which gets him taken down frequently. If he can keep fights on the feet, he's one of the most explosive fighters to enter The Ultimate Fighter in quite some time.
Diego Rivas
5-0
Temuco, Chile
At 22, Diego Rivas is one of the youngest and loss polished talents on the show. But with good size and the patience of a veteran, he has the kind of tools that can be built on.
His striking is reckless, but he has a punishing and unrelenting top game can put fighters to sleep. He's shown an ability to avoid submissions and fight for three hard rounds.
He is susceptible to a strong double-leg takedown and is open to strikes. For Rivas to be successful, he's going to have to punish fighters against the cage and put them on the mat.
Alex Torres
1-1
Bogota, Colombia
When it comes to size, Alex Torres has to be one of the bigger featherweights the show has ever seen.
Although he considers himself a striker, it's his ground game that appears to be most impressive. His movement on the feet is enough to cause people issues, but his striking hasn't shown to be particularly effective.
He has a good ground game and is unorthodox in the way he sets up submissions. His lack of wrestling doesn't allow him to control where the fight takes place, but if he can get the fight to the mat, he's able to get submissions.

TUF: Latin America is scheduled to premiere on UFC FIGHT PASS, the UFC's digital subscription service, in August.
Check out our look at Team Valasquez:
TUF Latin America: A Look at Team Mexico
Watch Dana White talk about the UFC in Mexico: