Two JMMA Legends Suffered Unnecessary Losses This Week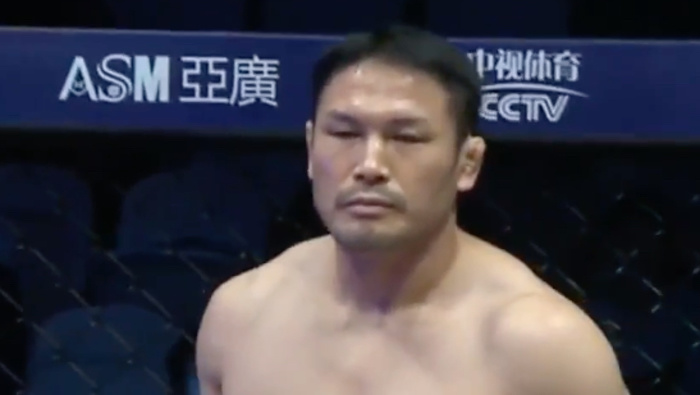 Led by promotion Pride FC, Japanese MMA's early-to-mid 2000s heyday produced a number of stars—many of them local.
One of those Japanese stars was Kazushi Sakuraba. A former professional wrestler who took to MMA, defeating the likes of Vitor Belfort, Royler, Royce, Renzo and Ryan Gracie—hence the "Gracie Hunter" moniker he earned—as well as former UFC light heavyweight champion Quentin "Rampage" Jackson.
In short, Sakuraba has had a fascinating career that rightly positions himself as one of the legendary figures of MMA while the sport is still in its relative infancy.
With the return of Pride FC mark II/III (depending on whether you considered the ill-fated DREAM banner a valid replacement) in the form of Rizin FF, former Pride FC president Nobuyuki Sakakibara wheeled out a battle-worn 46-year-old Sakuraba for one more fight in their inaugural event on December 29th against the comparably youthful Shinya Aoki—his first fight in over four years.
The fight was billed as the chance to see if the wily Sakuraba could still hang with Japanese MMA's undoubted top star in Aoki, or if the veteran would pass the JMMA torch to his young counterpart.
Instead, the world got to see a horrific beatdown as an undersized Aoki dominated the seemingly immobile Sakuraba, whose legs were heavily bandaged after almost two decades of fighting. As soon as Aoki got on top of the veteran, it was game over as he rained down hard shot after hard shot to earn the TKO victory.
This contest, quite rightly, earned the ire of many MMA fans and pundits due it being such a clear mismatch, as the promoters involved have their credibility questioned for allowing such a legendary figure endure such a beating. It's rightly pointed out that this is a blast of the Pride FC past, but that doesn't make that fight any easier to watch.
However, while Sakuraba's bout made MMA headlines for all the wrong reasons, another JMMA legend borne from Pride FC also suffered a crushing defeat of his own on Boxing Day—Ikuhisa Minowa.
South Korean promotion Road FC dipped their toes into the Chinese MMA market for the first time on December 26th. The card was packed with an assortment of local Chinese fighters and the Korean combatants already on their roster, before adding a big name in "Minowaman" to the show.
Minowa faced off against the relatively-unknown 29-year-old Chinese striker Zilong Zhao at Road FC 27: a dangerous fight for the JMMA veteran given his opponent's low profile and impressive record of 9-3 with all of those wins coming via knockout bar one submission victory.
Like Sakuraba, the battle-hardened Minowa, who is now almost 40-years-old, looked completely out of sorts against Zhao and was never in with a shout of winning the fight before succumbing to a TKO loss against an opponent a decade younger than him.
Since 2014, Minowa has compiled a record of 2-5, suffering from three T/KOs in the process. Sakuraba, meanwhile, has also posted a record of 2-5 in his last seven fights, enduring two T/KOs in that time.
These two fighters, who actually competed against each other at Pride Shockwave 2005 with Sakuraba emerging the victor via kimura submission, have rightfully earned their status as individual legends in JMMA and the sport in general. But, they are also the victims of the Japanese MMA circuit.
With Minowa now suffering 15 T/KO defeats and Sakuraba the victim of ten losses by way of T/KO, it's clear the best days are behind these two warriors. However, both men consistently fought men much bigger than them during Pride which often led to these damaging losses. For example, both men were T/KO victims of heavyweight Mirko Cop and Pride's light-heavyweight phenom of the time, Wanderlei Silva when both Minowa and Sakuraba were arguably natural welterweights.
That's not to say these men weren't willing participants: in fact, the pair made their names with a series of David vs. Goliath victories by defeating the likes of Gilbert Yvel, Kevin Randleman, Bob Sapp and Hong Man Choi between them throughout their respective careers.
But, something's got to give at some point. Surely? In 2006, Sakuraba was rushed to hospital having suffered a series of dizzy spells and continual vomiting shortly after his victory over Kestutis Smirnovas at K-1 Hero's 6. The organization released a statement regarding the Gracie Hunter's condition as follows:
"While Sakuraba's August MRI scans following his damaging bout with Kestutis Smirnovas showed no brain damage or abnormalities, Tanigawa indicated that yesterday's tests show that Sakuraba has sustained damage to his vertebrobasilar system, which is responsible for blood flow to the posterior of the brain.
"It was stressed that Sakuraba does not have brain damage, but rather the vertebrobasilar damage has prevented proper blood circulation in his head and neck, stopping blood from reaching the base of Sakuraba's brain.
"The damage, indicated Tanigawa, came as a result of repeated blows to the head and neck, dating as far back as Sakuraba's collegiate wrestling career."
If the above was said for a fighter based in the west, where athletic commissions are required to authorize your legibility to fight, there is no doubting the competitor in question would never be licensed to fight at that moment or beyond.
The demise of Pride FC allowed for MMA fighters from East Asia to become free agents. While that isn't a bad thing in a monetary sense, it also means there were plenty of new promotions propping up in the area to entice the likes of Sakuraba and Minowa to make appearances for their organization. In Minowa's case, the lack of sanctioning in Japan led to him taking more fights against large opponents in DREAM's Super Hulk tournament as the lure of money and infamy proves too much to refuse.
Likewise with Sakuraba on this occasion, Rizin FF needed a legendary name on their inaugural show and he obliged. The man hadn't fought in four years and is now a worn 46-year-old fighting against one of the world's best lightweights in Aoki. Why was this ever an idea? Where is Sakuraba's manager or coaches telling him to not take the fight?
The Japanese are a prideful bunch and no one forced Sakuraba to compete. But, it does all seem very backward in this present age of MMA, with the UFC offering health insurance to its fighters and a standardized international MMA body in the IMMAF coming to the fore.
While the nostalgia evoked by Rizin FF is great, with the benefit of hindsight there does seem to be a flagrant disregard for the wellbeing of Japan's veteran MMA fighters that have continued throughout the sport's run in the country. The aforementioned promotions aren't necessarily to blame for this—this appears to be more of a societal issue, one you would never find in the USA with its prominent culture of health and safety as well as its unrivalled research in sports-induced concussion injuries.
Japan's penchant for freak show fights has ultimately led to these two undoubted warriors' deserved respect and fame. But, they have also led to the unnecessary damage they have amassed over the years, and, before long, a dramatic, sad and unjustifiable fall from grace no athlete should endure.
Check out these related stories:
Watch Shinya Aoki Defeat Sakuraba During Day 1 of Rizin
Fedor: In the Twilight of the Last Emperor
Happy Holidays: Bob Sapp and Akebono Are Fighting on New Year's Eve
Fedor Emelianenko Needed Vladimir Putin's Blessing to Fight Worthless Fight