Tyrone Spong Continues His Winning Run as a Boxer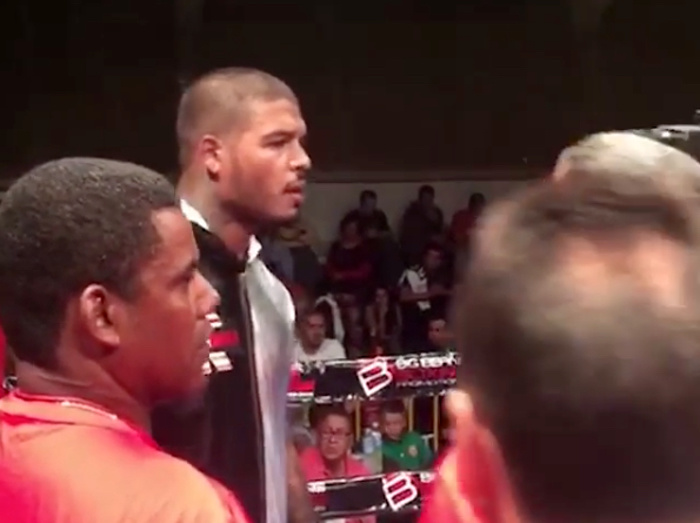 I'm afraid to say Tyrone Spong has fallen in love with his hands and it's looking unlikely he will be stepping into a cage under mixed rules any time soon.
The Surinamese-born Dutchman retired from kickboxing altogether earlier this year, having rehabilitated his leg after breaking it mid-fight against Turkish kickboxer Gokhan Saki at Glory 15 in April 2015.
On Sunday night, Spong squared off against heavyweight Hugo Leon on his home turf of Aguascalientes, Mexico. It took three rounds for Spong to end Leon's night, his right hand sending the then 3-0 heavyweight crumpling down to the canvas.
This win sees Spong improve to 6-0 in the boxing world. The caliber of boxing opponent he has faced so far is a bit of a mixed bag and doesn't exactly compare to the who's who he fought in the kickboxing realm, but the power he has showed with fists so far is rather impressive.
Spong's success in the boxing ring produces doubt whether he will return to MMA in the near future. Despite training with the Blackzilians in Florida under countryman Henri Hooft, Spong has only fought under mixed rules twice, going 2-0. The 31-year-old was due to return to MMA in December 2015 against Jake Heun under the WSOF banner, but Spong pulled out of the fight citing a knee injury.
Speaking to MMA Fighting's Chuck Mindenhall, Hooft appears to be of the opinion that Spong won't be returning to MMA any time soon—if at all. "I think he's going to go to boxing," Hooft said. "I think he's made a decision. Very soon some news is going to come out that he's going to sign for a very big name. He's going to go to boxing. And he's crazy enough to fight heavyweight, because we kickboxers, we don't really care about the weight cut. I think he's going to do great. I mean, if the boxing trainers say he's doing so well—and I see him boxing with the big heavyweights, and I see what he's doing there—I think he's going to do big things."
Spong is combat sports' renaissance man with the different fighting hats he's sported so far in his glittering fighting career—one which has seen him multiple world kickboxing and Muay Thai titles, the 2013 Glory Slam Tournament and Spong was even decorated with the Honorary Order of the Yellow Star, the highest possible honour of Suriname, by President Desi Bouterse.
Kickboxing was always the main passion for Spong before the lure of MMA caught his interest after moving to Florida. After all, he did accrue an incredible kickboxing record of 74-7-1-1 during his time in the ring. However, ultimately, it was that fight against Saki and resultant broken leg which has dashed all dreams of a Spong kickboxing comeback and most likely a return to the cage under mixed rules.
"It's very difficult, because all the time it's the same, the knee, the leg," Hooft told MMA Fighting. "I mean, it's not a big thing [this time], but it's still hurting him, it's just, it's dangerous. Another thing is Tyrone is very into boxing. A lot of the big names are all asking about him. That's more money, and Tyrone is so good at everything, it's so difficult.
"I talked to him a couple of weeks ago, [and told him to] make a decision. You can't fight MMA with those injuries, make some money at boxing, because he spars with the best guys in the gym in Miami. Every trainer says, you need to go to boxing. They all say it, that he's going to do great in boxing."
The fractured leg endured by Spong against Saki was a horrific injury—one which is catastrophic to any soccer player, let alone a kickboxer. I totally get why Spong is opting to box for a living from here on in—there is potential for a lot more money to be made while fighting under Queensberry Rules and it most certainly safeguards his leg from further impact injury. But, I can't help but whimsically imagine how devastating a fully-fit Tyrone Spong could have been had he dedicated all his time to MMA as once proposed.
Check out this related story:
Tyrone Spong Speaks About Leaving Kickboxing