UFC 191 Quick Results: Dodson Gets Caught in The Mouse Trap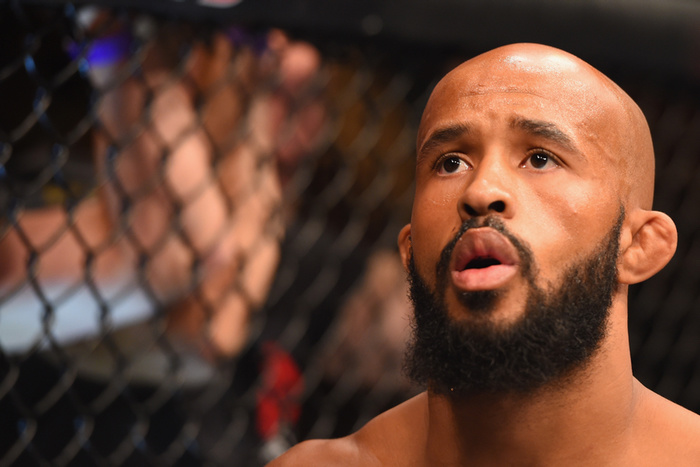 On the seventh anniversary of the Evan Tanner's tragic death, the UFC returned to the MGM Grand Garden Arena for its 333rd event: UFC 191.
The11-fight card, which was headlined by a flyweight title rematch between champ Demetrious "Mighty Mouse" Johnson and challenger John Dodson, featured action across all divisions but welterweight. And when all was said and done, it delivered as a truly memorable night of fights, packed to the edges with all the submissions, knockouts, wars and drama we crave.
Here's a recap of the action for those who missed it!
The Main Card:
Johnson Pummels Dodson for Five Rounds
In the main event of the evening, flyweight king Demetrious "Mighty Mouse" Johnson looked to make his seventh consecutive title defense against an old foe: brick-fisted Ultimate Fighter winner, John Dodson.
The two first fought back in January of 2013, when Johnson survived several early knockdowns to earn unanimous decision victory. To date, it marks his toughest test as the champ, which is why this UFC 191 rematch was so hotly anticipated. Many suspected that this time around, the deceptively powerful Dodson would succeed where he once failed and come out on top.
As it turns out, this was not the case. While Dodson was successful in defending the majority of the champ's takedown attempts, he was soundly out-struck for the duration of the bout, tagged with all manner of punches, knees, elbows and kicks throughout.
In victory, the champ moves to an awesome 23-2 overall, and continues to establish himself as one of the most dominant fighters of today's MMA landscape. Dodson, on the other hand, has a three-fight streak snapped and moves to 17-7 overall. As long as Mighty Mouse remains the champ, his flyweight title dreams are now likely on hold.
Arlovski Drags Mir to Unanimous Decision
The co-main event of the evening paired former UFC heavyweight champions and downright MMA legends Frank Mir and Andrei Arlovski, who entered the arena with a combined 61 fights and 30 years of pro experience. For context, consider this: when Mir made his pro debut, Paige Van Zant was just seven years old. When Arlovski made his, she was only five. Needless to say, the two heavyweights have been around forever, and despite some shaky stretches in recent memory, both have made shocking returns to prominence over the last year. Few would have guessed that they'd be fighting for a shot at the title in 2015, but when they lumbered onto the canvas at UFC 191, that's precisely what they were doing.
Unfortunately, the two big men didn't put on much of a show. Though both were able to land a few meaningful shots throughout, this clash of finishers surprisingly made its way to the judges' scorecards. And when it did, they sided with the Belorussian.
The victory propels Arlovski to 25-10 overall, and 4-0 in this second UFC stint. With this win, his win-streak extends to six, and he may have earned himself a shot at the winner of Fabricio Werdum and Cain Velasquez's looming rematch.
Mir, on the other hand, has a two-fight streak broken by the loss. And though he's likely to fight another day, his days as a title challenger appear to have come and gone. He's now 18-10 in total.
Rumble Snuffs Manuwa with Huge Knockout
The middle fight of the main card paired top-ranked light heavyweights Anthony "Rumble" Johnson and Jimi Manuwa, who together, might be the two scariest light heavyweights on earth. With 13 knockouts or TKOS apiece, ranging from head kicks to kick-induced leg injuries, both are verified forces of destruction— which explains the universal excitement with which their pairing was met. Yes, in this one, all signs pointed to knockout.
And that's just what we got. After a strong round one that saw him land big punches and score with prolonged top control, Rumble turned it on for a beautiful second round KO—the first and only of the night. Manuwa didn't know what hit him.
The victory distances Rumble from a recent submission loss to Daniel Cormier, in which he failed to win the light heavyweight title. It's the 14th stoppage win of his his career, and 5th win since rejoining the UFC in 2014. He's now 20-5 overall.
Manuwa, in contrast, loses for just the second time, his only previous loss having come against Alexander Gustafsson in 2014. He's now 15-2 overall and 4-2 in the UFC.
Anderson Dominates Blachowicz
Initially, it sounded as though Polish light heavyweight Jan Blachowicz might draw the towering task of fighting Anthony Johnson on UFC 191's main card. However, after it was announced that Johnson would be facing Manuwa, Blachowicz was instead paired with the young Corey Anderson, who in turn looked to bounce back from a tough April loss to Gian Villante.
It was a tough night for the Polish fighter. After a few spirited exchanges in the first round, he was repeatedly taken down by his young opponent who, after three gruelling rounds, had done more than enough to earn the judges' favor.
The unanimous decision moves Anderson to 6-1 overall, and 3-1 in the competitive UFC light heavyweight division. Blachowicz, meanwhile, slips onto the first two-fight skid of his career and now sits at 18-5 overall.
Paige VanZant Armbars Alex Chambers
The main card was kicked off by popular strawweight Paige VanZant who, after another training camp alongside the monsters at Team Alpha Male, looked to continue her rise with a win over unheralded astrophysicist-turned-fighter, Alex "Astro Girl" Chambers. It was a fight that most expected the charismatic prospect to win handily, and that she did.
For two rounds, the 21-year-old battered her opponent in the clinch, and in the third, after threatening with some peppery ground and pound, locked up a slick armbar for the win. It's her third straight UFC victory and moves to her to 6-1 overall.
Chambers on the other hand, returns to the loss column after a recent come-from-behind win over Kailin Curran. She's now 5-3 overall and 1-2 in the UFC.
The Prelims:
Pearson Out Duels Felder in Wild Fight
After being soundly out-grappled by Evan Dunham earlier this year, British striker Ross Pearson— who is the only TUF 9 cast-member still employed by the UFC—was eager to get back on track with a big win. His opportunity to do so game against dangerous striker Paul Felder in a fight many expected the Brit to lose.
Instead however, he prevailed in a fantastic, back-and-forth fight, earning a hard fought split decision that could have gone either way. The win separates Pearson from his recent loss, and moves him to 18-9 overall. Felder, on the other hand, enters the first two fight losing streak of his 12-fight career, and now sits at 10-2 in sum. That said, the competitive nature of his last two losses means he's unlikely to lose too much traction in the division.
Lineker Taps Rivera in One-Round Gunfight
After repeated failures to make the flyweight division's 125-pound cap, Brazilian slugger John Lineker was sent packing up to bantamweight. His welcome committee in this new division was fellow puncher Francisco Rivera, in a pairing that many pegged as a strong candidate for performance or fight of the night honors.
While the fight lasted, such predictions proved sound, as the two bantamweights swung for the fences from the opening bell. And though Rivera landed plenty of meaningful offence in these hectic exchanges, he eventually found himself locked up in a first round guillotine choke.
The submission win marks Lineker's first win as a bantamweight, and is likely to earn him a spot in the divisional top-15. He now sits at 26-7 overall, while his opponent slides to 11-5.
Pennington Chokes Andrade in Rematch
In the first of UFC 191's two women's bouts, bantamweights Raquel Pennington and Jessica Andrade looked to settle their score after fighting to a razor-thin split decision back in March of 2014. When they first fought, it was Andrade who came out on top. This time around the result was much different, and much more definitive, as Pennington sealed the deal with a second round rear-naked choke.
In victory, the American rebounds from a loss to Holly Holm earlier this year and moves above the .500 mark with a 6-5 record.
Andrade, on the other hand, returns to the loss column and moves to 13-5 in sum.
Trator Decisions Collard
The first bout of UFC 191's televised card featured two featherweights in need of a win: Brazil's Tiago Trator, and lanky American Clay Collard.
After three rounds of action, this one went to Trator, who scraped by with a split decision win. The victory moves the Brazilian to a strong 20-5-2, while Collard slips to 14-7, and onto a two-fight losing streak.
Joe Riggs Gets Bizarre DQ Win Over Stallings
Bout two of the UFC's return to Las Vegas came courtesy of the middleweight division, as Lloyd Irvin student Ron Stallings took on 56-fight veteran Joe Riggs. From the moment this fight was announced, it looked like a tough one for the aging Riggs. This became even truer when rumors of his having had a bad weight cut began to swirl. Yet in the end, this one turned out in a way that nobody could have anticipated.
In the first round, Riggs sustained an injury to his right eye. Then, despite being grilled by the doctor between rounds, he was able to floor Stallings with a right hook in the opening seconds of round two. And finally, as Riggs rained down ground and pound on his rattled opponent, he was dealt an illegal kick to the face (à la Anderson Silva's 2006 fight with Yushin Okami), which aggravated his injured eye enough to put a stop to the action. The final result was a bizarre disqualification win for Riggs.
The victory is his first in the Octagon since 2006, and moves him to 41-16 overall. He is now 1-2 since returning to the UFC, while Stallings now enjoys the same promotional record, and a 13-8 overall record.
Silva Edges Malegarie in Close Fight
The first bout of the night featured two debuting South American lightweights, both of whom competed on The Ultimate Fighter: Brazil. In one corner, we had undefeated Brazilian Joaquim Silva. In the other stood experienced Argentinean Nazareno Malegarie who, in 30 pro fights, has lost just three times—all against strong competition in Bellator.
After three close rounds of action, it was the Brazilian who came out on top, earning a close split decision win, and keeping his record perfect in the process. He now sits at 8-0 overall and 1-0 in the UFC. Malegarie, on the other hand, now sits at 27-4 in total, and will have to wait for his first UFC win.
Check out these related stories:
The UFC's Slow Build for Paige VanZant
Johnson, Rousey and Aldo on the Spectrum of UFC Greatness