UFC 208 Quick Results: De Randamie Captures Featherweight Gold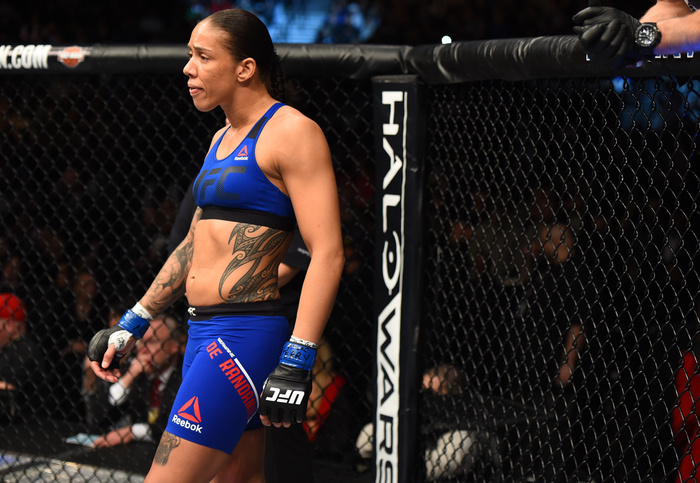 On Saturday night, the UFC touched down in Brooklyn, New York with UFC 208, its first pay-per-view of the year 2017.
The card was headlined by a bit of UFC history, as the main event crowned the organization's first-ever women's featherweight champion. The rest of the card, meanwhile, featured top contenders, veterans, and downright legends alike.
With a whopping 9 decisions in 10 fights, the card was admittedly a bit of a slow one, yet it was a significant one for the history books all the same. Here's a recap of the action for those who missed it!
The Main Card:
Controversy Casts Shadow on De Randamie Title Win
The main event of the evening saw former women's bantamweight champion Holly Holm and Dutch kickboxing export Germaine De Randamie vie for the inaugural UFC women's featherweight championship.
As two of the more decorated strikers in women's MMA, this one looked like it could be a pretty riveting fight. Unfortunately, however, it was a rather slow affair, as De Randamie seemed to win the first half of the fight with a tepid striking attack, and Holm seemed to steal the momentum down the stretch with her clinch work. The most gripping moments of the fight, without a doubt, were the two instances in which De Randamie landed shots after the bell, one of which put Holm on spaghetti legs.
After five rounds of action, the judges sided unanimously with De Randamie, which means she will leave Brooklyn with the new women's featherweight belt wrapped soundly around her waist. Now 7-3 overall, she will shift her attention to her first challenge as featherweight queen—here's hoping that challenge is provided by WMMA great Cris "Cyborg" Justino.
In defeat, Holm falls onto an unfortunate, 3-fight losing streak. The impressive, 10-fight undefeated run with which she began her MMA career is now almost invisible in the rear-view mirror. She's now 10-3 overall, and 3-3 in the Octagon.
Silva Scores Controversial Decision over Brunson in Slow Fight
The co-main event of the evening occurred in the middleweight division, where former middleweight champion, and bona fide MMA legend Anderson Silva sought to rebound from a recent slump against the division's eighth-ranked fighter, Derek Brunson.
In his last fight, Brunson paid for his over aggression when he was knocked out by Robert Whittaker. It was widely believed that if he fought with the same over aggression against Silva, he'd wind up in the same situation. Apparently, he got this memo, though his caution resulted in a pretty slow fight, as he was reluctant to push forward, forcing Silva to wait for almost non-existent openings for counter-striking. By the time the third round had ended, we had a very close fight on our hands, and if the MMA Twittersphere was any indication, scorecards were wildly divided.
In the end, the judges awarded an immediately controversial decision to the legend, much to the disappointment of Brunson and his fans. This win is Silva's first since he TKO'd Stephan Bonnar all the way back in October of 2012. The legend is now 34-8 overall, and once again stands out as a contender in the crowded middleweight title picture. Brunson, meanwhile, falls onto a two-fight skid. He's now 16-5 in sum.
Souza Rips Boetsch's Arm off in One
The middle bout of the main card saw Ronaldo "Jacare" Souza, arguably the top contender in the middleweight division, take on gritty veteran Tim Boetsch, who was ranked far below him in the divisional standings.
This one was expected to be a blowout for Jacare, and it was. Though Boetsch was able to stop the grappling whiz's first takedown attempt, he failed to stop the second, and from there, it was just a matter of time. The Brazilian climbed from guard into side control, then into full mount, where he locked up an arm, twisted it, and earned the tap with a first-round kimura. Knife, meet butter.
Having scored this massive win—which was shockingly the only finish of the card—Jacare reaffirms himself as one of the middleweight division's very best fighters. Only Yoel Romero is ahead of him in the race to a title shot, and even that is extremely debatable. Now on a two-fight streak, he is 24-4 overall, and 7-1 in the UFC. Boetsch, meanwhile, is now 20-11 overall.
Teixeira Ragdolls Cannonier to UD
The second bout of the main card saw Alaskan light heavyweight prospect Jared Cannonier take an absolutely massive step up in competition against former light heavyweight title challenger Glover Teixeira. Unfortunately for the Alaskan and his fans, it was a clear case of too much, too soon.
Though he seemed to hurt Teixeira for a fleeting moment at the end of the first round, he was taken down early in all three rounds, where he was controlled, blasted with ground-and-pound, and threatened with submissions. By the time the third round had ended, Teixeira had succeeded on three takedowns, and amassed 14:26 of control time. Think about that. There were only 34 seconds of this fight in which Teixeira was not in the driver seat. Needless to say, he walked away with a unanimous decision win.
With this result, Teixeira rebounds from a crushing, 13-second knockout loss to Anthony "Rumble" Johnson, and reaffirms himself as one of the very few fresh contenders left for UFC light heavyweight champ Daniel Cormier. He's now 26-5 overall. Cannonier, in contrast, returns to the loss column after exciting defeats of Cyril Asker and Ion Cutelaba. He's now 9-2 overall.
Poirier Outguns Miller in Wild Fight
The main card was kicked off by a compelling lightweight showdown between frequent bonus winners Dustin Poirier and Jim Miller. As so many expected, this fight went down as a barnburner.
The first round saw the two fighters pelt each other with leather-coated bombs, with Poirier landing the better punches, and slipping in leg kicks for emphasis. In the second round, Poirier turned up the offense even more, and seemed to be running away with the fight. In the third, however it quickly became clear that he'd sustained a leg injury. Though Poirier was able to secure a takedown to protect his injured leg, the fight was suddenly looking much more winnable for Miller. In the end, however, Poirier survived to the final bell, where a majority decision win awaited him.
With this win, Poirier rebounded from a crushing, knockout loss to Michael Johnson. He's now 5-1 since returning to lightweight, and 22-5 overall. In defeat, Miller returns to the loss column after three impressive wins. He's now 28-10 in sum.
The Prelims:
Muhammad Shows Well-Rounded Skillset in Unanimous Defeat of Brown
The undercard was wrapped up by a welterweight bout between Lookin' For a Fight prospect Randy Brown, and late replacement Belal Muhammed.
As UFC light heavyweight champion Daniel Cormier put it from the commentary booth, it was a "coming of age" fight for Muhammed. Though he was known primarily as a boxer leading into this fight, he showcased a rapidly expanding toolkit by slashing into his foe's legs with a procession of nasty leg kicks, succeeding on two takedowns, and amassing more than five minutes of control time on that mat—much of which he earned from back mount.
With this dominant display, Muhammad earned himself a nice, unanimous decision win, which separates him from a knockout loss to Vincent Luque. He's now 11-2 in sum. Brown, meanwhile, has a two-fight streak snapped by this loss, and assumes an overall record of 9-2.
Takedowns Carry Reis to Clear-Cut Unanimous Win
The second last bout of the undercard occurred at flyweight, where top contender Wilson Reis took on a massive underdog in Japan's Ulka Sasaki. Reis proved he was the favorite for a reason.
Though he found himself wearing Sasaki like a backpack through the final minute of the fight, the Brazilian grappling specialist was otherwise dominant, scoring on six of 10 attempted takedowns, and collecting almost nine minutes of grappling control time. Needless to say, he'd done more than enough to earn himself the judges' favor by the time the final horn sounded.
With this win, Reis moves onto a three-fight streak, having ousted Dustin Ortiz and Hector Sandoval in his two most recent fights. Now 22-6 overall, he is one of the few remaining flyweight contenders yet to fight divisional king Demetrious "Mighty Mouse" Johnson.
In defeat, Sasaki returns to the loss column after a May 2016 submission defeat of Willie Gates. He's now 19-4-2 overall.
Makhachev Out-Grapples Lentz to Unanimous Decision
The second bout of the Fox Sports prelims saw veteran lightweight Nik Lentz take on Dagestan's Islam Makhachev in a clash of wrestling vs. Sambo.
This time around, Sambo came out on top. Over the course of this three-round grappling battle, Makhachev succeeded on four of four takedowns, which he used to amass a massive 11:40 of control time, and land the majority of his 109 strikes. By the time the final bell chimed, he'd more than earned a unanimous decision—and that's just what he got.
With this win, which is probably the biggest of his career, the Dagestani fighter moves to an impressive 14-1, and continues to establish himself as one of the finest prospects in the lightweight division. Post-fight, he threw a clever jab at Conor McGregor, calling for a "money fight" with Floyd Mayweather. Lentz, on the other hand, falls to 27-8-2 overall. This loss marks the end of a two fight win-streak.
Glenn Scores Split Win Over Struggling Nover
The first televised bout of the night occurred in the featherweight division, where Philippe Nover took on World Series of Fighting veteran Rick Glenn.
Though Nover was able to outland his foe by a whopping 113-67 strikes, the judges ultimately gave this one to Glenn with a split decision, probably on the strength of his distance control and his almost 5 minutes of control time.
This win separates Glenn from a loss to Evan Dunham in his Octagon debut, and moves him to a strong 19-4-1 overall. Nover, meanwhile, falls onto a three-fight skid, having recently given up fights to Zubaira Tukhugov, Renan Barão and now Glenn. He's now 11-8-1 overall.
LaFlare Outworks Jucão to Unanimous Decision
After a pair of UFC 208 bouts were cancelled at the last minute, the Fight Pass Prelims were reduced to just one fight. That fight was a welterweight battle between New York's own Ryan LaFlare and 38-year-old submission specialist Roan "Jucão" Carneiro.
This one was all LaFlare. Using his ever-deepening striking arsenal and his patented wrestling, the New Yorker outfought his Brazilian adversary to a sound unanimous decision victory.
For LaFlare, this win marks a successful return to action after a year on the shelf. With it, he moves to a strong 13-1 overall. Jucão, meanwhile, returns to the loss column after a September split win over Kenny Robertson. He's now 21-11 overall.