UFC Orlando Quick Results: Dos Anjos Wrangles the Cowboy
The UFC closed out an action-packed 2015 with UFC on Fox 17, a stacked card that emanated from the Amway Center in sun-soaked Orlando, Florida. The card, which was topped by a lightweight title bout between champion Rafael Dos Anjos and challenger Donald "Cowboy" Cerrone, marked the third time the lightweight title has been contested on Fox, and featured action in seven of the UFC's ten divisions.
Highlighted by some spectacular stoppages, and the addition of Dominick Cruz to Joe Rogan and Mike Goldberg's commentary team, the UFC's return to The Sunshine State delivered as a fun one, and a great way to close out another year of MMA.
Here's a recap of the action for those who missed it!
The Main Card: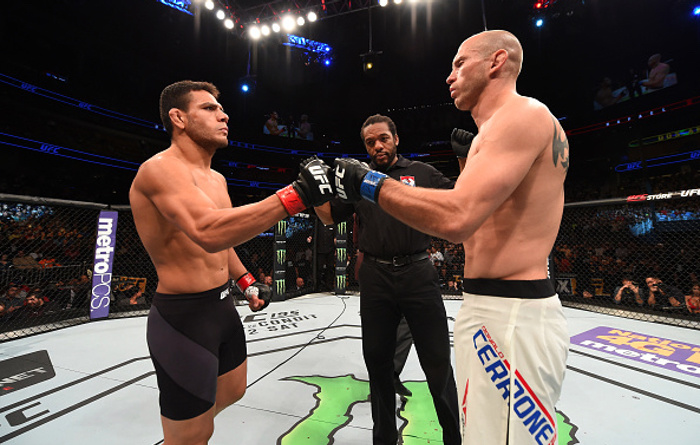 Dos Anjos Batters Cowboy to First-Round Finish
The main event of the evening paired new lightweight champion Rafael Dos Anjos with the UFC's most famous gunslinger, Donald "Cowboy" Cerrone. The title bout marked a rematch of a 2013 clash that saw Dos Anjos emerge the victor with a well-earned unanimous decision. This time around, the Brazilian won even more decisively.
From the moment the opening bell rang, the champ began to tag his American challenger. One knee, one kick, and a swarm of punches later, and Herb Dean was diving into the fray to save the battered Cowboy from further punishment.
The win, which occurred just over a minute into round one, marks one hell of a first defense for Dos Anjos. He's now 25-7 overall, and despite a shaky start in the UFC, is now on a 5-fight streak, including decision triumphs over Nate Diaz and Anthony Pettis, and first-round knockouts of Benson Henderson and Cowboy.
Cerrone, meanwhile, has an 8-fight win-streak derailed by the lopsided loss, and tastes defeat for the first time since 2013. He'll now return to his BMF Ranch with a 28-7 overall record and 15-4 record inside the Octagon.
Overeem Stops JDS with Second-Round Left Hook
Some three and a half years after their originally scheduled meeting, Junior Dos Santos and Alistair Overeem finally mixed it up in Orlando's co-main event. And while there is no way to know how the fight would have gone down if they had met in 2011, the fight was decidedly Overeem's in 2015.
The first round of this one was frighteningly reminiscent of last week's Gabriel Gonzaga vs. Konstantin Erokhin snoozer, as just a few strikes were thrown. In the second, however, the two heavyweights began to open up, and when they did, Overeem found his mark. The end followed a perfectly-timed left hook, and a series of ground strikes.
With the TKO win, Overeem jumps to the front of the heavyweight contendership line, where he will elbow for space with fellow contenders like Stipe Miocic and Andrei Arlovski. That said, the former Strikeforce, Dream, and K-1 kingpin now plans to test his free agency, following in the steps of other stars like Benson Henderson and Aljamain Sterling. He'll do so with a 40-14 overall record.
Dos Santos, meanwhile, comes up short in his first three-rounder since 2013, and experiences his first UFC loss to a man not named Cain Velasquez. And while his fight-ending power still makes him a tough out for any heavyweight on earth, he's starting to look like a shell of the fighter who stole the divisional crown in 2011. He's now 17-4 overall.
Diaz Decisions Johnson in Lightweight Gunfight
The second bout of the main card paired TUF 12 runner-up Michael Johnson with the younger of the infamous Diaz brothers, Nate Diaz.
It had been well over a year since we last saw Diaz in the Octagon, but as Joe Rogan reiterated so many times over the course of the fight, the Stockton native has never looked better. Though Johnson was able to land some big punches and leg kicks here and there, the real story of the fight was Diaz's work at range. After out-landing his opponent for three rounds, he'd more than earned the unanimous decision win, scoring the biggest upset of the night in the process.
The win is Diaz's first since November 2013, and moves him to 18-10 overall. And while it's hard to say where his post-fight, F-bomb laden Conor McGregor callout will get him, he's reasserted himself as one of the lightweight division's premier competitors. Johnson, meanwhile, has waved goodbye to the win-streak that propelled him into 2015. He'll enter 2016 on a two-fight skid, and with an overall record of 16-10.
Kowalkiewicz Edges Markos in Back-and-Forth Fight
The first bout of the main card paired Canada's Randa Markos, who recently began training at Tristar under Firas Zahabi, with Poland's Karolina Kowalkiewicz who made her UFC debut with a perfect record in tow.
It was a fun, back-and-forth battle. The first round was close. The second was all Markos, who grounded the fight and kept control with a body triangle for the majority of the round. The third, finally, was decidedly Kowalkiewicz's, who was the far sharper woman on the feet, and closed out the fight with some nasty ground and pound. Ultimately the judges sided with Kowalkiewicz unanimously.
In victory, she moves to 8-0, and will return to Lodz, Poland with a successful UFC debut in the books. Markos, on the other hand, will return to the Canadian winter with an overall record of 5-3, and a 1-2 record inside the Octagon.
The Prelims:
Oliveira Guillotines Jury in the First
Orlando's preliminary card was wrapped up by a pairing of dynamic young featherweights. In one corner, we had the 26-year-old Charles Oliveira, who looked to rebound from a disappointing, injury-induced loss to Max Holloway in August of this year. In the other, we had Myles Jury, who made his featherweight debut after establishing himself as a top-15 lightweight.
The story of this one, as many predicted, was Oliveira's jiu jitsu. The Brazilian wasted little time in grounding the fight. A few scrambles later, and he was hanging from Jury's neck with a deep guillotine choke. The tap came at 3:05 of the first.
With the win, Oliveira maintains his standing as one of the division's very best fighters. He's now 21-5 overall, with 13 submissions among his wins. Jury, meanwhile, will have to wait for his first featherweight win. Having been finished for the first time as a pro, he's now 15-2 overall.
Marquardt Snuffs Dollaway in Round Two
The second last bout of the undercard saw Nate Marquardt and CB Dollaway collide in a clash of middleweight veterans. In advance of the bout, Dollaway held the division's number-12 spot, while Marquardt appeared to be at the tail end of his long career. As such, the latter walked into the Octagon as a +325 underdog.
In the end, however, Marquardt delivered in a big way, punishing an overeager Dollaway with a blistering counter right hook. It was a classic, blink-and-miss-it finish, and just what the struggling Marquardt needed.
Having rebounded from a two-fight skid, he is now 34-15-2 overall, and 2-2 since returning to middleweight. Dollaway, on the other hand, enters the first three-fight skid of his career. His overall record now sits at 15-8.
Shevchenko Outguns Kaufman to Decision Triumph
The first of Orlando's two women's bouts saw Kyrgyzstan's Valentina Shevchenko make her UFC debut on just 8-days notice, replacing the injured Germaine de Randamie against Sarah Kaufman. The debutant, who owns a kickboxing win over UFC strawweight champ Joanna Jedrzejczyk, took full advantage of the opportunity.
Barring a few minutes of adversity in round three, Shevchenko out-struck, out-clinched, and surprisingly, out-wrestled her veteran opponent for the majority of the fight, culminating with a well-earned split decision triumph.
With her first UFC win in the books, Shevchenko moves to 12-1 in MMA competition, and asserts herself as a prospect to watch in the Holly Holm helmed division. Kaufman, meanwhile, enters the first two-fight losing streak of her long career. She's now 17-4 overall and 2-2 in the UFC.
McCrory Taps Samman for Successful UFC Return
In the first of Orlando's two middleweight bouts, Tamdan McCrory walked into the Octagon for the first time since August of 2009. He did so against dynamic TUF 17 competitor Josh Samman, who entered the fight as a -200 favorite. This time around, however, the odds proved inaccurate.
It didn't take long for McCrory to establish himself as the better man on the mat. Threatening with ground and pound and submission attempts through rounds one and two, he eventually capped things off with a triangle choke at the 4:10 mark of round 3.
The win, which is his first in the UFC since March 2009, moves McCrory to 14-3 overall. He's now on a 3-fight streak, as this win was proceeded by a pair of lighting-fast finishes in the Bellator cage. Samman, meanwhile, has a four-fight streak snapped by the loss. He's now 12-3 overall and 3-1 in the UFC.
Lentz Edges Castillo in Fun Fight
In Orlando, Nik Lentz returned to the lightweight division after a commendable, 6-fight stint at featherweight. He did so against Team Alpha Male veteran Danny Castillo. It was a fun scrap that saw both men enjoy some success. In the end however, Lentz was awarded a split decision victory, probably on the strength of his relentless pressure and 3 completed takedowns.
With the win, which is his first at lightweight since March 2011, Lentz moves to 26-7 overall, and separates himself from a recent loss to Charles Oliveira. Castillo, in contrast, now sits at 17-10 overall and finds himself on a 4-fight losing streak. Considering three of his four most recent losses have been split decisions, however, he might be given one last chance with the UFC. If so, he'll have to make it count.
Inadvertent Eye-Poke Renders Alers vs. Miller a No Contest
The first bout of the televised prelims occurred in the featherweight division, as 30-fight veteran Cole Miller mixed it up with a former American Top Team training partner in Jim Alers. Unfortunately, the end of this one was rather unsavory.
After a fun first round, an inadvertent eye poke by Alers caused the referee to pause the action. When Miller announced that he wasn't able to open his eye, the fight was stopped and ruled a no-contest. With this unfortunate outcome, both fighters left the Octagon with the same record they walked onto it with. Miller stays put at 21-9, while Alers hovers at 13-2.
Usman Outduels Edwards to Decision Win
The Fight Pass undercard was wrapped up by a compelling collision of welterweight prospects. In one corner, we had The Ultimate Fighter 21 winner, Kamaru Usman. In the other, we had 24-year-old Brit Leon Edwards, who entered the bout on the strength of wins over Seth Baczynski and Pawel Pawlak.
In the end, this one was all Usman, whose wrestling proved too much for the young brit to handle. With 6 takedowns, and almost 11 minutes of control time, he'd done more than enough to earn the judges' favor by the time the final bell chimed.
With the unanimous decision win, Usman moves to 2-0 in the UFC, and 7-1 overall. Edwards, on the other hand, experiences his first loss of 2015. He's now 10-3 in sum, and 2-2 in the UFC.
Luque Puts Hassan to Sleep in One
When welterweights Vincente Luque and Hayder Hassan first met on The Ultimate Fighter 21, Hassan came out on top. When the two rematched in Orlando, things unfolded much differently.
After being tagged on the feet, Hassan dove for an ill-advised takedown, at which point Luque locked up a tight Anaconda choke, and turned the lights out for the win. In victory, Luque achieves his first UFC win, having lost his debut to Michael Graves. He's now 8-5 overall. Hassan, meanwhile, experiences his second straight submission loss, and remains winless in two UFC bouts. He's now 6-3 in total.
Ngannou Uppercut Levels Henrique
The action began in the heavyweight division, as 22-year-old Brazilian Luis Henrique took on hulking Frenchman Francis Ngannou in a compelling clash of UFC debutants.
Though he experienced some adversity in the first round, Ngannou rebounded nicely in the second by punching his opponent's head into the stratosphere at the 2:53 mark. The one-punch knockout moves him to 6-1 overall, and immediately establishes him as a prospect to watch in the ever-developing heavyweight division. Henrique, meanwhile, falls to 8-2 overall, but at 22, still has plenty of time to bounce back.