UFC Phoenix Quick Results: A Legend Falls, a Contender Rises
The UFC's first event of 2017—and the first UFC event to use the new unified MMA rule-set— went down in Phoenix, Arizona. This exciting card was headlined by a featherweight bout between red-hot prospect Yair Rodriguez and returning UFC Hall-of-Famer BJ Penn, while the rest of the card featured names like Joe Lauzon, Marcin Held, Court McGee, Ben Saunders, Sergio Pettis, and John Moraga.
Highlighted by some fun, back-and-forth scraps, some truly dramatic finishes, some UFC history, and some very questionable judging decisions, the UFC's latest trip to the Valley of the Sun was an undeniably memorable one. Here's a recap of the madness for those who missed it!
The Main Card: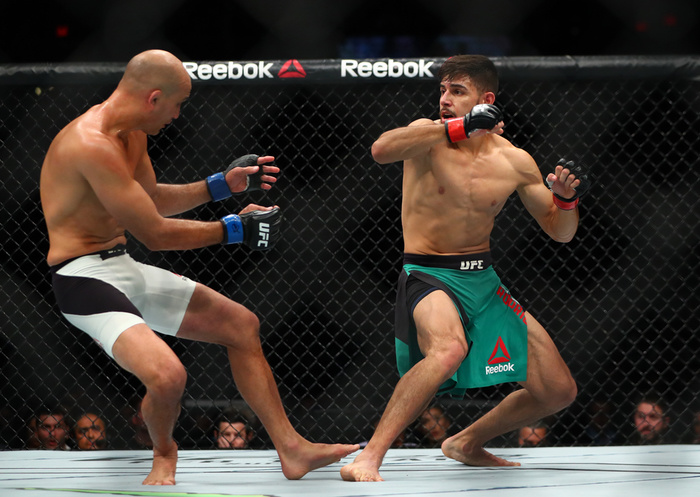 Rodriguez Dominates Penn to Second-Round TKO
The main event of the evening saw UFC Hall-of-Famer and former two-division champ BJ Penn make a return to competition after several years of retirement. The Hawaiian legend did so against red-hot featherweight prospect Yair Rodriguez in a classic veteran vs. prospect bout.
This time around, the prospect came out on top in the biggest way possible. From the moment the bout began, Rodriguez seemed to baffle Penn with his ridiculous arsenal of strikes. A spinning kick here, a snapping front kick there, and Penn did not seem to know how to respond. Despite being soundly out-struck and hurt in the first round, however, Penn managed to survive to the bell, where his all-star corner of Greg Jackson, Mike Winkeljohn and Jason Parillo awaited him.
Unfortunately, the second round did not go any better for the returning former champion. Seconds into the round, he was sent crashing to the canvas by a front kick to the face. From there, Rodriguez swarmed him with a hellacious onslaught of ground strikes, until referee John McCarthy had decided he'd seen enough. Rodriguez's TKO win occurred less than 30 seconds into round two.
With this fantastic win, Rodriguez extends his win-streak to seven. The Mexican prospect is now 10-1 overall, and continues his frenetic gallop toward featherweight title contention. Penn, on the other hand, stumbles onto a four-fight losing streak. The vanquished legend is now 16-11-2 overall.
Lauzon Scores Controversial Split Win over Held
The co-main event of the evening was a clash of talented lightweight grapplers. In one corner, we had post-fight bonus collector Joe Lauzon, who looked to bounce back from a second loss to Jim Miller. In the other, we had former Bellator title challenger Marcin Held, who sought to rebound from a loss to Diego Sanchez in his UFC debut.
Despite looking somewhat unspectacular in his UFC debut, Held looked fantastic in Phoenix. Over the course of this bout's three rounds, the crafty grappler completed five of five attempted takedowns, which he used to amass a whopping 8:30 of control time. Though he was hurt by a series of Lauzon elbows in the first, by the time the third round ended, it appeared that he'd done more than enough to win. Apparently, however, the judges saw things differently, as they awarded Lauzon an extremely questionable split win. So questionable in fact, that Lauzon said he "100% disagreed" with the decision just moments after it was announced.
With this strange result, Lauzon returns to the win column with an overall record of 27-12. Held, meanwhile, will return to Poland with a 0-2 UFC record, and 22-6 mark overall. Despite this unfortunate outcome, however, his performance in Phoenix proved he more than deserves his spot on the UFC roster.
Saunders Nabs Unanimous Decision From McGee
The second bout of the main card occurred at welterweight, where rangy striker Ben Saunders took on aggressive TUF 11 winner Court McGee.
Over the course of this fight, both men had their moments. Saunders seemed to win the first with his diverse stand-up attack. In the second round, his success on the feet continued as he repeatedly blasted McGee's midsection with kicks, but McGee seemed to steal the round with his patented pressure fighting. The third round finely, seemed to be decisively McGee's who finished a strong round by raining down punches and elbow from top position. The end result then, seemed to be a close two rounds to one for McGee. Yet in the end, the judges awarded it to Saunders via unanimous decision.
With this win, which is likely to be debated over the coming days, "Killa B" makes good on his latest return to the Octagon, which follows a lightning fast submission of Jacob Volkmann on the regional circuit. He's now 21-7-2 overall. McGee, meanwhile, returns to the loss column after a nice win over Dominique Steel. He's now 18-6 overall.
Pettis Out-Hustles Moraga to Unanimous Win
The main card was kicked off by a compelling flyweight bout, as former title challenger John Moraga replaced Jussier "Formiga" da Silva on short notice against Sergio "The Phenom" Pettis.
Though Moraga was able to throw Pettis off a bit with his takedown attempts, he didn't have much to offer his 23-year-old foe on the feet. By the time the final bell had chimed, Pettis owned an advantage in the strikes department, and had also succeeded on both of his two takedown attempts. These successes would earn him a well-deserved unanimous decision win.
With this win, Pettis cruises onto a three-fight streak, having taken out Chris Cariaso and Chris Kelades in his two most recent fights. The younger Pettis brother is now 6-2 in the UFC's Octagon and a strong 15-2 in sum. Moraga, meanwhile, is now on a three-fight skid, and assumes and overall record of 16-6.
The Prelims:
Klose Dominates Powell to Unanimous Triumph
The undercard was wrapped up by a clash of debuting lightweights, as Drakkar Klose took on Lookin' For A Fight prospect Devin Powell.
Though Powell demonstrated plenty of heart throughout this fight, he had little else to offer his foe, who out-landed him by a massive 114-44 margin, and succeeded on both of his two takedown attempts—more than enough to capture a unanimous decision win.
In victory, Klose makes good on his UFC debut and improves to a perfect 7-0 (with one no contest). Powell, on the other hand, comes up short in his debut, and falls to 8-2. That said, the future looks bright for both fighters.
Mendes Out-Duels Saenz to Split Decision Win
Though he once stood out as one of the finest prospects in his division, Arizona-based bantamweight Frankie Saenz stepped onto the canvas in Phoenix on a two-fight skid. He looked to correct that skid against Brazil's Augusto Mendes.
Despite a sizeable experiential edge, Saenz failed to get back on track against his Brazilian foe. Though he was not without his moments over the course of this three-round battle, Mendes was undeniably the bout's more successful fighter, succeeding on three of nine takedown attempts, and out-striking his foe 67-57. These achievements would earn him a split decision win.
With this decision win, Mendes rebounds from a February 2016 knockout loss to new bantamweight champ Cody Garbrandt. He's now 1-1 in the Octagon and 6-1 overall. Saenz, meanwhile, stumbles onto a three-fight skid, having recently given up fights to Urijah Faber, Eddie Wineland and Mendes. He's now 10-5 in sum.
Alexey Oleynik Locks up History-Making Ezekiel Choke in the First
The second bout of the televised prelims pitted 61-fight Russian veteran Alexey Oleynik against the Czech Republic's Viktor Pesta in an exciting heavyweight matchup.
Things began pretty well for Pesta, who was quickly able to hop into full mount. Suddenly, however, the Czech fighter was tapping, having been locked up in a crafty Ezekiel choke from the bottom position.
Oleynik 's first-round Ezekiel choke goes down as the first of its kind in UFC history. That said, it's far from the first Ezekiel choke on his record. The Russian veteran has secured a ridiculous 10 of his 51 wins with this technique.
In victory, Oleynik rebounds from a recent majority decision loss to Daniel Omielanczuk. He's now 3-1 in the UFC, and 51-10-1 overall. Pesta, meanwhile, slides onto an unfortunate three-fight skid. He's now 1-4 in the Octagon, and 10-4 overall.
Martin Scores Dominant Decision Over White
The first televised fight of the night saw Tony Martin take on Alex White in an intriguing clash of American lightweights.
This one was all Martin. For three rounds—including a first that could have been scored 10-8—the talented lightweight dominated his foe on the feet and on the mat. Not even the surprise, first-round destruction of his cup, which had to be replaced mid-fight, could slow him down. The end result, then, was a clear unanimous decision win for Martin.
With this win, Martin improves his Octagon record to 3-3 and his overall record to a strong 11-3. White, who spent the first four fights of his UFC career at featherweight, comes up short in his lightweight debut. He's also now 11-3 overall.
Ansaroff Dominates Jones-Lybarger to Third Round Choke
The lone women's bout of the night occurred at strawweight, where Arizona's own Jocelyn Jones-Lybarger took on Amanda Nunes girlfriend Nina Ansaroff.
It was a blowout win for Ansaroff. After two lopsided rounds, the American Top Team fighter plowed into position for a rear-naked choke, and quickly coaxed out the tap.
Having come up short to Juliana Lima and Justine Kish in her first two bouts in the Octagon, this Phoenix submission marks Ansaroff's first Octagon triumph. With the win, she also becomes the first person to finish Jones-Lybarger. She's now 7-5 in sum.
The vanquished Jones-Lybarger, meanwhile, falls to a tough 0-3 in the UFC, and 6-4 overall.
Harris Decimates Sherman with Knee and Punches
The second heavyweight fight of the night saw Walt Harris attempt to move to 2-2 in his second stint with the UFC. His opportunity to do so came against Mississippi's Chase Sherman.
Harris succeeded on his mission in the biggest way possible, following a strong first round by crushing his foe with a knee and punches in the second.
With this win, Harris' improves his UFC record to 2-4. His overall record moves to 9-5. Sherman, on the other hand, will head home with a 9-3 record and one hell of a head ache. At 0-2 in the Octagon, it remains to be seen if the UFC gives him another shot.
Christensen pummels Mihajlovic in the third
Like the first fight on this Phoenix card, the second featured two fighters who came up short in their recent UFC debuts. One was Serbia's Bojan Mihajlovic. The other was Denmark's Joachim Christensen.
After dominating the first two rounds of this light heavyweight showdown, Christensen sealed the deal in the third, sending his foe careening to the mat with a perfectly timed uppercut, and polishing him off with a hellacious barrage of ground and pound.
With this win, Christensen moves to 1-1 in the UFC, and 14-4 overall. Mihajlovic, on the other hand, falls to 0-2 in the UFC's Octagon, and now sits at a tough 10-5 in sum.
Asker Swarms Smoliakov to TKO win
The action in Phoenix began in the heavyweight division, where France's Cyril Asker and Russia's Dmitry Smoliakov looked to rebound from failed UFC debuts against one another.
After absorbing an accidental eye-poke, Asker managed to succeed on his mission, as he grounded the fight, climbed into full mount, and poured on the ground and pound till the ref intervened.
With this win, which is his first in the UFC, Asker moves to 8-3 in sum. Smoliakov, meanwhile falls to 8-2, with both of his losses occurring in the Octagon.