UFC Teams up with Reebok: A Eulogy for the Little Guy Sponsors
As part of the UFC's recently inked and announced sponsorship deal with Reebok, fighters will no longer be allowed to have any outside sponsors during any UFC events, or in any content produced by the company as of July 6, 2015.
This isn't necessarily bad news for the fighters themselves, who will be paid every time they fight in Reebok uniforms, and who will receive royalties from any athlete branded products that the sportswear company sells. But it does eliminate a plethora of smaller brands from the sponsorship picture. What will the local sports doctors, lawyers, gun peddlers, and fastener sellers do when they can no longer slap their garish logos all over the shorts of mixed martial artists?
Many people are worried about such a big change. We try to put it into perspective with this look at some of the companies that will be hit the hardest by the Reebok takeover.
American Ethanol
It's hard to image how the ethanol industry group Growth Energy and the National Corn Growers Association will raise awareness for the benefits of biofuel when the giant and flashy green logo of their joint venture, American Ethanol, can no longer grace the flies of fighters like Ryan Bader and Chris Weidman. Maybe being on and in the vehicles of that plucky little upstart called NASCAR will keep them from completely fading into obscurity, though.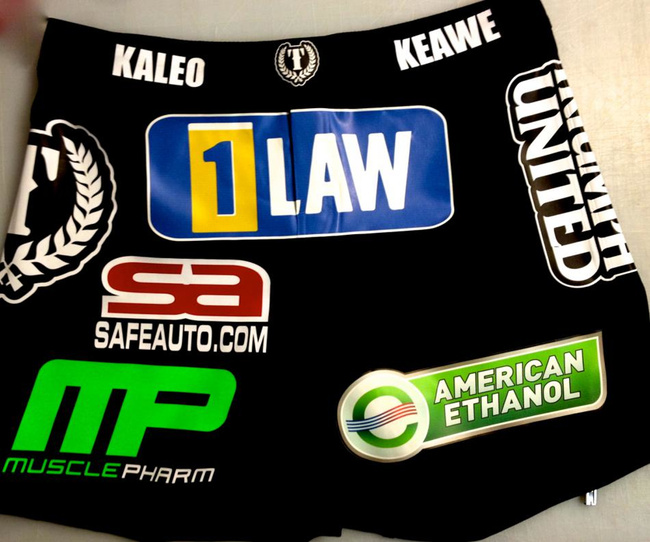 1Law
If this collection of injury attorneys in the OC, Las Vegas, and various places in Utah wants to survive in a world where they can no longer stick a big yellow and blue 1Law patch on the crotches of the likes of Travis Brown and Derek Brunson, they're going to have to do something really clever. Like maybe come up with a slogan as catchy as "Hurt In A Car? Call William Mattar!"
Training Mask
It's hard to predict what will happen to the public profile of this elevation training mask company when their logo disappears from every other pair of shorts in the Octagon. The lack of constant visibility seems like it would be a problem. On the other hand, this also means that their logo will probably never grace the pouch of a pair of blue Speedos again, so maybe this isn't the worst thing that could happen to Training Mask.
Mason Funeral Homes
This collection of funeral homes in Illinois certainly got their money's worth when they sponsored home state fighter Kenny Robertson at UFC 157. Their logo, which bridged Robertson's cleftal horizon, certainly got a lot of camera time as the fighter earned Submission of the Night honors. It remains to be seen how MFH will survive without this level and brand of attention. Or how we, as viewers, will go on without that brief but poetic reminder of our own mortality.
Condom Depot
Actually, the Condom Depot will probably never die. The once ubiquitous MMA sponsor was banned by the UFC in late 2009 and is still kicking. And still selling "CondomDepot MMA Brawler Tee Shirts" which allow you to "Dress to impress with the same T-shirt the CondomDepot.com Sponsored MMA fighters wear in and out of the Octagon."
I'm sure those fighters wear their shirts out of the Octagon all the time.
GunsAmerica.com
This online store that sells guns to America will probably miss the easy access to the eyes of fight fans. Fight fans will miss the tasteful GunsAmerica logos that graced the shirts and shorts of fighters like Matt Serra.
ExtenZe
There's basically no hope for an herbal male enhancement company like ExtenZ (not to be confused with eXistenZ, the 1999 David Cronenberg film) when they can no longer place a giant ad on the erectile area of a fighter like Ben Rothwell. How are they supposed to get the message out to their potential customer base now, UFC?
Dude Wipes
Dude Wipes, made by Dude Products, are wipes for men who want to "Be Legit" and wipe with more than the usual toilet paper. Tyron Woodley's shorts were obviously the ideal sponsorship situation for the bro wipes pioneers, but I don't think all hope is lost yet. They could always sponsor Terrence Howard.
Dynamic Fasteners
I've become quite fond of Dynamic Fasteners. The company, which sells commercial contractor products like fasteners (dynamically, I'm assuming) and its MMA-loving president, Kevin Perz, have discovered and exploited an interest hole in the UFC's market and they've helped an enormous number of fighters over the past year or so. I hope they continue to flourish in a world where we can't see their logo on 89% of shorts in the Octagon.
Alaska
Let's face it: there's no hope for the state of Alaska when its area code (907) can no longer appear on the carefully-selected and artfully-rendered shorts of one Cody McKenzie. It's over. Shut it down.
Check out these related stories:
Reebok and the UFC Sign Six-Year Deal: Uniforms and Rank-Based Pay
In Defense of Uniforms in the Octagon
Bones Doesn't Know: Inside the Jon Jones/Nike Split