Views from a Muay Thai Shorts Factory in Rural Thailand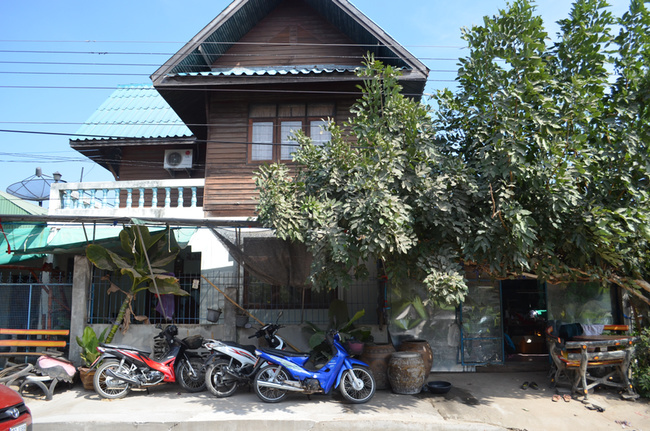 You'd never know it was a factory from the outside. No signs, no piles of fabric, no indication that this is where thousands of pairs of Muay Thai shorts are produced. But then you walk through the door: Half-stitched satin in heaps on the floor and in plastic chairs, the whir of sewing machines, afternoon light filtering through the windows, employees' children laughing and playing with toys in the adjacent room.
This is Song's Muay Thai shorts factory.
Song's factory specializes in plain Muay Thai shorts, the kind for sale in street stalls and shops all over Thailand. She makes them by the thousands, enough to pay the bills and provide a living for her workers.
Her employees are paid per piece on a per-order basis and work together in an assembly-line fashion. Overtime may be necessary to complete large orders. Other orders are small, and the employees may receive extra time off upon completion. Most orders are over 100 pieces.
The factory is located in a rural Isaan village. Most other jobs in the area entail manual labor or farming. Few employment opportunities exist, especially for women. Song's employees are appreciative of the small shorts-making empire Song has created, thankful to have steady, safe work in their village.
Song employs nearly a dozen women. Working conditions are good, and the women are chipper, cracking jokes in their Isaan dialect in between cutting, stitching, and gluing.
Like many other small businesses in Thailand, this factory is part of Song's house. She lives in the rooms beside and above it. Friends from the neighborhood stop by to chat with her and the other workers. Song is well-known in the area; her factory, modest as it may be, brings in much needed revenue to her Isaan village.
Check out these related stories:
The Traditional Fashion of Muay Thai
An American in Thailand: Trip to the Muay Thai Factory
An American in Thailand: The Surrogate Family Bonds of Muay Thai