Visions of Tristar: Behind-the-Scenes

Jonathan Brookins lands an ollie on a skateboard inside the dorms. Brookins pointed out that this photo makes him look much better at skating than he actually is.
I've spent the last year immersing myself in the lifestyle at the world-renowned Tristar Gym in Montreal. When I was asked to move into the Tristar Dorms last summer, I didn't know what to expect. The only way I can describe my new home to everyone is to show them.
I have gathered a large collection of images taken during my stay here. Each photo tells the story of my journey as a welcome member of Canada's top MMA gym.

The Tristar Dorms is mostly cold concrete. When we get a chance, we like to hang out on the rooftop for some much needed Vitamin D.

Outside of Brookins room is a large industrial space that we use to mostly slackline, play hackie sack and skateboard.

While smiling for the camera, Francis Carmont asks if I can help him with an upcoming video project. How could I say no?

Francis' demeanor seems nonchalant when he defends single leg takedowns.

Carmont puts a kimura armlock on Alex Garcia during a roll.

Alex Garcia rests on the curb after biking around Montreal with a friend.

Posing in his singlet for a portrait after wrestling class.

Kajan Johnson drilling Brazilian jiu Jitsu techniques with his teammate and friend Mike Ricci.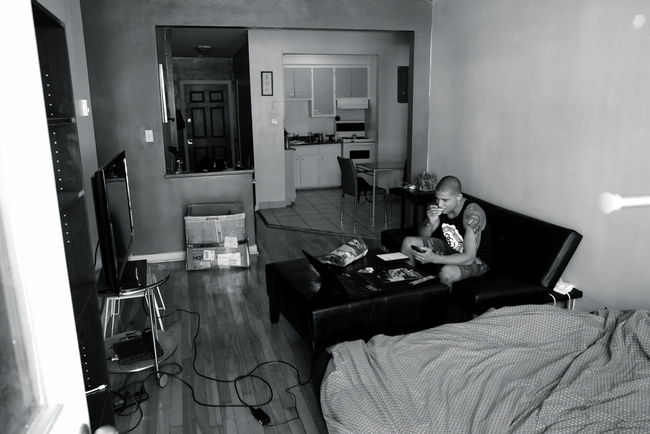 Kajan is a trained chef and he is rarely seen eating anything other than super-foods. Here I caught him uncharacteristically eating a bag of chips in his apartment.

Kajan practicing his footwork with Coach Johnny. His kicking repertoire has become more dynamic since working on Johnny's taekwondo style.

Chad's teammates asking him for a souvenir photo after practice.

After returning to Montreal to begin camp, Chad reunites with his teammate from TUF Nations Team Canada, Nordine Taleb. Here they were discussing Chad's plans to move to Montreal permanently.

Rory MacDonald ordering a poutine at the famous Orange Julep in Montreal.

Rory focusing on techniques from coach Firas Zahabi during an evening grappling class. He and Chad Laprise (below) often partner up for drills.

Posing for a picture after practice with coach Sandro Ferr.

John Makdessi drilling leg locks and sweeps with Chad Laprise. In this photo he is asking Firas for tips on his positioning.

Walking around the neighborhood on his way to the gym.

Makdessi at wrestling class working on his front headlocks.

Nordine Taleb practicing his clinch techniques with teammate Alex Garcia.

Nordine is known for his striking abilities and when he kicks the bag other fighters often stop and watch his form.
Check out these related stories:
Visions of Tristar: How Georges Stayed at the Top