Visions of Tristar: The "Rukus"
Two weeks ago Brandon "Rukus" Thatch made his UFC debut and walked away with a Knockout of the Night award. Now the world knows what we at Tristar Gym have known for a while—that Brandon Thatch is a killer.
Brandon was like a kid in a candy store when he first came to Montreal, QC, to train with Firas Zahabi and Georges St-Pierre—a ball of energy with limitless potential. I recently asked him, if he were a superhero what type of superhero he would be.
"Probably more of a Dragon Ball Z character," he said. "I have Saiyan blood in me."

This photo is special in that it was taken on Brandon's first day sparring at Tristar. Head coach Firas Zahabi tested him by putting him up against the gym's top dogs. The facial expression captured here shows how exhausted and overwhelmed he was immediately afterwards. He looked at me and said, "What did I get myself into?"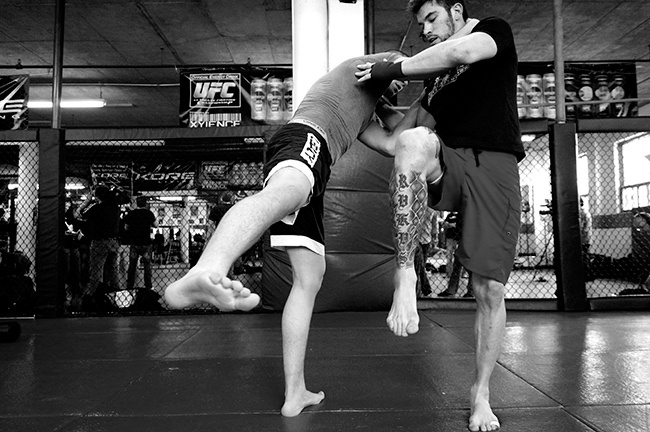 Brandon and his new friend from England, Tom Breese, drill clinch techniques during media day at the gym. Tom encourages Brandon to live up to his nickname, "Rukus." One late night at the Tristar dorms, while their teammates were asleep, Brandon and Tom snuck in and flipped all of the furniture in the common living area upside-down. The rest of the fighters staying at the dorms woke up the next morning and had to clean up the mess the duo had left behind.

Here Brandon Thatch and Ryan Ford stretch before practice. Both "Rukus" and "Real Deal" have got plenty of ink. In fact, my favorite tattoo photos taken at Tristar involve these two.
Check out the first Vision of Tristar: