Visions of Tristar: Watching Yourself on 'The Ultimate Fighter'
When UFC Fight Night 35 ended last night, the top floor of the Cage Aux Sports Restaurant in the Old Port of Montreal, QC went silent. The Ultimate Fighter: Nations was about to come on and Team Canada members, and Tristar Gym-mates, Olivier Aubin, Kajan Johnson, and Nordine Taleb were about to see themselves on TV for the first time. They were nervous but excited, and all around them their entourages, family members, and teammates were nervous and excited as well.
Johnson turned out to be not just the breakout personality of the first episode; he was also the first to fight, dismantling Australian Brendan O'Reilly in the first round of the first fight of the season. After the show, everyone celebrated the latest feather in the cap of Canadian MMA.

"Ultimate fighters": Olivier Aubin, Kajan Johnson, and Nordine Taleb

The UFC's Alex Garcia, TUF Nation's Nordine Taleb, Bellator's Rick Hawn, and World Series of Fighting's Ryan Ford pose for a picture with a fan.

Kajan celebrating as his hand is raised behind him.

Kajan being entertained by himself on TV.

Olivier Aubin chats with friends and fans.

Nordine Taleb in his Team Canada Jersey, watching.

Kajan and Tristar teammate Mike Ricci laughing at the show's introduction.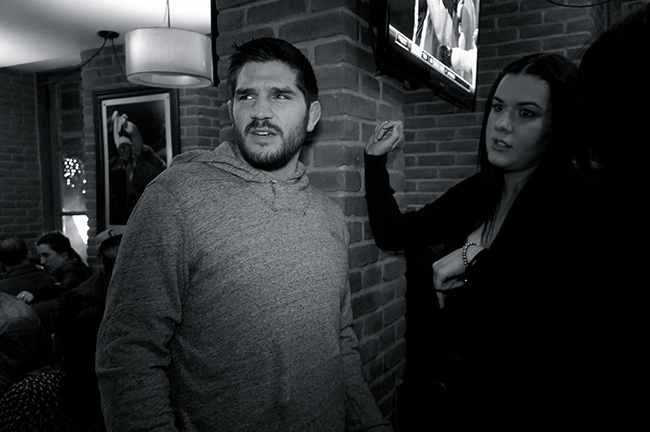 UFC middleweight veteran and TUF Team Canada coach Patrick Côté.

UFC welterweight veteran Jonathan Goulet interviews Kajan.
Check out these earlier visions of Tristar: