Vitor Belfort's Blood and Urine Results Are Clean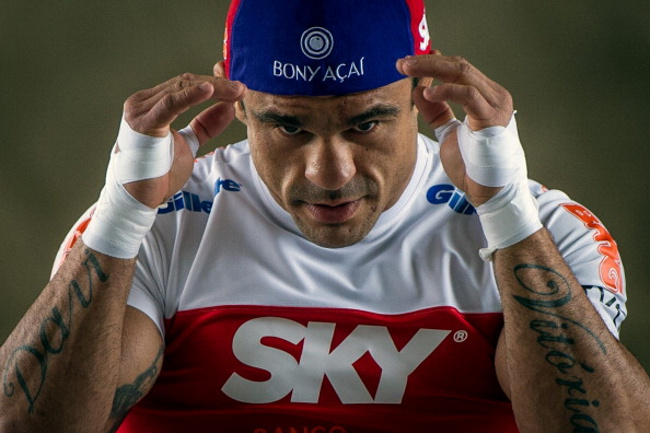 Chris Weidman can stop worrying about Vitor Belfort's PED status. Today, the Nevada State Athletic Commission announced that The Phenom passed a random and unannounced blood and urine test administered earlier this month while Vitor trained in South Florida.
A big shout out to Vitor, whose reputation was blemished earlier this year when he tested positive for illicitly high levels of testosterone. This news should also stoke a fire under Luke Rockhold, who just yesterday was saying that no one in the sport has respect for Vitor. Maybe he's still sour over that massive loss he suffered to Vitor in May of last year.
The California State Athletic Commission will be doing their own testing prior to the middleweight title fight in Los Angeles on February 28th—it's still a little weird to us that Nevada is encroaching so much, considering that the fight is in Los Angeles—but we're proud of Vitor for keeping his word, and hope that he'll come through against Chris Weidman on some vintage Belfort type shit. Remember that before knocking Luke out, he TKO'd Michael Bisping, and after the Luke fight, he knocked Dan Henderson out with a head kick. And don't forget that he's been going hard in training with Tyrone Spong. Surely these test results will infuse Vitor with confidence and power, so Chris Weidman should probably be prepared for the best Vitor he can imagine.
Momento único! E nada mais precisa ser dito! --- An unique moment! And nothing else needs to be said! pic.twitter.com/kHtDFbz36q

— Vitor Belfort (@vitorbelfort) November 12, 2014
Check out these related stories:
Belfort vs. Weidman in the Enlightened City of Los Angeles
The TRT Ban Arrives With an Iron Fist
Vitor Belfort Is Not Happy About Chris Weidman's Fighter of the Year Award