Waiting to Make History: A Preview of Metamoris 5
This weekend is stacked with New York standouts: not only is Frankie Edgar battling for another shot at the Featherweight belt, at UFC Fight Night in Austin, Texas; just hours earlier his mentor, the legendary Renzo Gracie, will climb onto the spotless mat at Metamoris 5 and again face his greatest rival, Kazushi Sakuraba.
As grappling is just a component of MMA, analyzing a competitor's potential strategy on the mat, as opposed to within the Octagon, is more difficult. Or at least, more nuanced. Especially in no-gi situations, where advanced techniques aren't available without sleeve, lapel and pant grips.
Of course, there's always Eddie Bravo and his unorthodox lockdown to sweep to vaporizer combinations… but that was Metamoris 3.
That said, here's a primer for this weekend's event.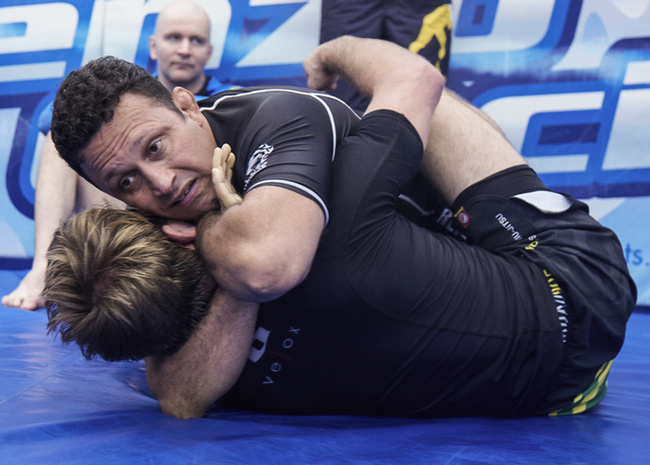 Renzo Gracie
Legend. It's a title thrown around so frequently in martial arts, where lineage and honoring the forebears are primary tenets, that reading such a label barely registers. But skim the history books and you realize Renzo was there, in the earliest days of MMA, forging his legacy with victory after victory. He fought Vale Tudo before the first UFC, and throughout the '90s he complied a record of nine wins and zero losses. But when the century ended, he faced his greatest foe at Pride 10: Kazushi Sakuraba, the 'Gracie Hunter.'
Sakuraba not only submitted Renzo with a Kimura lock, he snapped his arm. First time anyone subbed Renzo in a decade. Despite the pain, Renzo wouldn't tap. So Sakuraba cranked, and cranked. Ringside fans say heard the arm break three rows back.
This is Renzo's shot a redemption. "I can't wait to go there and grapple with him," Renzo told MMAfighting, "I want to test myself against Sakuraba and see how this goes after 14 years of waiting."
But this is no easy task. So long as Sakuraba doesn't tap, or allow his own limb to break, he will leave the mat one-up on his rival.
I expect Renzo to employ an aggressive top-game, giving little space. Passing with pressure. Pressure. Pressure. Then looking for, dare I say, a Kimura?
Kazushi Sakuraba
You don't wake up one morning, stare at the ceiling and say, 'Yeah, I want people to call me Gracie Hunter.' That's a title you earn. Which Sakuraba did, by defeating Royler, Royce, then Renzo and Ryan.
Sakuraba wrestled in both high school and at the university level. Prior to facing Renzo, Sakuraba notched six of nine wins via submission.
"His game is focused on MMA, so it's hard to train for someone like that," Renzo told MMAfighting. "He's always dangerous. You can't underestimate a guy like that. He's dangerous from any position. He's unorthodox, he doesn't follow a clear line of attack. He does whatever goes in his mind, so that makes him unpredictable. It's a challenge. He has some dangerous leg locks. He's a dangerous guy. I have some good guillotines, some good arm-bars. I have some good attacks."
Rory MacDonald
A few years ago, over breakfast in Toronto, Rory told me he'd only rolled in a gi a few times, and he hated it. Which means his grappling game is likely MMA-oriented: passing from top, legal drags, knee-slice to half-guard, etc.
Rory started his MMA career with several submissions, but in the latter stages he's employed more technical striking, keeping opponents at distance. Which makes this match-up with J.T. Torres so intriguing—Rory is such a complete Mixed Martial Artist, there's no telling how he'll fare against one of the world's best no-gi grapplers.
J.T. Torres
He won the 2013 no-gi World Championships at Lightweight, but most often he rolls in the gi. Hailing out of ATOS, with teammates such as Andre Galvao and Keenan Cornelius, his game is technical. I've trained with J.T., and watched him on the mat. He's a top player, very explosive, but he's giving up at least twenty pounds to Rory. The real question for me, is how this match gets to the mat, because I don't expect either Rory or J.T. to pull guard.
Yuri Simoes
Yuri was slated to face Rafael Lovato Jr. at the event, but Lovato tore a pectoral tendon during training, so now he will face Keenan Cornelius. Again. This is a rubber match of sorts: Keenan defeated Yuri at a Five Grappling event earlier in the year, and Yuri avenged the loss at the No-Gi Worlds in October. This time both will don the gi.
Yuri has good takedowns, and top pressure. But in the Five Grappling event he pulled guard. The primary difference between this and those earlier fights, is the twenty-minute time limit. Which favors the more technical fighter…
Keenan Cornelius
The American phenom is one of the most creative and technical fighters in the game. Look for Keenan to pull guard, loosen Yuri's lapels and tangle him in his infamous worm-guard. Which is so frustrating for the opponent, that an event organizer considered penalizing it's use.
Vinny Magalhaes
Climbing the ADCC podium is the pinnacle of a no-gi grappler's career. Vinny won gold in 20111. Scroll the highlight videos and you'll watch him catch Chris Weidman with a wicked flying armbar at the start of their match. He's got an incredible submission game, and he's always hunting, hunting, hunting. Plus, he's impossible to tap.
Matheus Diniz
Diniz is the dark horse of this event. A student of Marcello Garcia, arguably the greatest grappler of all time, Diniz was chosen to replace the injured Kevin Casey. Many compare Diniz to Marcello, but stronger. Way stronger. He's an animal passer, explosive and fast. Look for a highly technical game, incredible guard and sweeps.
Garry Tonon vs Zak Maxwell
These are the two young-guns of the tournament. Which means there's not much footage or info on their backgrounds or styles. I know Tonon has great cardio, and sneaky back takes from weird positions, while Maxwell has a great guard and a nasty omaplata submission.
Enjoy the historic weekend. I'm sure it will fire us all up for training on Monday.
Check out these related stories:
Meet Rory MacDonald's Next Opponent—J.T. Torres
A Shakespearian Saga: The Gracies, Sakuraba, and Metamoris