Weighing the Options of Cain Velasquez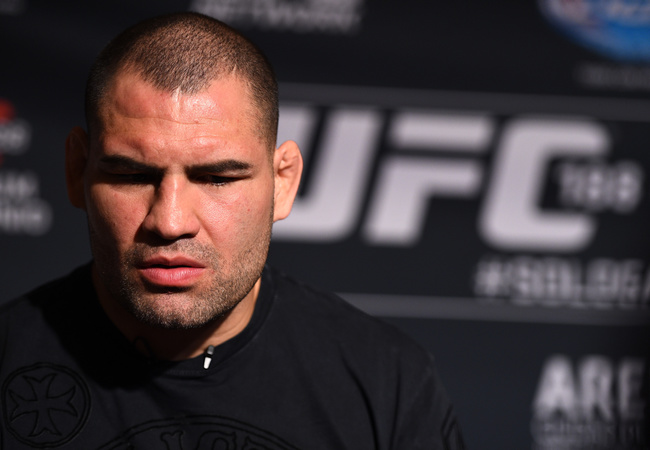 Professional fighters are a strange breed. Despite being some of the most frighteningly dangerous people on earth, they are as capable of sustaining injuries as any of us. Each one is both the bull and the china shop; a force of destruction still cursed by human fragility. This has been the story of Cain Velasquez and is, for the moment, the bane of his career.
Yes, despite being the owner of some of the greatest talent in heavyweight history, Velasquez has always had issues staying healthy. From the standpoint of a fan, it's been a huge bummer because it's deprived us of opportunities to watch a truly great fighter do his thing. Of course, there is no greater victim of Velasquez's inability to stay healthy than the man himself. Tools, after all, need sharpening, and in the world of pro MMA, ceaseless training is simply not enough. The only way to keep your weapons truly-battle ready is to use them, and Velasquez just hasn't been able to do so. The manifestation of this issue was his UFC 188 title clash with Fabricio Werdum.
In round three of the bout, a dull-looking Velasquez, tired like we've never seen him before, found his neck in a Werdum guillotine choke. He'd lost to a better-prepared man, and as a result, leaves Mexico with no belt around his waist. It was a glorious night for the hard-working, ever-evolving Werdum. It was a terrible night for Velasquez.
Of course, this is not the end of the road for the former king. The severity of this stumble is irrefutable, but he has lost and reclaimed his belt before. There is no reason that, with a return to the drawing board and some serious diligence, he cannot reclaim the title from Werdum, or whoever else comes to hold it. Before he gets that opportunity, however, he's got some work to do to. It's going to take at least another win—possibly two—before the former champ once again finds himself in the heavyweight title conversation. This brings us to the big question: what's next for Cain Velasquez?
As always, there is no shortage of options.
The most logical choice, at least from a ranking standpoint, seems to be a pairing of Velasquez and the surging Stipe Miocic. In Miocic, Velasquez would face a fellow cardio machine with a similar skill-set and identical 13-2 record. Furthermore, given Velasquez's status as the former champ, and Miocic's as a top-5 fighter, the winner of a bout between the two would be thrust right into the title mix. The fight would make an excellent headliner or co-headliner for a future card, and would provide the former champ with an excellent springboard with which to earn a shot at the belt that was once his. And of course, his choices don't end there.
A bout with Ben Rothwell would provide Velasquez with a similar opportunity to vault back into title contention. Sure, he has defeated "Big Ben" in the past, and emphatically enough that initially, there was a zero need for a rematch, but Rothwell is a changed fighter. Since losing to Velasquez in 2009, he's gone 5-2, most recently amassing a three fight win streak with stoppage victories of Brandon Vera, Alistair Overeem, and Matt Mitrione. He's certainly earned a high-profile bout, and one with the former champ—who happens to be an old foil—would be just that. And for Velasquez, it would be a perfect opportunity to dispatch a top-level heavyweight and remind the world that he is very much championship calibre. Two years ago, suggesting such a thing would have been taken as a joke, but here we are in 2015, and a Velasquez-Rothwell rematch exists as a fairly likely possibility.
A third and equally exciting option for the former heavyweight king would be a clash with Alistair Overeem. Yes, Overeem has long been pegged as a dream opponent for fellow striker Junior Dos Santos, but that fight is starting to look like an unlikely possibility. With Werdum now wearing the crown, Dos Santos suddenly has claim to a title shot that has eluded him since losing to Velasquez for a second time—he may just be Werdum's first challenger. In that event, Overeem, who is currently enjoying a two fight streak with wins over Stefan Struve and Roy Nelson, will need a dance partner. Enter Velasquez, for a classic clash of styles with contender status on the line.
Then of course, there are the less likely possibilities for Velasquez. Though his status as a recent champion makes him a special case, it's worth mentioning that typically, UFC matchmaker Joe Silva pairs winners with winners and losers with losers. That is to say that there's a good chance Velasquez will be paired with another fighter riding a loss. To this end, a number of bouts make sense. A fight with the towering Travis Browne would provide Velasquez with an excellent chance to bounce back with a win over a game opponent. A fight with Mark Hunt, who is fading but still dangerous, would provide a similar opportunity. It all depends on how quickly the UFC wants to build the former champ back up.
Though he was one of the sport's more dominant heavyweight champions, Velasquez's long stretches of inactivity do benefit him in one way: he still hasn't shared the octagon with many of his division's premier fighters. That means that across the weight class there are a handful of fresh and intriguing fights with which he can attempt to bounce back from the loss of his belt—just like he once did so savagely against Antonio "Bigfoot" Silva. Regardless of where he goes from here, however, one thing is certain. Though he looked wildly out of sorts in Mexico City, Cain Velasquez remains one of the world's premier heavyweights, and it might not be long before he's wearing the crown again. Let's just hope he stays healthy.
Check out this related story:
How Fabricio Werdum Killed the King