Weighing the Options of Chael Sonnen
​
2016 was a banner year for Bellator—arguably the best in its history. Over the course of the year, the promotion picked up a procession of high profile free agents, such as Benson Henderson, Matt Mitrione and Rory MacDonald. Of all the free agents the promotion signed in the year 2016, however, none were quite as big a star as three-time UFC title challenger and beloved MMA mouthpiece Chael Sonnen, who joined the Bellator fold in mid-September.
Shortly after Sonnen signed on the dotted line, former UFC light heavyweight champ Tito Ortiz was announced as the opponent for his January 21 debut in the Bellator cage. From there, he did what he does best, and sold the hell out of the fight.
We were reminded that he defeated Ortiz on the college wrestling mats, back in a barely-relevant era when future UFC president Dana White was still teaching boxercise classes in Boston and MMA was an acronym that pretty much nobody had heard. We were assured that Sonnen had always been jealous of Ortiz's success and that, had he been given the chance to fight him in his heyday, he would have defeated him. We were told that Sonnen's only promise to his dying father was that one day, he would fight Ortiz, and that he would beat him.
Really, Sonnen did an incredible job of building interest in a contest that meant almost nothing in the year 2017. He also managed to convince a good portion of the fight game that despite his long absence from competition, and Ortiz's surprisingly strong run in the Bellator cage, he would win the fight.
In the end, of course, Sonnen did not win. In fact, he lost so decisively that many fans—and even a few respected media members—have shared their belief that the fight was fixed. Yes, Sonnen's Bellator debut went so badly that half the combat sports world seems to believe it was scripted. Despite this rough night, however, he is still under contract with Bellator, and he confirmed post-fight that he plans to step back into the promotion's cage in the near future. This, of course, begs the question: where does he go from here?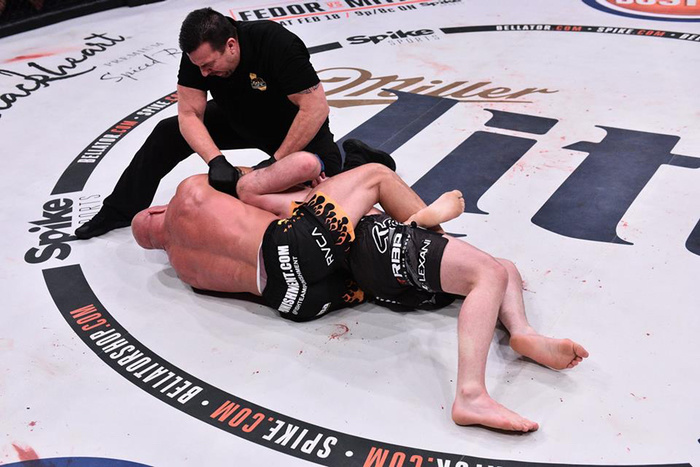 Well, in Sonnen's perfect world, the next step would be a fight with Wanderlei Silva. He and Silva have been angling to fight each other for years, but thanks to a series of unfortunate PED-related suspensions and pseudo-retirements, they've never had the opportunity. Today, it would appear that this long-awaited opportunity is just a few months of recovery time away inside the Bellator cage. Then again, Silva has been involved with Bellator for almost a year, and he still hasn't donned their gloves. So, as logical as this fight is at this stage, it's possible that it fails to materialize. Luckily, Sonnen has plenty of other options inside the Bellator cage.
He might, for example, be paired with Quinton "Rampage" Jackson. Rampage currently has his sights set on a rematch with Muhammed "King Mo" Lawal—who has said in the past that he'd never fight Sonnen. Win or lose this rematch, however, Rampage's massive fan base and talent on the microphone make him an extremely marketable opponent for Sonnen. The problem with this fight, of course, is that Sonnen just lost to Ortiz. While Rampage is no spring chicken, he remains a more dangerous fighter than Ortiz, and as such, is a bit of an illogical foe for Sonnen who, again, just looked worse than he has in a long, long time. It's for this same reason that I would implore Bellator's matchmaking team not to match Sonnen with relevant light heavyweight talent like Linton Vassell, Liam McGeary or, god forbid, reigning champ Phil Davis.
The fact is that, after his poor showing against Ortiz, Sonnen should probably be matched up with somebody like Alessio Sakara. Though Sakara reminded the world of his dangerous striking toolkit by scoring knockouts in his first two Bellator fights, he has never been a world-beater, and stands out as a sensible opponent for the version of Sonnen that we seem to be dealing with in 2017.
Then again, all of these suggestions ignore a fairly crucial detail. Over the course of his 44-fight career, which dates all the way back to 1997, Sonnen has been far more successful as a middleweight. It was in this division, after all, that he nearly defeated Anderson Silva—elevated testosterone levels or not—and bested game opponents like Yushin Okami, Nate Marquardt, Brian Stann and Michael Bisping. He's also quite small for the light heavyweight division—a fact that was made abundantly clear when he and Ortiz squared off at the weigh-ins. Sure, at 39 years old, and with a flickering competitive fire, Sonnen has probably grown tired of the cut to the 186-pound middleweight limit. Yet his options in the Bellator middleweight division are arguably far more interesting than they are in the light heavyweight division, and that comes down to the fact that they are easier.
As the home of names like Davis, Rampage, King Mo, Vassell, McGeary, Silva, Sakara, and very possibly Ryan Bader in the near future, light heavyweight is one of Bellator's most stacked weight classes. The promotion's middleweight division, however, is short on talent.
Let's take a quick look at the top of the Bellator middleweight roster. There's Hisaki Kato, who lulled the world to sleep with his Saturday night defeat of Ralek Gracie. There's Melvin Manhoef, an incredibly dangerous striker weighed down by a fragile chin and a long-standing deficit in the wrestling department—where Sonnen is at his best. There's the champion, Rafael Carvalho, who barely slipped by the inherently beatable Manhoef in his first title defense—which also happened to be one of the most forgettable fights of 2016.
The intention here is not to disparage Bellator's middleweight fighters. Instead, it is to shed light on the fact that Sonnen—even the version of Sonnen we saw on Saturday—seems to have a good shot at beating any of them. Yes, whether he's willing to cut back down to middleweight or not, it is in this division that his best chances exist. In fact, it's conceivable that he could even win gold as a Bellator middleweight. And after his loss to Ortiz, it's unlikely that even he believes this is possible at light heavyweight.
Whatever happens, of course, it's clear that Sonnen has not yet reached the end of the road. And so long as he continues to fight, be it in the light heavyweight or middleweight division, there will be interesting options out there for him.
Check out these related stories:
It's Time to Make 'MVP' versus Paul Daley
Bellator 170 and Glory 37: Liver Kicks and Fishy Finishes