Werdum and Velasquez Leave UFC 196 Without a Title Fight
Stipe Miocic couldn't believe his luck on Sunday evening. After Cain Velasquez pulled out of his heavyweight championship rematch with Fabricio Werdum, UFC turned to the 33-year-old to step in for the AKA man after his concise disposal of Andre Arlovski on January 2nd.
There was a feeling that Miocic's 8-2 record in the Octagon had been deserving of a shot at the gold, but the firefighter had been somewhat obscured by the promotion handing Velasquez an immediate rematch after Werdum dethroned him at altitude in Mexico City. While the MMA world got ready for the rematch between 'Vai Cavalo' and 'Sea-level Cain' in Las Vegas, on the announcement of Velasquez's injury we clung to Miocic as a worthy adversary for Werdum.
A fatal blow to UFC 196 was delivered yesterday as the current champion, Werdum, joined the former champion, Velasquez, on the sideline with a series of gripes including injuries to his foot and back.
Miocic now stands alone in the main event, having stepped up to fight for the title on two weeks notice. His last bout with Andrei Arlovski only took place three weeks ago, and without the coveted championship belt up for grabs, it could prove to be foolish for him to undergo such a quick turnaround between bouts.
Should he stay in the main event slot there is the possibility that UFC will put an interim heavyweight title on the line on February 6. The last time the belt contested was back in June, which would suggest that it will be over 12 months since Werdum's last defense by the time he is fit to return to the Octagon. While there may be grounds to introduce an interim title, as the highest ranked man outside of Werdum and Velasquez, what difference will a disputable belt make to Miocic?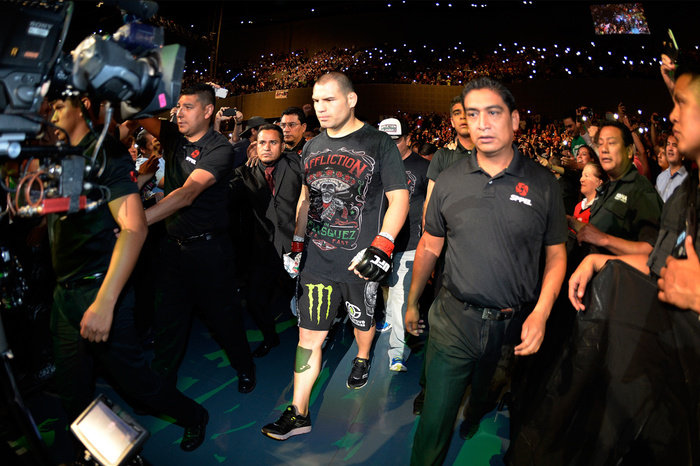 An interim title will only guarantee its holder the next crack at the returning champion. As he was the first man called in to take the place of Velasquez, you could say it was a pretty sure thing that Miocic was viewed as the next man in line for the championship anyway. I'm sure there would be plenty of men who would love to step up and face him if the interim title was involved, but Miocic might be putting his top seeding in jeopardy. That being said, waiting for your shot has not been a lucrative process in the past for many, and Velasquez could supersede Miocic's position should he return to full fitness around the same time as Werdum.
Velasquez has had a very difficult road in terms of injury. Spending 20 months out of competition after his third bout with Junior Dos Santos, he returned only to be beaten inside three rounds by Werdum in front of an adoring Mexican crowd. A popular opinion was that Velasquez would be different back on American soil and without the altitude of Mexico City, but now we will have to wait to see if Velasquez can again convince us of his greatness.
And that's what people used to say about him. Since Fedor, no other heavyweight has been held up as the best to ever compete in the heavyweight division. In fact, as soon as Werdum beat Velasquez he too began to be considered as one of the best heavyweights ever.
If one thing will get Velasquez fired up for his eventual return it is the fact that Werdum revealed that he was willing to take on the former champion even with an injury, but only pulled out due to the idea of facing a completely new opponent on short notice on top of his ailments.
"I was already injured," said Werdum, as reported by MMAFighting.com. "I have a foot injury, and haven't been able to throw kicks in training for two weeks. I would still fight Cain because I was injured the last time, but I also hurt my back last Friday. I went to the doctor, tried to continue training, but couldn't spar as I should spar.
"I decided not to fight because I'm not 100 percent. If Cain was the opponent, I would go on. It's not his fault, it's nobody's fault. Injuries happen. You can't avoid them. I have no option. I made this decision because I'm not feeling 100 percent.
"I made this decision together with my team. We decided not to fight. Cain can't fight. I was going to hide the injury one more time, like I always did. I tried to hide it, but couldn't this time. I can't fight if I'm not 100 percent to put on a show like I always did."
There have been a number of interesting developments since the announcement of Werdum injury too. Jon Jones said he would get involved if there was a title on the line and Josh Barnett also put his name in the hat despite his upcoming bout with Ben Rothwell.
After Rothwell was left without a dance partner in Dublin when Miocic pulled out of their co-main event clash, you can't help but think that Barnett being given the nod would be particularly cruel for 'Big Ben'.
Check out these related stories:
Luke Rockhold Wants to Fight Fabricio Werdum
How Fabricio Werdum Killed the King