What Will Heat Maps and Motion Trackers Do to the Spirit of MMA?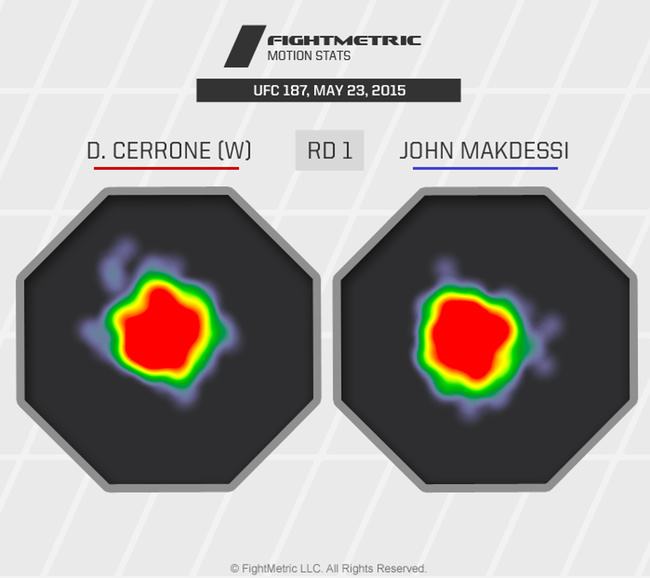 For years FightMetric has been the official statistics provider for the UFC, looking for patterns in the chaos of a mixed martial arts bout and daring to quantify the sport's most abstract notions, like the "significance" of strikes.
According to an article on MMAFighting.com, FightMetric has recently started branching out into the business of motion-tracking, employing heat maps to determine where UFC fighters spend their time during a fight and trying to figure out how that positioning relates to success or failure inside the Octagon.
*
The company's conclusions seem simple enough. Essentially, the fighter who's moving forward and controlling the center of the Octagon has a much better chance of winning than the fighter who backs up or circles away, especially if that fight goes to the judges. Moving forward, says FightMetric founder and director Ramu Genauer, might even matter as much as or more than striking output in the eyes of some judges. "That's the kind of the question that can alter strategy, can alter commentating or a lot of different things if it turned out to be true or false," he said.
*
From the moment analytics started creeping their way into baseball in the late 90s (and soon into basketball and football and every other sport) there have been people moaning about what all those numbers are doing to the spirit of their beloved sports. These traditionalists protest that the rise of statistical analysis sucks all the beauty and mystery and humanity out of sports, reducing them to simple equations, and that metrics, for all their numeric value, don't take into account human inconsistency, emotion, or passion.
Analytics adherents, in return, call these traditionalists dinosaurs and romantics who allow nostalgia and emotions to cloud their judgment. Why rely on tradition, they wonder, when you can base your decisions on something tangible?
*
"I don't think we're any more resistant to analytics stuff than a lot of the analytics people are to the viewpoints we have. A lot of you analytics people think that the game is a video game, that players will always react the way your models say they will react."—NBA coach Stan Van Gundy
*
The other criticism of the sabermetric approach to sports strategy is that reducing sports to statistical probabilities simply makes them less interesting to watch. Yes, numbers can enhance probabilities and therefore make coaches and players more efficient, but what about the poetry and the surprise and the meaning? No one wants to watch things being done perfectly for long. Human beings not doing what they're supposed to do is what makes history interesting, right?
*
In September 2013, the National Basketball Association announced they would be installing data-tracking cameras in all 29 of their arenas. By that point half of the teams in the league had already paid $100,000 for the systems. For an additional $40,000 teams were also able purchase software that would allow them to chart their players' physical efforts: how fast they run, how high they jump, how hard they try. That kind of surveillance didn't seem to bother anyone. Talk of putting a tracking microchip device in balls, however, was shouted down by the players union.
*
Rami Genauer: "[S]port-wide, if you want to know what you should do to win a decision, it's really not complicated. All you need is to get top position and keep it for half the fight. That's it. … And it doesn't make any difference what the guy on the bottom does; it doesn't make any difference what the guy on the top does. He can strike, he cannot strike; the guy on the bottom can strike, he can throw submission attempts as often as he wants to. Keep top position for half the fight, you win the decision essentially every time."
*
H. L. Mencken: "For centuries theologians have been explaining the unknowable in terms of the not-worth-knowing."
*
What is doing well in mixed martial arts? Is it simply winning? Is it carving the exact right strategy to influence the judges in just the right way? Is it scoring a takedown at in the last minute of a round to curry favor? Or is it something different? Is there something more abstract at work in a sport built around fighting than there is in a sport built around putting a ball in a basket or over a line? Can fighting actually be quantified, and do fighters see what they do as something quantifiable? As statistical analysis teaches fighters how to most efficiently "win" a "fight," isn't it possible there might be a parallel rise in fighters claiming moral victories over their opponents regardless of what their records say, moral victories being those won in the minds and spirits of the two fighters?
Also, is doing well for the fighter the same thing as doing well for the fan? What's the point of winning every fight in the most efficient way possible if no one wants to watch you do it?
*
Heat maps were originally developed in the early 1990s to track real-time financial market information.
*
Like the NBA, the NFL tracks nearly on the field except the ball. Using radio-frequency identification (RFID) chips embedded in players' shoulder pads, league officials can now track players' speed, acceleration, and distance covered on every play, giving coaches more information with which to analyze and judge players' performance and providing metric-crazy fans with more precise, in-depth statistical information than what color commentators armed with a telestrator could ever offer.
Under the NFL Players Association's current collective bargaining agreement with the league, the NFL can require players to wear "nonobtrusive tracking devices for purposes of collecting information regarding the performance of NFL games." Officials say one of the league's future goals is to figure out how to get sensors right on players' skin so they can have instant access to heart-rate and training-intensity data.
*
I feel like a classic reactionary right now, like one of those old-time baseball scouts in Moneyball, refusing to believe numbers can account for an athlete's value or a sport's meaning, bemoaning the "death of mystery" and the rise of probability. I didn't fall in love with mixed martial arts because it celebrated efficiency.
*
On November 24, 2013, Manchester City beat Tottenham Hotspurs 6-0 in an English Premier league soccer match. A heat map of Tottenham player Roberto Soldado—a Spaniard whose two-year tenure at the English club had been marked by failure and disappointment—showed that the striker did the majority of his work during the match in the center circle, taking kick-offs. During the game Soldado took seven of them. He only took one shot the entire game. Heat maps at their cruelest are little more than evidence of ineptitude.
Check out this related story: