Whittaker versus Brunson: The Ugliest Kind of Fun
A boxing bout and a UFC card on the same weekend would have been considered combat sports overload a few years ago. Not any more. Despite a couple of significant boxing matches and a UFC event in Australia, this was one of the quieter weekends in a while on the fight front. The UFC returned to Melbourne with a show full of barely known names but plenty delivered entertaining bouts and gave a good account of themselves. Vasyl Lomachenko shut out Nicholas Walters to the point that the Jamaican banger simply quit on his stool. And Katie Taylor made a successful professional debut at the age of thirty against the usual no hoper you expect on these occasions, we can only hope she is brought along quicker than most stand out Olympians when they turn professional as she has a lot of ground to make up if she plans to get to the big fights before her reflexes begin waning.
That is not to say that Taylor's bout wasn't tremendously entertaining though. One of the wonderful thing about amateur boxers who commit to a longer stay in the amateur ranks is that they build a tremendous amount of experience competing against multiple opponents in one day and having to adapt on the fly. There are differences in the professional game of course, but there's no way to fake the calm and adaptability that enormous number of competitive rounds teaches. Taylor's opponent, Karolina Kopinska was 7-14 and had won just one of her last five, she was basically there to make Taylor look good, but this was only Kopinska's second knockout loss and anyone familiar with Taylor or even with good boxing form can watch her performance and recognize her tremendous abilities.
In the UFC there were a couple of interesting bouts. The standout from the prelims was fan favorite, Ben Nguyen, who can always be relied on for a good bit of smooth, technical striking. One of the things that Nguyen has shown so successfully through his recent performances is the value of simply moving the head frequently. Not necessarily reacting to the opponent's punches, but just making sure to slip or dip after every punch or two. Nguyen is at his best when his man is at the fence and Nguyen's feet are under him so that he can move his head well and keep punching with his trademark accuracy.
Against Geane Herrera that was on show at several points in the fight. When Herrera lashed out at Nguyen in punching range, he ate cross counters or hit air and was out of position when the hooks came back at him.
Nguyen showed a couple of Dominick Cruz looks in this bout too, using stance changes, bumps and shifts out in the open. Sometimes this worked out well:
And other times, as when looking for the Dominator's signature long uppercut, it didn't.
Nguyen's most obvious habit, which can get him into trouble, is his tendency to run and to chase. When he's going forward with his feet under him, in measured steps with head movement, he looks great. When he's running straight at his man and letting his feet get carried away so that he isn't in position to dip or slip, he can get tagged up more easily and thrown off balance Ronda Rousey style if the opponent moves off line. But for those moments were few in a fight where he rarely seemed to not be in control. A great performance from Nguyen and the flying kicks from both men were much appreciated.
Elsewhere on the card, Seo Hee Ham and Danielle Taylor put on a decent scrap but demonstrated a couple of the bigger problems in the striking game of many MMA fighters. Taylor showed complete confusion with the handfighting of the southpaw, Ham. Ham was actually holding Taylor's lead hand for long periods of the bout. But Ham's own one sidedness meant that Taylor was able to wheel around the Octagon in one direction for the entire fight, escaping Ham's powerful left hand and being punished by absolutely no offence from the other side. This is why good southpaw ring cutters will develop either a cracking lead hook or a back kick. Certainly the judge who gave Ham none of the rounds, and none in her last fight, and scored no 10-8 round when Stipe Miocic ran circles around Mark Hunt, should reconsider his scoring method.
Returning to the boxing, the big fight of the weekend was Vasyl Lomachenko versus Nicholas Walters. Lomachenko is probably the most beautiful technician you have ever seen. With four hundred amateur fights to his name, Lomachenko turned pro with none of the usual build up against nobodies, jumping straight into world title fights. Quickly climbing to the top, Lomachenko is already considered one of the top fighters in the world at any weight. As we examined in The Pivots and Precision of Vasyl Lomachenko, much of Lomachenko's best work comes from turning his opponent. Stepping outside his opponent's lead leg, the southpaw will wheel around—often with a cuffing right hook over the top of the head—and hammer in a left hook or uppercut under the heart as the opponent turns to face him. A tremendous combination which very few fighters have been able to do much against except shell up.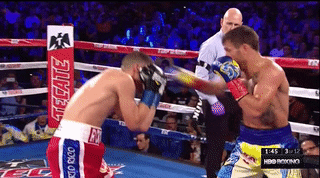 Against the power punching Walters, Lomachenko fought a more linear fight. In and out with his dexterous right jab and left straight. One of the nicest moments came as Lomachenko feigned his left hand in two different ways – first a shoulder feint and then a bounce in and back out—drawing a complacent dropping of the hands from Walters as he left range on the second feint and darting back in with a clean double left hand. Truly a master of measure and time.
Unfortunately the fight was cut short just as it got going the fight came to an end as Walters, seemingly unhurt but clearly frustrated, quit in his corner. A very disappointing end to a fight that was only just starting to warm up.
From the sublime movement and measure of Vasyl Lomachenko, let us move to the ridiculous which was on full display in the UFC's main event between Derek Brunson and Robert Whittaker. That is not to say it was a bad fight, it wasn't by any means, but it was ugly and wild as a sack full of badgers. Within fifteen seconds Brunson had run at Whittaker swinging with his chin comically far from his body, and dropped to his knees for a takedown attempt along the fence from about five feet out. Whittaker cut his hips out nicely and looked for an uppercut before overextending himself in chasing it.
Whittaker was at least looking for the cleaner punches, where Brunson was seeking only to overwhelm and this is what made the difference. Early on Whittaker connected a nice lead uppercut under a lazy Brunson jab, a great open guard counter for orthodox vs southpaw situations. Though Whittaker's lead foot remained inside of Brunson's and this saw him get caught up where if the left foot head lead the movement he might have been able to angle off.
It is hard to believe that this Brunson was the same one that looked so thoughtful against Uriah Hall. Brunson was a caricature of himself in this bout, taking the most negative feature of his game—his leading with his chin and running in with the left straight—and turned it up to eleven.
The shots that Brunson went for on Whittaker's hips were all no hopers because the bout had degenerated into running across the cage.
Eventually Whittaker caught a counter out of a cross face and chinned Brunson while the American sprinted face first at Whittaker, his vision obscured by Whittaker's lead hand.
A huge swelling flared up around Brunson's right eye, which he kept touching, and a jab and a high kick caught the wrestler as soon as he had stopped running in on Whittaker and stood still long enough for Whittaker to kick.
Was it entertaining? God yes. But Brunson's behavior was truly bizarre in this contest. Hopefully the loss will prevent him from going down the avenue of believing that all out offence is the absolute best answer to everything in the cage, rather than building defensive savvy and shoring up the considerable holes in his striking form.
Not a bad weekend of fights, but not a particularly great one. Next weekend's card is looking considerably more interesting with Cejudo vs Benavidez, Hall vs Maynard and Ellenberger versus Masvidal heading the event. Then its on to UFC 206 and Glory: Verhoeven vs. Hari which offer a good deal more food for thought in terms of big name match ups.
Check out these related stories:
Hammerlocks and Stockades: A Weekend Retrospective
Mousasi versus Hall: The Do-Over
How Conor McGregor Killed Another King