Why UFC 187 Is Still Great Without Jon Jones
Jon Jones is no longer a UFC champion.
The former light heavyweight title holder was stripped of his belt on Tuesday night following his arraignment on a felony hit-and-run charge. Jones will be suspended indefinitely. He's also been axed from the May 23 card.
But even without Jones, UFC 187 still stacks up as a great night of fights, from the main event, all the way down to the Fight Pass prelims.
Starting at the top, Daniel Cormier has stepped in on short notice, filling the Jones void. Cormier will face Anthony Johnson for the 205-pound belt, and no matter who takes the contest, the UFC will crown its third new champion of 2015.
A two-time Olympic wrestler, Cormier enters the Octagon for his second straight crack at promotional gold. The American Kickboxing Academy wrestling standout, who previously dropped a five-round decision to Jones at UFC 182, takes on the heavy hitting Johnson. And Johnson, who trains out of Boca Raton, Florida's Blackzilians, will be ready to sprawl, brawl, and unload his signature strikes.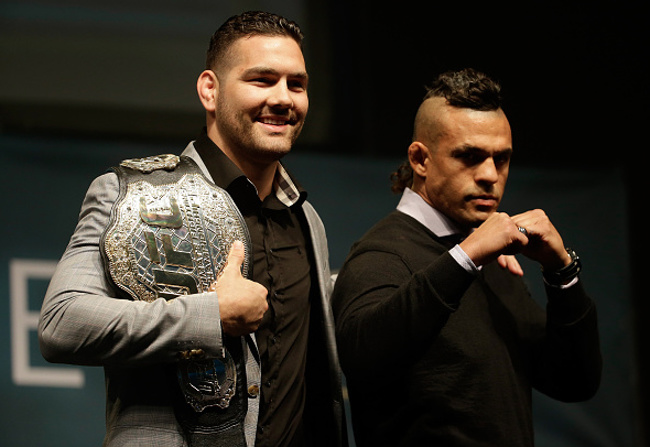 The penultimate bout on the UFC 187 card features undefeated middleweight titleist Chris Weidman, who will finally have a go at former champ, and perennial challenger, Vitor Belfort. A contest that is now a year in the making, Weidman-Belfort was originally scheduled for UFC 173 in May 2014, before a series of injuries, along with the ban on testosterone replacement therapy, which Belfort used during an impressive 2013 campaign, pushed the bout to UFC 181.
Again, injury would keep Weidman off the card. His long awaited showdown with Belfort was then re-scheduled for UFC 184, although a rib would further delay the bout.
So now, a year later, a fourth time's the charm for Weidman and Belfort to finally do their thing.
And even before UFC 187's two title fights, lightweights Donald Cerrone and Khabib Nurmagomedov will duke it out, in what is expected to be a number-one contender's match.
Cerrone has evolved into one of the UFC's can't miss shows. His wild Muay Thai, killer instincts, and finishing prowess have led Cerrone to seven straight victories, just inches from his first UFC title shot. But in Nurmagomedov, Cerrone will face his toughest test since falling to current lightweight champion Rafael dos Anjos and former divisional ace Anthony Pettis in 2013.
For Nurmagomedov, the undefeated Dagestani wrestling whiz, UFC 187 is his chance to make a boisterous comeback after a yearlong layoff in which he was forced from competition on account of a torn meniscus.
At 22-0, Nurmagomedov already owns a dominant win over dos Anjos, and so sure is the Russian of his pending coronation, that he spent the better part of the year calling out the world's best lightweights, even going so far as to commandeer the UFC 181 post fight presser in order to confront Pettis directly.
Further down the card, two pivotal matchups at flyweight are certain to have tremendous impact on the UFC's lightest male division.
Top contender John Dodson returns to the Octagon for the first time in 11 months to face eighth-ranked Zach Makovsky, while former two-time challenger Joseph Benavidez will take on John Moraga.
This quartet currently owns an 0-4 record against flyweight champ Demetrious Johnson. But it was Dodson who gave DJ his toughest test, knocking Johnson down on multiple occasions during their January 2013 affair, laying the framework for a potential rematch. Of course, Makovsky, a former Bellator titlist, has yet to have a crack at Johnson, while Benavidez and Moraga are hungry for revenge.
UFC 187 also features middleweight Uriah Hall, the closest thing to a real life action figure. Known for his devastating kicks and Tekken-inspired Karate assault, Hall has won three straight, and only looks to be on his way up the 185-pound division.
The card also pits go-for-broke heavyweights Travis Browne and Andrei Arlovski against each other. The pair were formerly training partners at Albuquerque's Jackson-Winkeljohn MMA, so the bout certainly has a grudge match feel, after Browne departed for the Glendale Fighting Club in Los Angeles, home of UFC women's bantamweight champion Ronda Rousey and coach Edmond Tarverdyan.
And let's not forget about Rose Namajunas, the women's strawweight contender who gained popularity and notoriety as a cast member on The Ultimate Fighter season 20.
Combining an awkward Karate base with the Jiu Jitsu theatrics of pulling guard and hunting flying armbars, Namajunas is still regarded as a legitimate threat at 115 pounds, and her presence on the card adds some anticipation and excitement.
Of course, buried underneath all of these great bouts is a relevant welterweight contest between Dong Hyun Kim and Josh Burkman, and former WEC 170-pound champ Mike Pyle is also scheduled to appear.
Sure, none of these bouts quite has the flair of Jon "Bones" Jones versus Anthony "Rumble" Johnson, especially when annunciated by Bruce Buffer. But even without the UFC's most decorated light heavyweight champion, UFC 187 carries a healthy dose of exceptional MMA, and has all the potential to be as fine a card as any we've seen.
Check out these related stories:
UFC Strips Jon Jones of His Title
Jon Jones Has Turned Himself In