With Miocic Out, The Heavyweight Title Race Comes Down to JDS and Overeem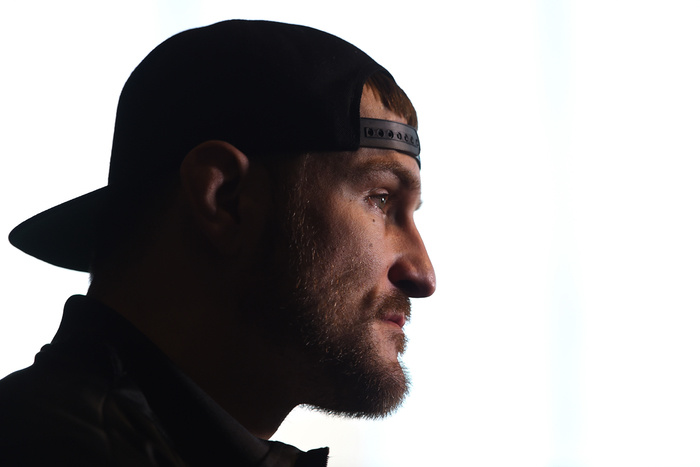 There's been a lot of action in the UFC heavyweight division over the last year. Andrei Arlovski, Frank Mir, and Ben Rothwell have all enjoyed late-career resurgences that nobody could have anticipated. Despite a handful of slips in his first few fights as a UFC heavyweight, Alistair Overeem has found his footing in the division with a respectable, two-fight win-streak. Stipe Miocic has continued to pummel his way up the heavyweight ranks. And thanks to the Fabricio Werdum's June dethroning of his two-time foil Cain Velasquez, Junior Dos Santos is once again in a position to contend for heavyweight gold.
Yes, though it has long resided as one of the UFC's shallowest weight classes, the heavyweight division has recently experienced a sort of contendership gridlock, as multiple men have emerged with equal claim to a title shot. This, of course, made the job of UFC matchmaker Joe Silva quite a bit trickier. But being that this isn't his first rodeo, the clever Mr. Silva has scheduled Werdum and Velasquez for a rematch that is expected to occur sometime early next year, which gives the brick-fisted fighters of the heavyweight division time to establish a clearer pecking order amongst themselves.
That pecking order has already begun to work itself out. At UFC 191, Andrei Arlovski defeated Frank Mir in one of the most forgettable fights of the year. And while the win keeps him right there on the cusp, it was not the sort of emphatic triumph required to truly separate him from the rest of the heavyweight pack.
The next major milestone in the heavyweight title race was expected to occur next weekend in Dublin, Ireland, when Stipe Miocic and Ben Rothwell were expected to shake the Octagon in UFC Fight Night 76's co-main event. Regrettably, however, news recently surfaced of a Stipe Miocic injury, which is likely to nix the bout altogether.
This injury does not diminish Miocic's tremendous talent, but it is certainly a detriment to his standing in the sprint to heavyweight gold. Yes, he is one of the best heavyweights on earth, but in withdrawing from this bout with Rothwell, he unfortunately loses the stage upon which to prove that he deserves a shot at Werdum or Velasquez over all others.
Unfortunately, Miocic's injury also thrusts Rothwell into a similarly bleak position. The lumbering heavyweight is suddenly without an opponent, and considering it would take a certifiable lunatic to fly to Ireland and fight "Big Ben" Rothwell on just over a week's notice, he's probably not going to get a last-minute replacement either. Kickboxing dynamo Tyrone Spong has voiced his willingness to get in there, and Benson Henderson and Donald Cerrone will probably step up like they always do, but the most likely outcome is Rothwell attending the Dublin card without a date.
And so suddenly, with Mir losing to Arlovski, Arlovski underperforming in his win over Mir, Miocic withdrawing with an injury, and Rothwell being left without a dance partner, the heavyweight title race might have just thinned to two men: Junior Dos Santos and Alistair Overeem, who share the co-main event honors of UFC on Fox 17 on December 19.
Granted, Overeem's recent knockout losses to Antonio "Bigfoot" Silva, Travis Browne, and Ben Rothwell are difficult things to forget. Similarly, Dos Santos is just one razor-thin win removed from a second thrashing at the hands of Velasquez. Luckily for both men, however, its not going to take much to outshine Arlovski (a stoppage of any kind would probably do), and since Miocic and Rothwell will unfortunately be no-shows, outperforming them will be tantamount to showing up on Fight Night.
So, picture this: Dos Santos snuffs Overeem in December. Then we wait for Werdum and Velasquez to settle their score. If Werdum wins, Dos Santos is the obvious next man in line. Not only would he be on a two-fight win-streak over two of the UFC's best big men, but there's also the built-in significance of his 2008 blitzkrieg of Werdum. Now, if Velasquez wins, very few people will buy Dos Santos as a contender. He has, after all, been dominated by the former champ on two previous occasions. Luckily, in this event, we've still got Arlovski waiting in the wings for his shot.
What if Overeem upsets Dos Santos? Well, then he'd be on a solid three-fight streak—a rarity at heavyweight—including one over a former champion. In that event, his being 1-1 in two previous bouts with Werdum would make him an excellent candidate for a title shot, should Werdum retain. And should Velasquez reclaim the throne, well then we have a fresh and tantalizing title matchup in Velasquez vs. Overeem.
The race for a heavyweight title shot hasn't unfolded exactly how we expected but it is unfolding all the same. With faith in Arlovski's resurgence temporarily deflated and Miocic and Rothwell left unsated, the two men left standing in this mad dash to gold appear to be Dos Santos and Overeem. Their UFC on Fox 17 clash, then, is far more than the culmination of a long-standing rivalry. Thanks to a few strange twists of fate, it's now looking like the heavyweight division's new number-one-contender fight.
Check out these related stories:
Jack Slack: Stipe Miocic Crushes Mark Hunt
The Super Samoan Goes on a Stipe Hunt
Stipe Miocic and the Hunt for Gold