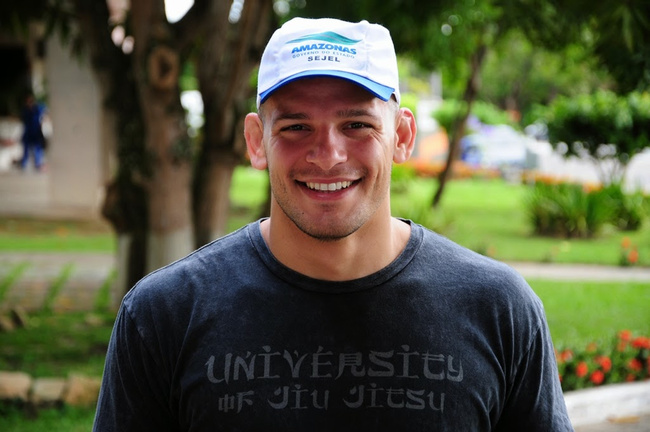 Ribeiro fans rejoice! One half of the legendary Ribeiro brothers, 33 year-old Xande, is set to make his return to the grappling stage after a lengthy recovery period. A two time Abu Dhabi Combat Club (ADCC) World Champion is set to make his long anticipated return to competition at the 2015 ADCC, with Manaus Brazil set to be the tournaments host city.
The Royler Gracie black belt is hoping that this year's tournament will be the start of a three year run at competing, but the former world champion and IBJJF hall of famer has stated that he will not return to the IBJJF tournament circuit. Speaking to BJJ Eastern Europe, Ribeiro had this to say in regards ADCC 2015:
"Coming back from injury, next year we have Abu Dhabi, so that's pretty much what I'm focused on. I want to win ADCC. I don't think I have anything else to prove wearing the kimono."
"ADCC is something that I really want to do again, it's going to be in my hometown, and it's going to be in Brazil. So it's about going to Abu Dhabi, be physical, take that absolute, and take what's mine."
Ribeiro will also be on the lookout to make a splash in super fights with the cream of the crop of this generations black belts. Younger members of the jiu jitsu scene may recognize Ribeiro from his draw against Dean Lister at Metamoris II. Long-time fans and practioners of the gentle art however, understand Ribeiro's status as a true pioneer of the sport. A six time IBJJF world champion, Xande competed in MMA under the Sengoku promotion, with a record of 2-0, each by third round KO.
Renowned for his judo arsenal, Ribeiro is perhaps best known for his pair of matches against Roger Gracie in the world's absolute finals, defeating the ten time champion on each occasion.
As a coach, and as a founding member of the University of Jiu Jitsu in San Diego, Xande has cultivated the jiu jitsu talents of American standouts Rafael Lovato Jr and Justin Rader, European rising star Darragh O' Conaill along with MMA fan favorite Diego Sanchez.
O' Conaill, a two time No-Gi European Champion, recently received his black belt from the Ribeiro brothers, and recalls his first experiences stepping on the mat at the University of Jiu Jitsu:
"The first day I went in there, Saulo was sitting there, Xande and Damian Maia were there, Junior Dos Santos and Kron Gracie was there so the second I went in I was like, 'Damn this is crazy! There's a serious amount of people here.'"
Reflecting on the impact Ribeiro has had on his career as a martial artist, O' Conaill stated:
"Xande has taught me how to apply jiu jitsu principles to my life and how to be a good person through those. Being a good martial artist, how to be a good person, and how to pass on your positive ideas to other people and understanding how you treat people."
With a variety of super fight style promotions such as Metamoris and Polaris capturing the imaginations of the jiu jitsu community, it's not difficult for hard core fans to drum up a few dream matchups for Xande to continue his already cemented legacy.
Check out these related stories:
The Coming Division: Will Brazilian Jiu Jitsu Give Birth to New Martial Arts?
Carlos Gracie: Reviving the Jiu Jitsu Patriarch
Ground Play: Tererê is the Jimi Hendrix of Jiu Jitsu