Yangon BJJ House: The British Expat Who Turned Her Apartment into a Dojo
When Tammi Willis moved to Myanmar to start working for a law firm in Yangon, she wanted to continue studying BJJ. She succeeded in finding a small group of fellow enthusiasts, but the English expat was frustrated by the difficulties in getting access to proper training and facilities.
It's a problem that many martial arts enthusiasts encounter after relocating to a new city and looking to continue training in their preferred discipline, but Willis decided to take matters into her own hands by converting her apartment into a makeshift dojo.
She has joined forces with a couple of local BJJ practitioners and is trying to grow the sport in a country which is slowly shaking off the shackles of more than half a century of military dictatorship.
"In January 2013 Summer Lee and Felix Hein Htet Myat founded MMA Elite in Yangon and making use of the blue belt BJJ status of a handful of founding members and the varied experiences of martial arts from others in the group they met regularly to train at a local fitness gym," she recalls.
Willis did not start training with this group until the following year, soon discovering that there were a few logistical issues preventing them from working out together as often as they would have liked.
"I started training BJJ with them in April 2014 and was soon as frustrated as they were with the lack of proper space, cost of gym membership fees and the lack of mats or high level coaching. We didn't even have consistent blue belt coaching because all the blue belts were, and still are, often busy with their businesses and travel."
Taking matters into her own hands, Willis decided to convert her Yangon apartment into a space suitable for BJJ.
"I shipped a container of personal effects from the UK which included Judo mats as well as plenty of Gi's and other martial arts clothing and equipment hoping we could grow our group and kick start MMA interest in Myanmar generally," she says.
As a result, Yangon now has its first dedicated space for BJJ even if it is located in an unconventional venue.
"We have British Judo Association mats in one room which is always where we start off training but it's only really big enough for six to drill and two to roll. Then the main room has a double layer of puzzle mats so it's a bit harder but provides us with enough space to get a further six to eight drilling and another four rolling."
With a training space secured, the group turned its attention to finding some high caliber BJJ instructors and an appeal online appeal resulted in a rush of applicants.
"We posted a plea on Facebook to invite high level coaches from around the world to come and train us in return for free food and board," she explains. "The post went viral, ended up on Reddit and in 48 hours we had well over 50 people expressing their interest. Since then we have had two coaches come to stay for a week or longer and some 1-2 day visits from a further four coaches."
Myanmar has a long tradition when it comes to striking based combat sports and Willis believes that MMA could eventually start to gain traction there in the same way it has done in other South East Asian countries.
"The Lethwei fights organized at Yangon's Thain Phyu Stadium are well attended and Muay Thai fighters from Thailand, Mongolia, Indonesia and even further afield are starting to appear on the fight cards. I think we're some way off from having any resident competitive MMA fighters but that is to be expected when there are no dedicated MMA gyms and no MMA coaches here yet."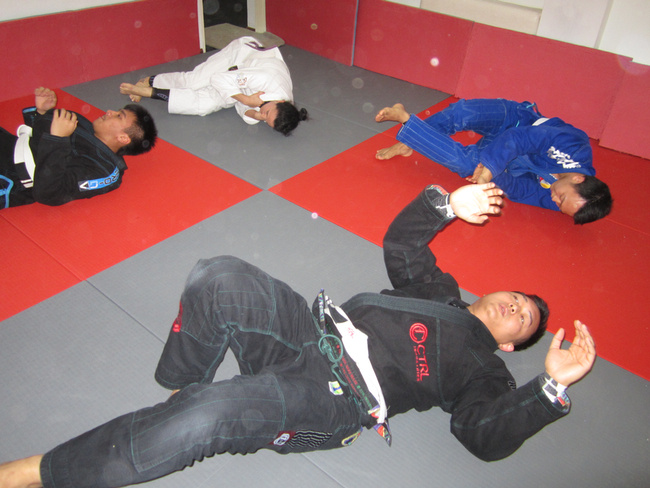 There is potential for some of the Myanmar's professional Lethwei fighters to cross over to MMA in the future but for the time being Willis says there are only a handful of people in the country practicing the ground game.
"A core group of us train at least four times a week with our resident blue belts, when they are available and when we have a visiting coach we train every day. So far those who come to train with us for BJJ are training for fun and fitness and maybe some self defense but many of us are keen to compete and some of us already have here and there."
At the moment Willis and her small group of BJJ enthusiasts are just training together for fun but she hopes that one day the sessions which currently take place in her apartment will expand and evolve to the point that she can set up the country's first ever MMA camp
"We all have day jobs but I am just a few weeks away from quitting my day job and doing MMA and fitness related projects and developments in Yangon full time. Our current space is small but suitable for our current needs, though we are hoping to find an appropriate place to start a proper MMA gym once the demand is there."
For more information about BJJ in Yangon visit: https://www.facebook.com/BurmaBJJ
Check out these related stories:
A British Teenager Is Testing Himself at Bangkok's Biggest Stadiums
The Burmese Kickboxing Style of Lethwei Expands into Singapore
The Dark Side of Muay Thai in Thailand