Yancy's Day Off: A Tour of Oahu's Wild West

Photos by IJfke Ridgley
Growing up and living on Oahu, an island half the size of Rhode Island, I can probably count on two hands the times I've been to the West side. The traffic is terrible and it is not conventionally beautiful in the way of the lush, green East, but it was its reputation that kept us away. Nanakuli, Waianae, Makaha. These are towns at the end of the freeway, where the road meets the sand and Kaena Point juts into the sea. It's an area known—deservedly or not—for drugs, surf, and "Tent City," a large homeless encampment that until recently lined the swath of land next to the ocean. It has always been intimidating to visit this wild West.
As I drive up to Makaha to meet Yancy Medeiros at his home for the first time, I feel acutely aware of being out of my element, both as a haole girl on the West side and as someone largely uneducated about MMA. It's been five years since I last lived in Hawaii, and I returned to my home island to find it much more crowded and touristy than it ever was. I've been longing for something more genuinely local, and I found that in Yancy in the best way possible.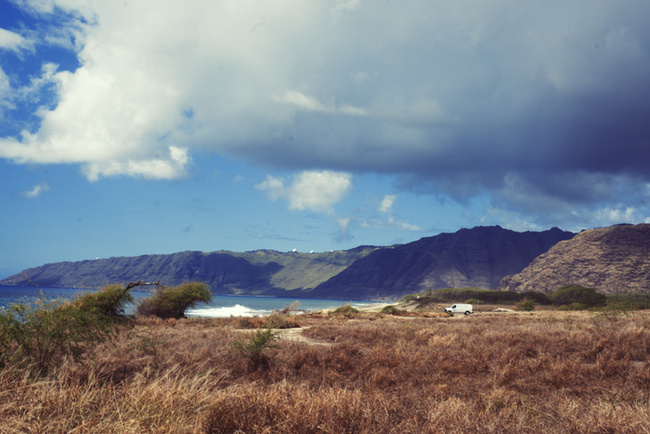 The 27-year-old is funny and welcoming, with energy in his step and a mischievous grin. He reminds me of the boys I grew up with. We chill on his Hawaiian-print couch outside of the house he shares with his family as I wearily eye the massive silver pitbull in the yard. The neighbor, who has lived next door since Yancy was small, comes over to chat and tell him he's bought his tickets to Yancy's fight in Las Vegas in December. Medeiros for his part is relaxed and quick to smile. He's spent the last few days being followed by the UFC cameras as he trains for his upcoming fight and volunteers with sick kids at the hospital, and he's unfazed by my shooting.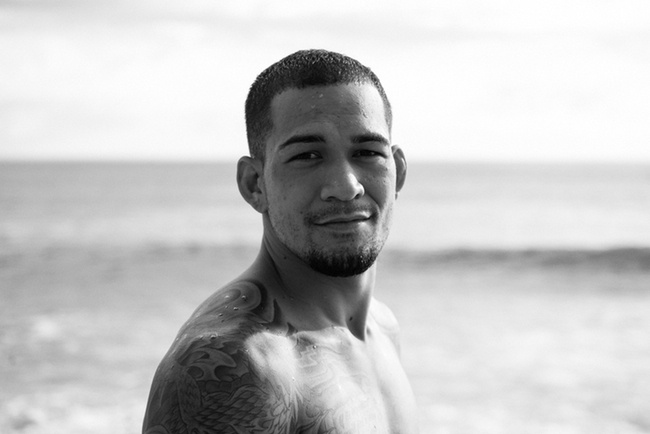 "I'm trying to help my community, and be a good role model. I'm born and raised in Makaha. I've lived here all my life, and I do MMA, but I've never had a street fight. Ever. I had a great upbringing, did martial arts from a young age, so my pride was built differently. I didn't feel like beating up someone to make me better."
He tells me of the "spunky Waianae boys" who all want to learn to fight, and the ways he encourages them to do so at his gym down the road. The gym doesn't charge them to train, and they are only allowed to do so if they maintain their grades. It's his way to get them off the street and give them something to work towards.
We drive to Yokohama's, the last stretch of sand before the rocks start, and a special place for Yancy. It is where his parents met and where they taught him to swim, and now the site of his morning workouts. The conversation turns to growing up on this side of the island.
"I take a lot of pride in living in Makaha, in a small town. A lot of people that live here just stay here. There's so much talent, but the kids can be guided the wrong way and get in with the wrong crowd. I need to be a role model and show people in the community that we can get out there and accomplish our dreams. Makaha is such a peaceful place… laidback… it is very pure. This is a rough area in town, but there are peaceful places and there are beautiful people here. They are very welcoming."
Yancy charges through the water, body surfing in the waves and running across the sand. He will be here in Hawaii for the next few weeks before he returns to California, where he usually stays for a few months at a time.
"It's hard in this career to stay in Hawaii. That's why I try to do a lot of cross training [in Stockton, California]. I try and be a good ambassador [for Hawaii]—try to be like the next BJ Penn—try and follow his path and do what he did, and represent.
BJ Penn has been doing what I've wanted to do from high school. That made me motivated, and it inspired me to be like, 'I can do that, I can be just like him.' He's a local boy, I'm a local boy, both coming from a small town. It's very inspiring. I feel that any way that I can give back to my community and show people outside of Makaha what Makaha is about is a positive thing."
The sunset burns behind me as I head back in to town, the light catching the red dirt in the air, and I think about what Yancy said.
"It's literally at the end of the road, we call it the end of the world."
See more of IJfke's photography on Instagram.
Check out these related stories:
Home Grown on Kaua'i: Dustin Barca's Tradition of Fighting
Walking with Limão: From Haiku to Haleakala with a Jiu Jitsu Legend